On Tuesday (Nov. 8), Hillary Clinton failed to shatter the ultimate glass ceiling. But a number of women in the United States did just that, defying expectations and making history by securing positions in Congress, the Senate and state legislatures.
One of them was Ilhan Omar who was elected to become the state representative in District 60B in southeast Minneapolis, becoming the first Somali-American Muslim female legislator. Even more remarkable, the 34-year-old mother of three only came to the United States after fleeing the Somali civil war as a child and living in a Kenyan refugee camp.
During the primaries, Omar was running against Mohamud Noor, a fellow Somali-American candidate, and a 22-term, Democratic incumbent Phyllis Kahn. For quite some time, the odds were stacked against her—until Omar clinched the Democratic nomination in August, and shortly after, her Republican opponent withdrew for personal reasons paving the way for her win.
On election day, Omar won the election with 80% of the vote. During her victory speech, Omar reached out to the memories of her childhood to reflect on her historic win. 
"This really was a victory for that 8-year-old in that refugee camp," Omar said. "This was a victory for the young woman being forced into child marriage. This was a victory for every person that's been told they have limits on their dreams."
Watching Omar speak, donning a white shirt and hijab, overcome with emotions, it was impossible to think about anywhere else where her story was probable. Omar's historic win was not only a coming-of-age story; it was first and foremost an American story.
Omar's election was also symbolic in an election year when being Muslim, Somali, a woman, and a refugee all became an excuse for slander and insult. Just two days before the elections, president-elect Donald Trump went to Minnesota and blamed faulty refugee vetting processes for allowing large numbers of Somalis to come to the state. At a rally in Maine back in August, Trump also singled out the immigrant Somali community in the US, saying they were coming from "dangerous territories," and fraying social safety nets.
To take Trump's words at face value, Somalis are definitely coming from a dangerous place. For a quarter of a century now, Somalia has been embroiled in a deadly civil war that has destroyed every facet of life. The country is no longer considered a failed state, but it is a fragile one, whose people are caught in the quicksand of an unending war. It is one of the poorest countries in the world, and trails in every index imaginable: from child and maternal health to education, media freedom and per capita income.
With a population of over 10 million, up to 1.5 million Somalis have settled across the world since the war began. Since the early 1990's, over 100,000 of those have made America a home away. But rather than increase the crime rate, as Trump suggested, Somalis are both rebuilding their lives in America while contributing to the progress back home. Somalis in the diaspora send an estimated $1.4 billion in remittances every year, feeding families, paying for school fees and much-needed healthcare, and directly contributing to 23% of the country's GDP.
Far away from home, the success of Somali-Americans is also inspiring millions of people caught in the deadly civil war. The inspiration comes not only from Ilhan Omar but also from the likes of Barkhad Abdi, the actor and first Somali to be nominated for an Oscar. The motivation equally comes from people like Kadra Mohamed, the first Somali-American female police officer. It comes from designers like the Mataano sisters, from fashion models like Iman, from filmmakers like Idil Ibrahim, from distinguished academics like Cawo Abdi and Abdi Ismail Samatar, from award-winning environmental activists like Fatima Jibrell and successful businesspeople like Abdirahman Kahin.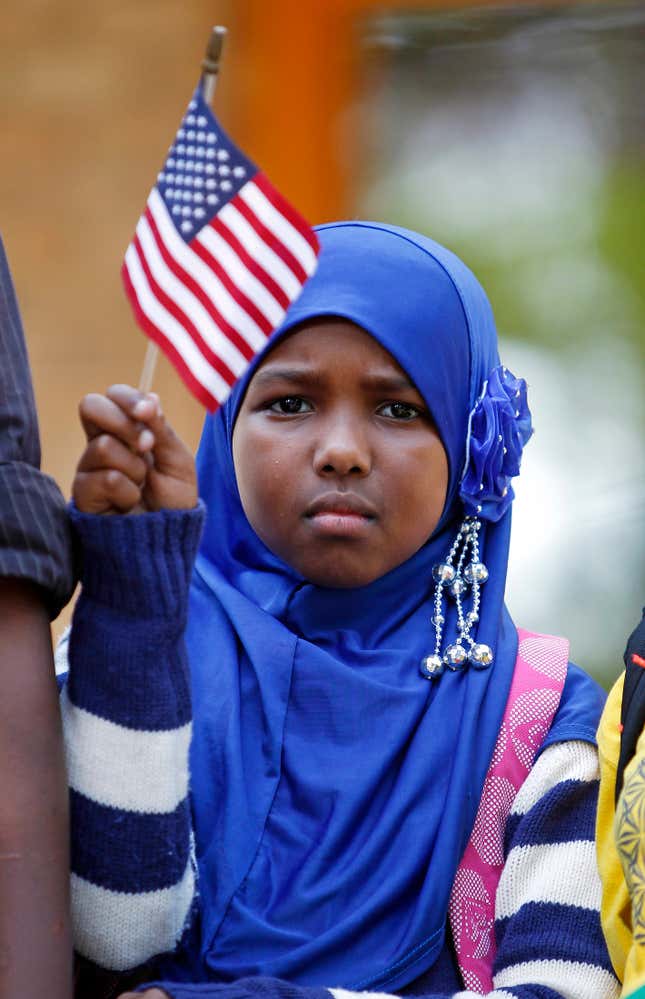 Ilhan Omar ran a galvanizing campaign that focused on socioeconomic and racial justice and brought people from different backgrounds together. Her triumph is not hers alone: it is for young girls lingering in refugee camps like Dadaab; for boys in Mogadishu and Hargeisa; for Somali parents in Minnesota and Maine who want to see their American children become a pillar in their communities.
But most of all, her election is a win for the United States. America might have elected Trump, a candidate who has propagated misogyny and racism and hatred towards Muslims and immigrants. America might be the country where women in hijab are attacked and where Islamophobia is rampant.
But America also elected Ilhan Omar, and with that, showed that this country was still what Abraham Lincoln dreamt it to be: the last best hope of earth.