Giant Christmas baubles. Prancing reindeer. Boney M's "Christmas Album" filtering through the sound system. It's Christmas at malls in South Africa, and despite the outside temperatures hovering around 26°C (80°F), inside it's a winter wonderland.
This seasonal disparity, and South Africa's diversity, pose a vexing question for retailers: What does African Christmas decor even look like? And what might get South Africans to dip into their wallets to buy the latest toys and trinkets to put under their Christmas trees?
In the two decades since apartheid ended, South Africa's consumer class has grown rapidly. In the days when malls catered to the country's minority white, Christian middle class, fake snow-flecked windows, and towering Christmas trees became the norm.  But even as the country's consumer base has become more diverse and sophisticated, Western visions of Christmas still appear to be a huge draw to the country's multitude of malls. For mall managers, this wholehearted embrace of "atmospherics," or the Western-perfected practice of using decor, sound, and smells, to put people in the mood to shop, has taken on an even greater importance during an economic downturn that is seeing consumers adopt more measured, rather than merry, shopping habits.
The Magic Christmas Co. (TMCC) has been decorating malls and shopping centers in South Africa for 30 years, working to keep up with changing tastes and malls' desire to accommodate more religious and cultural groups. In February, the company starts working with some of the biggest malls in South Africa on their design plans;  installations start in the first two weeks of October. Decorations stay up until just after the new year, when the whole process starts again.
At The Glen shopping center in southern Johannesburg, TMCC hung white sparkly branches wrapped in fairy lights from the ceiling. Large baubles were also strung up, and traditional Christmas trees punctuated the main thoroughfares. The mall's architecture is a nod to the Portuguese community  in the neighborhood, but the decorations showed no hints of a Mediterranean or an African Christmas, though.
While malls like The Glen reflect traditional themes, TMCC co-owner Jan Griesel says there has been a growing effort in the last 15 years to recognize local traditions. These range from using Ndebele prints to replace ribbon, a giant baobab tree instead of a fir tree, and handmade wire reindeer, sheep, and cows. "What we're trying to do is incorporate more local people to produce more local things, so we can put it it together in one statement,"Griesel says.
What hasn't changed, Griesel says, is expectations that malls be decorated come Christmas. "They do demand it actually; if you don't do it, then there's a problem," he says. And malls are generally happy to comply, even though the effect of this decor on sales can be hard to measure. A survey by trade show organizers Messe Frankfurt of mall managers in Germany found most felt the "emotionally charged retail world" created by Christmas decor provides an important boost (pdf) to end-of-year sales.
Johannesburg-based CPS Promotions has had such success with their business decorating malls that its owners, Veta and Bevin Masters, have opened their own small factory so they can manufacture pieces instead of importing them. They employ nearly 30 permanent staff and the number jumps to about 100 as Christmas planning ramps up around June.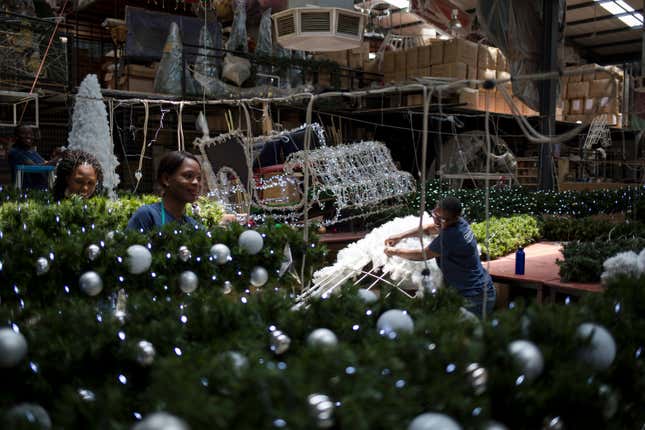 The company's factory floor in an industrial park in northern Johannesburg is a Christmas bonanza. Dozens of plastic-covered red and gold Santa thrones sit next to reindeer frozen in mid-leap. Rows of workers weave baubles and tinsel into garlands of plastic pine branches, preparing them to hang from the ceilings of malls around Johannesburg.
Veta Masters says the firm's been most successful in providing malls with traditional Western Christmas-style decor. "I've learned that the hard way after 16 years," she says. Her desk is covered in files filled with floor plans and photos of Christmases past. In an adjoining office, a team of graphic designers brainstorm ways to give the interiors of South African retail spaces that warm Christmas feeling. Savvy clients have already been in touch with Masters since February, but a few last-minute orders put through in early November are being put together on the factory floor.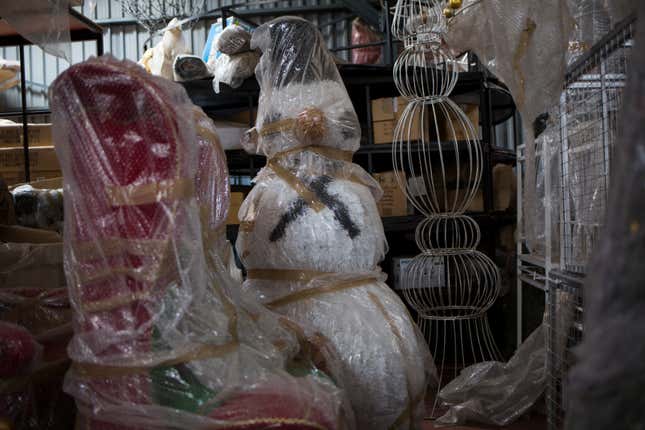 "We do Christmas all year long," Masters says.
CPS recreates a winter wonderland for malls using twinkling lights to evoke glistening snow. Masters recommends a standout feature like oversized presents stacked in the middle of the mall floor or a giant ribbon wrapped around the exterior of the mall.
But she draws the line at fake snow, be it foam, powder, or plastic. "People love the idea of snow but they get tired of it too quickly," said Masters, who was born in Bulgaria and knows a little something about what Christmas in the cold is actually like.
Some malls have tried to strike the balance between South African and western traditions, but looking around the country's malls today, it seems like white Christmas is here to stay.
At Southgate mall in Johannesburg, which serves South Africa's largest black township, Soweto, decorators tried to move toward a more African theme by having six-foot-tall baobab and acacia trees made of wire greeting visitors at the mall's entrances. Still, most of the mall's décor harkens to the northern hemisphere's December. Naked branches made of wire frames and draped with yellow fairy lights hang throughout the mall, and rows of fairy lights drip from the malls balconies, reminiscent of icicles.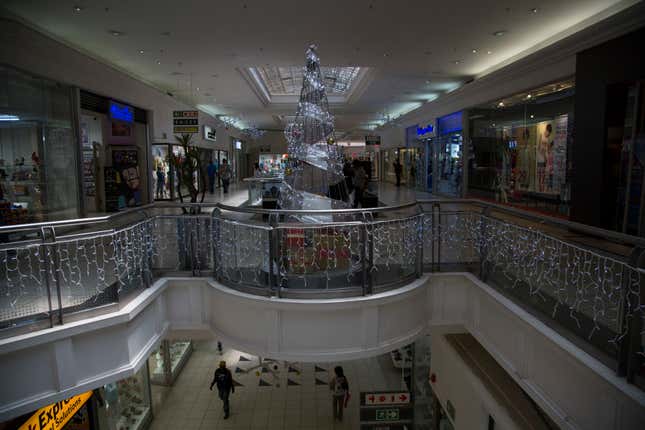 The Mall of Africa is celebrating its first Christmas since opening in April. Its interior features modern pillars that hint at the thick trunk and high branches of a baobab tree. To complement those, decorators from TMCC have hung light fixtures in the shape of large silvery snowflakes above the busy food court. Elsewhere, a large conical wire Christmas tree fills the space between escalators. Around it are the outlines of the African continent, woven in gold tinsel between the wire frame. The decorations feel like Christmas, but are at odds with the beachwear, sunglasses and summer specials on sale in the shops themselves. And many of the shop fronts have gone for an even more traditional feel, weaving plastic green pine branches between till points.
The décor "acts as a huge draw card," says Vanessa Fourie, brand manager at Mall of Africa, who has been working with South African malls for years. "Be it on your head if you actually don't [decorate]." Even though malls might be catering for more diverse communities, religions and races, "the cross purpose is that there is an expectation for beautiful, traditional stuff," says Fourie. Regardless of how malls decorate, "certainly the belief is that it does add to the shopping experience, which obviously then results in our tills."