More than 5,000 guns—three 15-foot pyres of rifles and pistols—were set ablaze in a field on the outskirts of Nairobi this week. Kenya's deputy president William Ruto oversaw the burning, a message to the public that illegal arms trade will not be tolerated.
"I am calling on all citizens in Kenya who have unlicensed firearms to voluntarily surrender them," Ruto said at the Nov. 15 event. The guns came mostly from cattle herders and criminals, seized by authorities over the last nine years, according to Kenyan officials.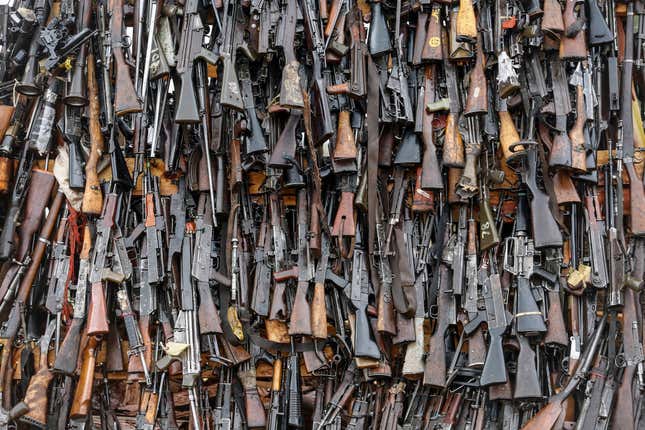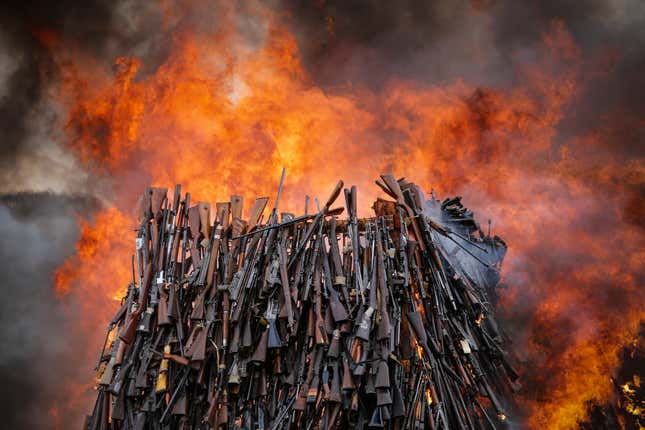 Kenya's public gun burnings ceremonies—held since 2003 as part of a UN action program to eradicate the trade in small arms and light weapons—make for dramatic photos and backdrop to government assurances that something is being done about violence in the country. Carjackings, robberies, cattle theft and terrorist attacks are committed with illegal guns. More than 20,000 guns have been destroyed in these burnings.
But it's not clear that the burnings have done much to dent the proliferation of arms in the country. In 2007, Kenyan officials estimated that there were 100,000 illegal guns in circulation in the country. This year, officials say there are around 700,000 guns floating around the country, most of them smuggled in from Somalia, Ethiopia, Uganda, and Sudan. (Kenya also holds an annual ivory burn, whose efficacy at discouraging poaching has also been questioned.)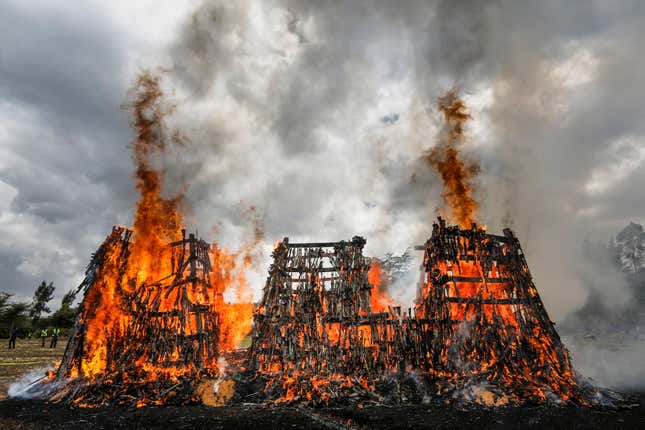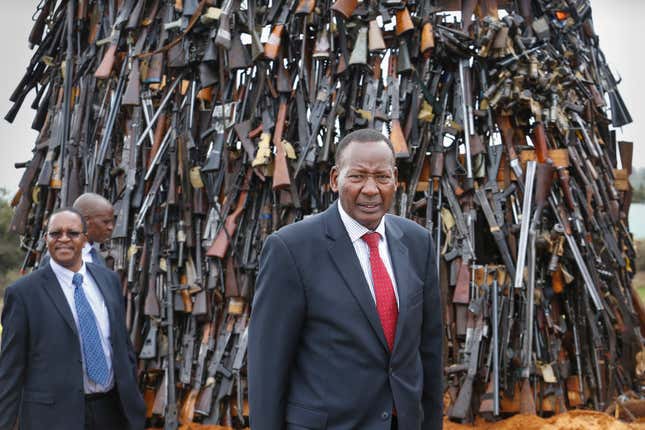 On paper, gun laws in Kenya are strict. Getting a gun license is difficult, requiring several background checks and interviews. Yet pastoralist communities, where government security presence is scarce, organized gangs, and households fearing for their safety have kept up demand for weapons bought on the black market. Researchers believe violence after disputed elections in 2007 further fed demand. In some cases, Kenyan security forces have been implicated (pdf, p.22) in the illicit trade.
Ahead of the burning, Kenya's interior ministry announced that it had formed a national action plan to crack down on the trade with tactics like marking all state-owned firearms and setting up an arms mapping survey. But analysts say that the government should also focus on lessening the sense of insecurity in communities, which fuels the trade.