Kampala, Uganda
Uganda's Kiira Motors will not be commercially producing solar buses after all. At least not for another decade, according to state-owned company's CEO.
The company has thrice excited Ugandans and the world with motor vehicle prototypes that use renewable clean energy, now says it will be producing regular diesel engine pickup trucks.  Kiira CEO Paul Musasizi tells Quartz he is finalizing talks with two established vehicle makers to partner with, in a Uganda-based car factory.
In February 2016, right before Uganda's presidential elections, the country's long time president, Yoweri Museveni, launched a solar bus prototype called Kayoola, made by Kiira Motors. The event was one, in a long line of pre-election red ribbon cutting rituals by Museveni, but Kiira Motors' prior record for innovative car prototypes made it a stand out.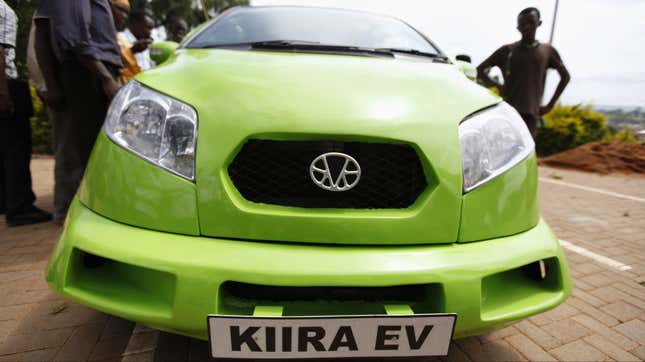 Ugandans, often critical of their public institutions, put political sentiments aside to celebrate the development on social media. Hailed as the unveiling of "Africa's first solar bus", the prototype's test drive was announced by local, regional and international media. In subsequent months, the innovation was showcased at the UN Environment Assembly and spurred Kiira Motors, past to the likes of Toyota, to an award for leadership in visionary innovation from the global consulting firm, Frost & Sullivan. The award citation read in part, "the focus on developing sustainable electric, hybrid, and solar vehicles will allow KMC to capture the leadership position in an uncontested market space."
However, the company hasn't been able to find the funds it needs to enter this "uncontested market space." Musasizi explained, "it is not easy at this point, even before you set up a plant, to convince an international investor. There are very few people who want to invest in brick and mortar, unless their business is real estate. In this case our business is not real estate so it's not easy for us to get an investor before we can prove that we can at least get one vehicle off the assembly line."
Even Kiira's potential partners aren't equity investors but technology transfer manufacturers with experience in making regular vehicles. Instead, the company is seeking to borrow about $100 million, with it's majority (94%) stakeholder, the government of Uganda, as a guarantor for the loan.
Musasizi says they are also working on other interesting financing solutions. These perhaps include hope for the generosity of a rich philanthropist, —in early October, the company entered McArthur Foundation's 100&Change competition. The philanthropy plans to award a $100 million grant to "a single proposal designed to help solve a critical problem affecting people, places, or the planet."
Barring 'save the planet' philanthropy, the company will borrow to produce diesel-powered vehicles while saving up from the proceeds for its long term ambition of making vehicles that use renewable energy. Musasizi argues that there is money to be made in disrupting Uganda's current second hand vehicles' market, which his company estimates to be worth $3 billion in annual imports. However, the company is primarily targeting government institutions like the police and army, which already buy brand new pickup trucks.
On that long term future with cars that are good for the planet, he is philosophical. "It will continue to be a moving target. When we proposed an electric car at Makerere University, we were mocked. A lot of people rejected the idea that there was a path there. When we made the first car, it stopped being about making a car but how to build a business. After that, it will be, how profitable the business is. After that; customization…"