After 22 years in power, the Gambia's Yahya Jammeh will no longer be president. After the electoral commission declared his opponent candidate Adama Barrow as the winner of the Dec. 1 presidential elections, by 50,000 votes, there was some uncertainty that Jammeh, an autocrat, who once promised to rule the small West African nation for "a billion years" would accept the electoral loss.
But late on Friday evening in Gambian time, Jammeh appeared on national television to not only concede victory to Barrow, but also phoned Barrow live on air to congratulate him and pray for his success. Jammeh's concession put Gambia on course for a peaceful transition of power for the first time since independence in 1965.
"This is transparent, this is the will of Allah, and as a muslim I accept it in good faith," Jammeh says on the call to Barrow. "The Gambian people have chosen you and after 22 years I'm grateful to the almighty Allah for that."
The surprising result was met with relief by Gambians, who took to social media after internet services were restored in the country following a shutdown before and throughout voting. There have been numerous reports of ordinary Gambians pouring out into the streets to celebrate the coming handover of power in January.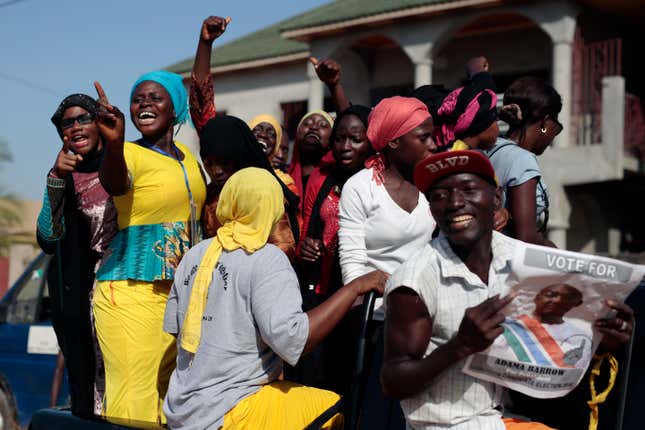 Jammeh's loss comes despite various attempts to control the electoral process in which Gambians cast their vote by placing marbles in metal drums. In addition to shutting down internet services, Jammeh had phone services shuttered, preventing Gambians from making and receiving international calls. The long-time leader also barred European Union election observers from entering the country. Jammeh had predicted a landslide victory for himself.
Jammeh's loss, though unexpected, given his stranglehold on power and control of Gambian media, may have been a long time coming. In April, Gambians took to the streets to protest Jammeh, in what was described as "the largest and most sustained act of public defiance" against the president.
Opposition parties and groups also strategically rallied behind a single candidate, the now president-elect Adama Barrow, in a united front. Barrow, an estate agent, returned to Gambia in 2006 after working as a security guard at an Argos store in London. While campaigning, he criticized the lack of a two-term limit on the presidency and promised to promote press freedom and an independent judiciary.