A new list of the richest South Africans out this week reveals Atul Gupta, close associate of President Jacob Zuma, has become the richest person of color in South Africa. Rather than celebrated as an achievement, the ranking has riled South Africans who accuse the president of patronage and corruption.
Gupta is the seventh richest South African on the Business Times Rich List with 10.7 billion rand ($773 million). The list, released on Sunday Dec. 11, is compiled by research company Who Owns Whom and ranks wealth based on  disclosed holdings in companies on the Johannesburg Stock Exchange.
Top of the list is Christo Wiese, main shareholder in retailers Shoprite and Steinhoff and other companies, with a fortune of 81.3 billion rand ($5.8 billion). He's joined by South African property, banking, pharmacy and mining moguls. Gupta makes the list for the first time after his company Oakbay Investments listed on the Johannesburg Stock Exchange in 2014.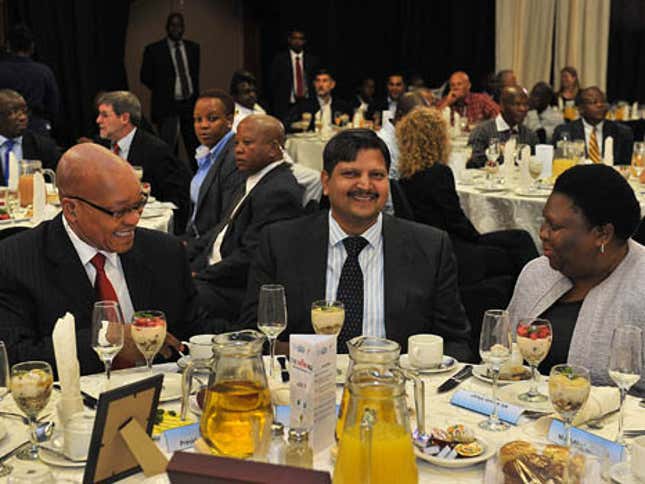 Gupta overtook Patrice Motsepe (who was ranked 11th with 9.5 billion rand or over $690 billion), known as the first black billionaire in Africa. Granted, Motsepe's political connections may have paved the way for the mining magnate, his wealth is viewed as a result of addressing the economic inequalities resulting from apartheid.
Gupta's political connections, however, have attracted the ire of many South Africans. Gupta along with his older brother Ajay and younger brother Rajesh own Oakbay Investments, home to the Guptas' stable of companies ranging from mining to media and technology. Gupta came to South African from India in 1993, just as apartheid was ending, selling shoes and computers from his car trunk.
The public sentiment, however, attributes the Guptas' wealth to their ability to parlay political connections to profit rather than an entrepreneurial immigrant spirit. Despite the family's attempts to change this image, their name has become synonymous with corruption in South Africa. That image worsened as a report revealed just how deep the Guptas' influence was over Zuma's administration and state-owned companies, dubbing their relationship "state capture."
The list not only reveals the benefits of presidential friendships, but also just how little the demographic of wealth has changed in South Africa. White men still make up the vast majority of names on the list. Of the top 250 names, only 45 are black (including anyone who is not white). The first woman on the list makes her appearance at number 34: CEO of Sygnia Asset Management Magdalena Wierzycka. The first black woman on the list, Anna Mokgokong of the Afrocentric Investment Corporation, ranks 131st.