For over 14 months, large depositors at Imperial Bank, a fallen mid-sized Kenyan lender have done all they could to get back their money to no avail. Each passing day, the intensity of their frustrations heightens as the possibility of never fully recovering their money stares them in the face.
At the heart of their plight are rogue central bank officials who conspired with the mid-sized lender's officials to steal from depositors, according to court filings seen by Quartz. Shareholders are blaming officials at Kenya's central bank who are said to have conspired in a multi-year fraud that cost the lender $380 million in bad loans and customer deposits.
The funds were swindled from the bank by the late Abdulamek Janmohamed, principal shareholder of the bank he started in 1992 and served as managing director until his demise in September 2015. Together with other managers, it is claimed he carried out the fraud in collusion with among others, former governor, Prof. Njuguna Ndung'u. In a counterclaim and defense against a negligence lawsuit filed by the central bank, Imperial Bank's shareholders claimed Prof. Ndung'u and about a dozen other officials of the apex bank were given assorted favors by top management of the bank to aid in circumventing industry regulations in their dealings.
Gifts and oaths
Imperial provided gifts to central bank officials as well as loans that were often never repaid. The said officials also dangled favors for employment for relatives or acquaintances. An e-mail exchange retrieved by the shareholders shows one Simeon K. Rono, an official at the central bank reminding Naeem Shah (former head of credit) of an 'oath' he had made with the late managing director.
"Bro. We agreed with Mzee (Janmohamed) sometime in 2004 that my children shall never lack school fees as long as his bank was in operation. This was more or less an oath between two friends…"
Prof. Ndung'u, who served as governor at the central bank from Mar. 2007 to Mar. 2015 was said to have had visas sponsored for visits to Dubai while his wife was sponsored for personal holidays to exclusive resorts in Thailand. "Over the course of many years, and unbeknownst to the bank's board (Imperial), CBK's officials deliberately flouted, breached and/or otherwise acted in disregard of the law in relation to the supervisory processes," the court filings state.
The Imperial case is one of a growing number of major corruption scandals in Kenya. While the leadership in Kenya of president Uhuru Kenyatta says it has intensified the war against corruption, Kenyans generally feel the war has been lost. Corruption is believed to be commonplace and cuts across all cadres of society with the police and public service officials routinely demanding bribes from ordinary Kenyans.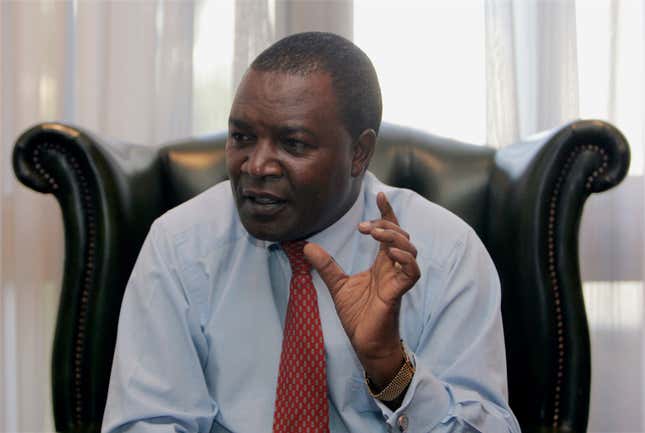 It's all the more frustrating for citizens to note fraudulent loans were being dished out to wealthy and powerful individuals in the case of Imperial Bank while ordinary Kenyans often have a hard time accessing loans for being deemed too risky or unable to pay the high interest costs.
The shareholders' counterclaim is the most recent in a string of litigation since the collapse of Imperial Bank last year.  In September, the Central Bank of Kenya and Kenya Deposit Insurance Corporation asked the High Court in Nairobi to seize $450 million worth of assets that Imperial Bank directors and shareholders are said to hold in at least 40 different companies. This followed another suit last year in which the mid-tier bank's directors sued a network of 20 companies and individuals that Janmohamed is said to have used to siphon money from the bank.
In turn, shareholders sued central bank seeking to stop the liquidation of their bank. But, it is in the counterclaim against a negligence case filed by central bank that the shareholders implicated the regulator's officials of colluding in the heist.
Aided by central bank officials, it is claimed, Janmohamed deployed a software reporting program which ensured fictitious, unlawful and fraudulent accounts were created and used to defraud depositors. These were not reflected in the financial statements and the bank's true financial position was understated.
New sheriff
Failure by the Kenyan central bank to act on whistleblower reports of unethical practices at Imperial gave the perpetrators greater leeway to continue stealing from depositors, say Imperial shareholders. In 2012, a whistleblower notified central bank about funds that were being moved into fictitious accounts on a monthly basis, asking the regulator to "act with speed" but no action was taken.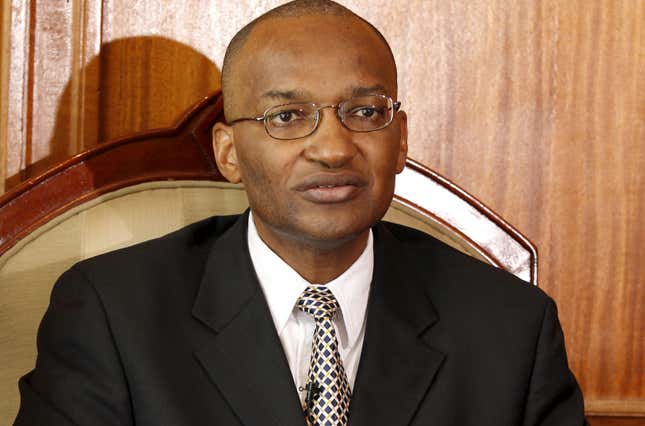 Soon after the retirement of Prof. Ndung'u, the incoming governor, Patrick Njoroge, a no-nonsense administrator, on discovering unethical practices that flouted regulatory rules, put two lenders, Dubai Bank Kenya and Imperial Bank into receivership two months after assuming office. This cast the spotlight on Prof. Ndung'u, whom critics accused of having been compromised when the fraudulent bank practices took place. In April this year, the central bank put Chase Bank, another mid-sized lender under receivership.
The central bank has sued current shareholders and the estate of Janmohamed to recover $450 million to pay large depositors. The shareholders are accused of negligence and recklessness in their fiduciary duty and for awarding themselves millions of dollars in dividends notwithstanding the precarious financial situation of the bank.
The central bank is also keen on liquidating Imperial Bank after failing to get shareholders to recapitalize it with $200 million that would have expedited its reopening. As to when the liquidation will happen would depend on how soon court cases pertaining to the bank's collapse are finalized. Another mid-tier Kenyan lender, NIC is intent on buying portions of Imperial Bank's assets including branches in strategic locations.
Meanwhile, Njoroge's clean-up of the banking sector has not been taken in good stead by beneficiaries of unethical practices in the industry. They are reported to have filed or sponsored an avalanche of legal suits to frustrate or have him ousted from office. What remains to be seen is what action will be taken against complicit central bank officials.