The Democratic Republic of Congo's leader Joseph Kabila was supposed to leave office on Dec. 19, the date his presidential mandate officially ended. Instead, he is clinging to power but Congolese want him out. They've take to the streets in DRC's major cities, protesting what opposition leaders are calling a coup d'état. At least 20 people have already died in the clashes between police and demonstrators, the United Nations said on Tuesday, Dec. 20.
"On the issue of deaths, it looks bad," the UN human rights director for the DRC Jose Maria Aranaz told Reuters. "We are reviewing allegations of up to 20 civilians killed, but it (the information) is pretty solid."
The country was meant to hold elections on Nov. 20 this year, but Kabila refused to set a date. Instead, Independent National Electoral Commission said they could not organize an election until 2018. Kabila's stay was secured when the constitutional court—populated by judges handpicked by Kabila—ruled that the incumbent must rule until a successor is chosen. Opposition parties have vowed to protest until Kabila leaves office.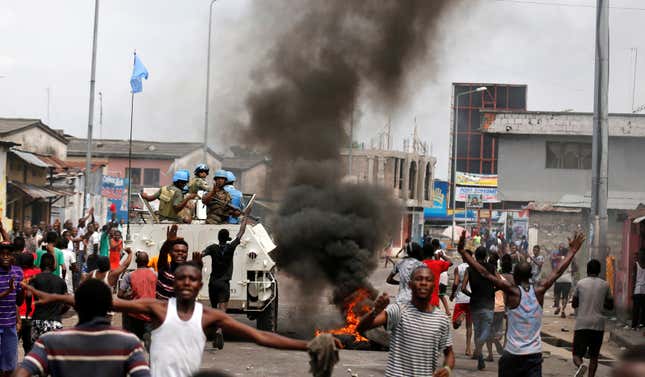 Tuesday's protests began with opposition leader Etienne Tshisekedi's call for a peaceful resistance. But soon, gunfire was heard in the capital Kinshasa, home to 12 million people. Young people burned tires in the streets, forming burning barricades. "Kabila, your mandate is over," some were heard chanting. In Lubumbashi, a southern city, the royal guard fired live rounds at protestors, according to human rights activists.
Demonstrations have been banned and social media has been blocked in a bid to stop protestors from mobilizing. Instead, some protestors turned to whistling, sending a sharp chorus of whistles into the night that quickly spread throughout the cities, according to Human Rights Watch.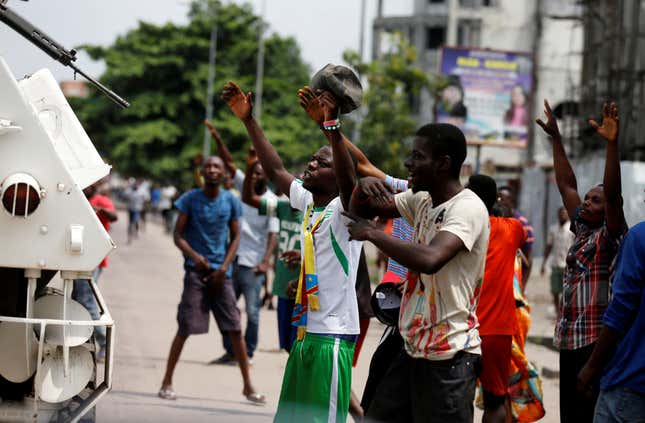 The government has deployed extra soldiers and security forces throughout the country, and has arrested dozens of people. The United Nations mission in the country has tried to patrol the area too.
Africa's second largest—and arguably most resource-rich country—has never known a peaceful transition of power since independence in 1960. The presidential election in 2011 was barely credible, serving to secure a second term for Kabila. After nearly 16 years in power, many Congolese say their lives have not improved and want Kabila gone. Kabila has not responded.