The most high-profile moment of the seven-year insurgency led by Boko Haram terrorists in northeastern Nigeria was in April 2014, when over 200 schoolgirls were abducted from Chibok, a town in Nigeria's northeast. While a majority of the Chibok girls still remain in captivity, despite the Nigerian army's gains against Boko Haram, in October, 21 of them were released after negotiations with the terrorist group.
To help the rescued girls successfully reintegrate into society after more than two years in captivity, Robert Smith, the little-known billionaire founder of Vista Equity Partners, a private equity firm, is offering educational scholarships to the Chibok girls rescued so far by Nigeria's army, says Garba Shehu, Nigeria's presidential spokesman.
Shehu says Smith is "currently sponsoring the education of 24 girls from Chibok, among them the first set of escapees from Boko Haram at the American University of Nigeria (AUN), Yola." AUN is owned by Atiku Abubakar, Nigeria's former vice- president. Given the high cost of tuition ($8,000 for an academic session minus housing and meals), AUN is typically regarded as a school for children of Nigeria's elite. Smith has also "offered to pay for the education of the 21 released girls through negotiations and is offering to take responsibility for all the others who will hopefully be eventually set free," Shehu says.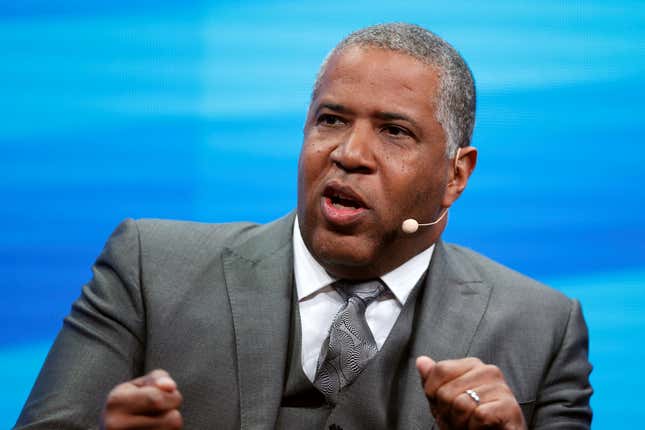 Smith, 54, ranked 268th on Forbes list of America's wealthiest people last year. With a net worth of $2.5 billion, Smith is the second richest African-American, behind only Oprah Winfrey.
Generally understated, Smith has kept his work and philanthropy away from the public eye for much of his career. Validating his description by the Washington Post as a "quiet billionaire," after making the cover of Forbes in the fall of 2015, Smith turned down an interview for the magazine's feature article.
Smith's career has spanned an internship with Bell Labs and a six-year stint at Goldman Sachs. In 2000, Smith left Goldman Sachs to start Vista Equity Partners and has grown the company to over $28 billion in assets backing "software and technology-enabled businesses" in Silicon Valley. Smith also has a track record in philanthropy and backs programs to support music education and minority entrepreneurship in Texas and Chicago. In January, Smith donated $50 million to Cornell University's School of Engineering, his alma mater. Following the donation, the university renamed the school the Robert Frederick Smith School of Chemical and Biomolecular Engineering in Smith's honor.