With the consequences of Brexit and an increasingly inward-looking United States still unfolding, 2017 is likely to be an economically tumultuous year. Some African countries, however, could see sustainable growth beyond the usual narrative of Africa alternatively "rising" and "reeling."
"The countries that will be successful in 2017—whatever will happen in the global economy—are the countries which are diversifying their economies," says Richard Attias, a consultant and former producer of the World Economic Forum in Davos.
Attias believes that countries that will enjoy real growth in the year ahead are those focusing on renewable energy, as well as those moving toward industrialization and manufacturing. New energy sources allow countries to build new industries while stabilizing their power grids and diversifying beyond fossil fuels. Manufacturing gets countries to process raw materials domestically.
Attias hopes 2017 will be the year of the African product label. "We would be proud to see 'Made in Africa,'" he says. "This would be the turning point, the really important turning point of making this continent sustainable, rich and looking forward to the future."
On the flipside, Africa's two economic giants are not likely to have a good year. Nigeria's security situation and the political uncertainty and high profile corruption scandals plaguing South Africa have damaged both country's reputations as Africa's economic champions, Attias says. African economies reliant on extractive industries are also unlikely to enjoy sustainable growth in 2017. Africa's largest oil producer, Angola, for example, is expected to suffer from rocketing inflation, a plunging currency, and an unstable oil price.
As these giants falter, this could be the time for francophone Africa to step up. Slow to benefit from the euphoria of the "Africa Rising" period of rapid economic growth on the continent, several francophone countries are now seizing investment opportunities. As African nations increase collaboration, the trick will be learning to communicate effectively in each others' languages, in order to boost economic activity.
Here are some of the African economics investors will be watching in 2017:
Cote d'Ivoire
Africa's fastest growing economy is likely to maintain its lead in 2017, the World Economic Forum predicts. After a bloody political crisis in 2011 left more than 3,000 people dead, Cote d'Ivoire struggled to convince the world that it had turned a political and economic corner. The peaceful re-election of president Alassane Ouattara in 2015, along with its four-year National Development Plan, went some way in rebuilding investor confidence. That National Development Plan has been extended from 2016 to 2020, with $15.4 billion worth of foreign investments in the form of grants and credits.
Attias believes sustained growth will come from Cote d'Ivoire's ambitions to become a regional energy hub. The country has several renewable energy projects underway; several remain in the pilot phase. In diversifying its economy and encouraging a growing middle class, Cote d'Ivoire has also seen its retail sector grow. All this could see Abidjan regain its 1970s-era boomtown status.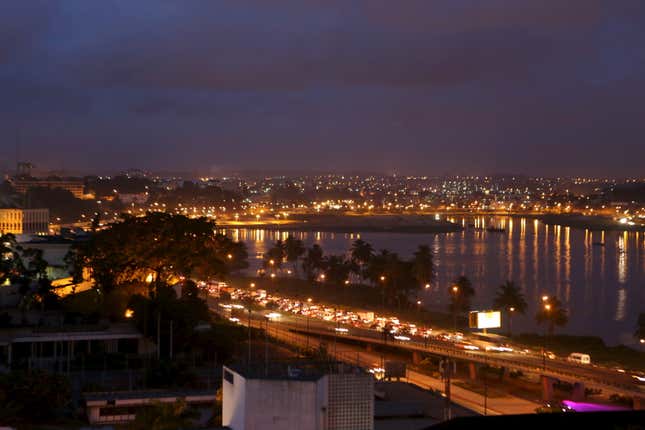 Senegal
Launching a high-speed train link between the new Blaise Diagne International Airport and central Dakar is symbolic of a country determined to forge ahead, Attias says. After several years of growth below 5%, Senegal's GDP grew by 6.5% in 2015, making it the second fastest growing economy in Africa, according to the World Bank. Economists believe this trend will continue in 2017.
Along with political stability, the government's economic plan will continue to attract investors. The Plan for an Emerging Senegal (pdf), launched in 2014, covers projects ranging from infrastructure and transport, energy and water and sanitation developments.
Togo
Togo, a tiny sliver of a country between Ghana and Benin, is modeling itself on the economic successes of Singapore and Dubai. The West African country has spent its growing GDP on infrastructure projects, most notably the development of port of Lome, a natural deep water port that will serve West and central Africa.
Togo has also eased restrictions on business owners, cutting down on the amount of time it takes to set up a business from 38 days in 2012 to 10 days in 2014 and 2015, according to African Economic Outlook, an economic analysis project. To ensure that revenue benefits the country via the proper channels, it has also set up an anti-corruption body, which saw its international transparency ratings improve.
Benin
Togo's neighbor has not been as ambitious, but shows promise. Benin's economic growth has been consistent, but dipped slightly in recent years due to lower cotton production. Still, Attias believes the country's political stability in the last decade and a new economic plan will bring the necessary growth.
The country's economy lacks diversity, and is largely reliant on agricultural production (pdf). Still, under recently elected president Patrice Talon, a businessman turned politician, the government has committed to reforming its cotton industry and diversifying  its economy. Planned investments in the country's ports, a stronger power grid, and development of the telecommunications industry could lead to sustainable growth—if the state follows through on its economic plans.
Morocco

Home to Africa's largest wind farm, Morocco is also turning its focus to renewable energy. The Tarfaya complex stretches into the Sahara desert and is perhaps the largest testament of King Mohammed VI's ambitions for his country to become a global leader in green energy. Next on the agenda: building the world's largest solar farm.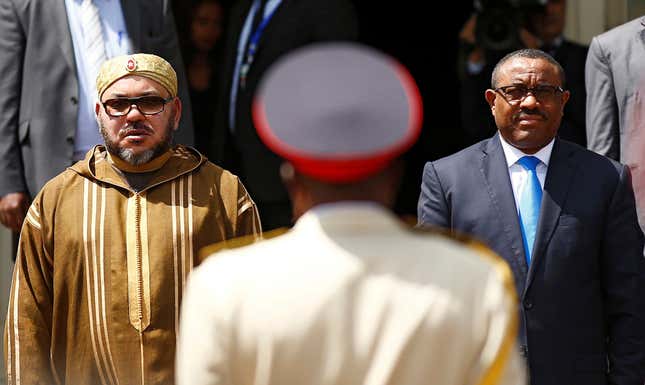 The king sees Morocco as a gateway to Europe and has recently pursued increased economic cooperation with other African nations, says Attias, who is a Moroccan national. Toward the end of 2016, Morocco signed a deal with Nigeria to jointly construct a gas pipeline to Europe. King Mohamed VI also travelled to Madagascar, Ethiopia, Burkina Faso, Rwanda and Tanzania, where he signed bilateral agreements and lucrative economic deals.