Local travelers endure immense amounts of stress getting around Africa's most populous country by air. The biggest airports are usually overcrowded with poor air conditioning while check-in desks overflow with passengers trying to get on to planes which can be canceled after hours of delay.
Arik Air, Nigeria's largest airline, is particularly notorious for flight delays and cancellations—more than half of its flights in the first quarter of 2016 were either delayed or cancelled.
In a recent incident, an Arik Air staff was assaulted by aggrieved customers requesting a refund after a prolonged delay. When flights have been on schedule, incidents of lost and delayed baggage have also been rife. In December, Nigeria's Civil Aviation Authority (NCAA) fined Arik Air $18,000 for baggage delays. Arik Air was also ordered to pay $150 each to affected passengers.
Last month Arik staff went on strike during the crucial Christmas holiday travel period leaving thousands of travelers stranded around the country. The various unions were protesting their Arik workers being unpaid for up to seven months.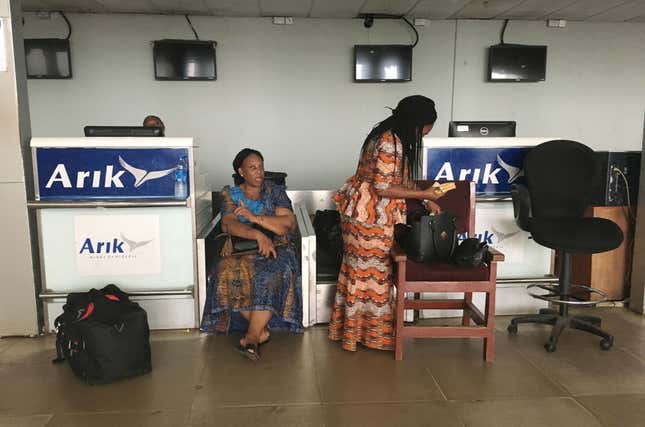 While airlines have their troubles, government agencies like the airport authority NCAA hardly fare better. Due to bad management, local travel is set to become even more cumbersome as the Nnamdi Azikwe international airport in Abuja, Nigeria's capital city, will be closed for six weeks to fix a dilapidated runway.
Hadi Sirika, Nigeria's minister of aviation, cites long-running lack of maintenance to the runway but local airlines claim the closure of the airport will disrupt operations severely.
To cope with the closure, starting March 8, flights will be routed to Kaduna airport, 100 miles north of Abuja. Passengers will then be transported by road on free shuttles to Abuja. But that arrangement poses security concerns given the rate of high-profile kidnappings and violence in the Kaduna.
In some regard, local airlines have been hamstrung by factors beyond their control. A biting aviation fuel shortage has seen delays and cancellations increase over the past year. Between January and June last year, more than half of flights operated by eight airlines in Nigeria were delayed, according to NCAA. Arik Air, Aero Contractors and Air Peace, which accounted for more than half of total flights operated in the period, were prominent culprits.
To cope with tough conditions, NCAA has advised local airlines to "scale down their operations." But while airlines like Arik Air remain operational (Arik Air is considering an expansion), others have not been able to stay afloat. In September, amid a biting recession, Aero Contractors, Nigeria's oldest airline suspended operations indefinitely.
International airlines have also been affected. Emirates, the Dubai state carrier, continues to operate in Nigeria but has cut the number of its daily flights citing viability concerns. As a workaround, given Nigeria's aviation fuel shortage, Emirates now divert flights to neighboring Ghana to fuel its planes. But not all international airlines have been as enduring: unable to its repatriate dollar profits amid tight currency controls, United Airlines shutdown its Nigeria operations last May.