From the fancy French-style cafes to the fancy malls of capital city Abidjan, Côte d'Ivoire has been a picture of economic stability and rapid growth in recent years. But the political instability that returned to the West African country this month could easily see it lose its position as Africa's fastest growing economy.
Investors would have been unnerved by a 48-hour mutiny within the fragmented Ivorian army that threatens the economic prosperity the country has built since the 2011 post-election conflict.
Soldiers began raiding police stations in cities and large towns on Jan. 6. At one point, the country's defense minister was briefly trapped in a house during the weekend revolt. Mutinying soldiers demanded an increased salary of $8,000 and a house each. The soldiers, however, had no leader making negotiations difficult.
This is the second army revolt in less than three years. The disgruntled soldiers are mainly former rebels who have been integrated into the army. On Jan. 9, Ouattara's government agreed to pay bonuses, as they did to end in the previous mutiny. The president also fired the heads of the army, police and gendarmerie, replacing them with their deputies.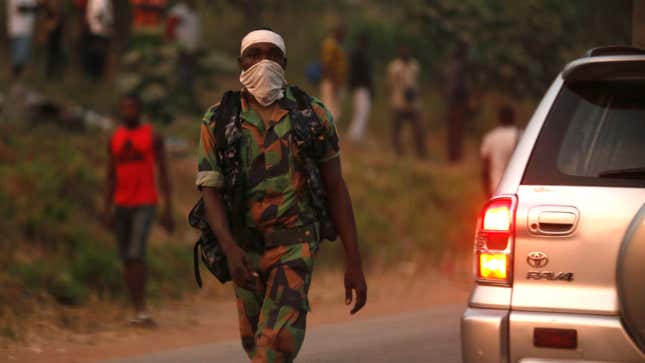 "The mutiny was quelled fast enough to prevent major damage to political stability, but shows that Côte d'Ivoire's fast progress in recent years still masks fundamental vulnerabilities," said Bjorn Dahlin van Wees, Africa analyst at the Economist Intelligence Unit, warning that instability could return ahead of the 2020 election.
The memory of election violence is still fresh in the memory of many Ivorians. A contested 2010 election run-off between president Alassane Ouattara and the then incumbent Laurent Gbagbo led to violence that left more than 3,000 people dead and tens of thousands of people displaced by 2011. Since then, Côte d'Ivoire has adopted a National Development Plan to rebuild the economy in relative peace.
On Jan. 10, Ouattara named the former prime minister as his vice president, a new post created after last year's controversial constitutional referendum. Daniel Kablan Duncan is an economist like the president, a close ally and believed to be part of  broader succession plan. Duncan was expected to step down following parliamentary elections in December and dissolve parliament but the mutiny within military delayed the political changeover.
Those militias remain a threat as many of the rebel leaders incorporated into the national army still have their hands on weapon's stockpiles and control some of the country's lucrative mines, according to analysis firm Stratfor.
"The possibility of a parallel army emerging with access to capital and resources presents a clear threat to Ouattara's government, which has been struggling to solidify the country's political system after years of instability and conflict," according to Stratfor.