For much of the last seven years, the biggest threat to Nigeria's security has been a devastating insurgency led by terrorist sect, Boko Haram, but that's no longer the case.
Over the past year, Nigeria has seen an uptick in violent activities of nomadic Fulani herdsmen. As Quartz has previously reported the threat of a crisis has lingered with the effects of climate change—rapid desertification of grazing land and lower rainfall—making cattle rearing more difficult in the herdsmen's northern Nigeria base. Seeking alternatives, herdsmen have journeyed south seeking fertile grazing land for their cattle. But with that search often leading to farms in Nigeria's middle belt and south east, increasingly violent conflicts between farmers and herdsmen have become a worrying occurrence.
According to a report compiled by SBM Intelligence, a Lagos-based intelligence consulting firm, pastoral conflicts accounted for more deaths than Boko Haram last year. SBM Intelligence data covers incidents and casualty counts for Nigeria's biggest security challenges last year: the Boko Haram insurgency, pastoral conflicts involving Fulani herdsmen and cattle rustling as well as a resumption of militancy in the oil-rich Niger Delta region.
While not as formidable as it was once was, Boko Haram remains "the most active threat in terms of number of attacks", the report says. But despite accounting for the highest number of attacks, the average number of casualties per attack has "significantly reduced.". In Nigeria's oil-rich south, a resumption of militancy has seen armed groups attack oil installations, hobbling Nigeria's oil production and exports. But both pale in comparison to pastoral conflict attacks which resulted in more casualties than Niger Delta militancy and the Boko Haram insurgency put together, according to figures SBM Intelligence verified independently.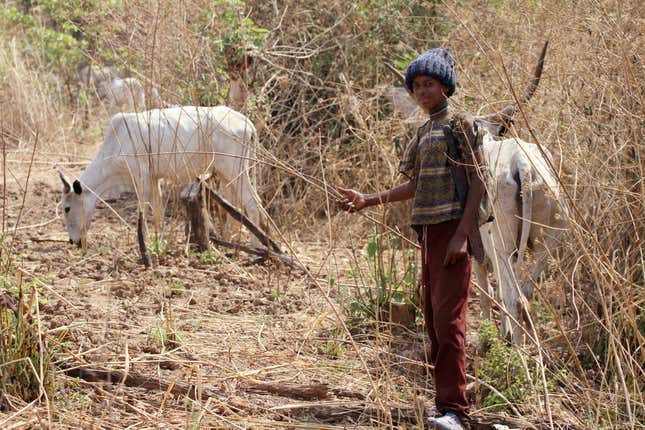 Even though pastoral conflicts are now more deadly and represent a more pressing issue, the response of the Nigerian government has been anything but urgent. After a recent spate of attacks in Kaduna, a state in northern Nigeria, which left more than 200 people dead, Nigeria's president Muhammadu Buhari did not make a public statement on the matter until a week later. For its part, the Kaduna state government has sought to solve the problem by paying off herdsmen, a tactic which has not worked.
Eromo Egbejule, a journalist who spent the past week in southern Kaduna meeting victims of the recent attacks says government will need to improve its response to the crisis. "The locals want to see more army presence there," he told Quartz. Given the lack of security forces to help ward off attacks, chances of locals taking up arms to protect themselves remains a possibility. "No one out-rightly discussed self-protection but it is only a matter of time before they start grouping to do that," Egbejule says.