South Africa's race for the presidency has begun and two of the front-runners are women.
The ruling African National Congress will only choose a leader at the end of the year, and the national election will only take place in 2019, but already two women seem to have a real chance at victory: outgoing African Union chairwoman Nkosazana Dlamini-Zuma and speaker of parliament Baleka Mbete.
South Africa has a parliamentary system of government, so does not elect its president directly. This generally means whoever wins the race to lead the ANC will be the next president. Even though the ANC's dominant grip on power loosened at the local elections in big cities, it is likely to comfortably win national elections due to its strong support in rural areas. The party has discouraged talk of succession so soon, but no one is listening.
The other contenders are mostly male, with deputy president and former business mogul Cyril Ramaphosa emerging as a front runner already.
But it seems South African commentators and analysts think it is time for a woman to lead. It's undeniable that casting a vote in favor of a female president will be historical, but that does not guarantee that the country will be led out of its current atmosphere of discontent. There's also the very real possibility a female candidate could be a front of the political infighting and factionalism that has weakened the ANC.
No safe space
South Africa is no safe space for women. It has high rates of sexual and domestic violence and the sexist comments women have to endure are hard to bear. More women are unemployed and when they do enter the work place, they find themselves in an environment that discourages their entrepreneurship and leadership. There's hope that a woman leading South Africa may shift focus to these and other gendered challenges in the country.
Dlamini-Zuma, 67, has moved toward her candidacy along the same route of her predecessors—never formally putting her hand up but taking all the steps toward the podium. Her decision to step down as chairperson of the African Union is seen as a return to domestic politics, and rumors president Jacob Zuma will shuffle cabinet to make room for her at the table are doing the rounds. The ANC's Women's League has also broken ranks to publicly endorse Dlamini-Zuma as its preferred candidate.
The president himself has said it is time for the 105-year-old ANC to be led by a woman, his statement seen as a tacit endorsement of Dlamini-Zuma. While their political relationship is an advantage, it would be unfair and sexist to refer to Dlamini-Zuma as simply the incumbent president's ex-wife.
Before they were married, Dlamini-Zuma was a political activist in her own right and became a doctor when the odds were stacked heavily against black women. She was South Africa's first health minister in the post-apartheid era, becoming minister of foreign affairs and then home affairs in subsequent administrations. She then moved on to become Africa's chief diplomat.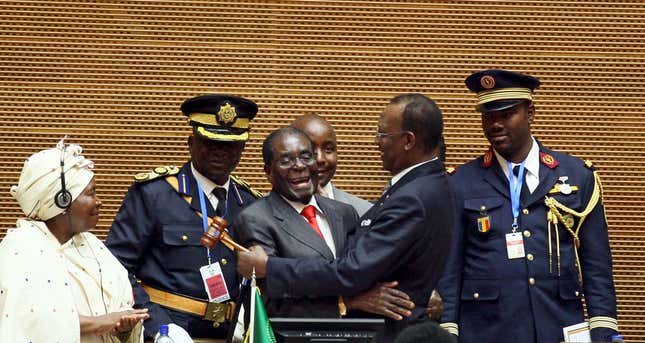 But her track record is marred by a corruption scandal that saw millions of rands funneled into a stage play about HIV/Aids rather than a feasible strategy when the country was losing thousand of lives to the pandemic. She also oversaw questionable drug trials for Aids treatment during this crucial time.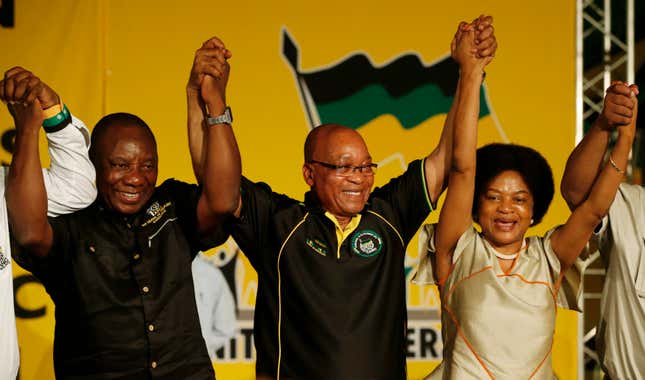 Then there is Mbete, also 67 and the current speaker of parliament. Despite her long political career, Mbete remained out of the public eye until this month, when she invited journalists to her home to announce her intention to run for president. Mbete also served as deputy president under caretaker president Kgalema Motlanthe, after former president Thabo Mbeki was recalled ahead of an election.
Mbete is, however, part of the Zuma administration and the ANC leadership that has overseen what have become some of the most politically tumultuous years of the young country. The party has been accused of losing the moral high ground it held under Nelson Mandela, and in so doing has lost significant votes. Mbete herself has been accused of bias in her position parliament and has been embroiled in corruption allegations.
While both of these women are formidable candidates in their own right, there are questions over whether they're what the country needs right now. It would certainly be a step forward for the prominence of women's rights in the country and bring a different tone to the national agenda, but neither woman brings the promise of leadership characterized by integrity, which is what the country desperately needs. Character, not gender, is a more important quality in leadership.
It's a question familiar to American voters. While some saw voting for Hillary Clinton as making history, reflective of the country's progress (not to mention the worrying prospect, and now reality, her opponent represented), other saw her as part of an establishment that needed fixing. Unfortunately, Mbete and Dlamini-Zuma represent a similar continuum.
A woman president in 2019 will certainly change the country's dimmed  international image. It will be an achievement, part of the fairy tale South Africa tells itself—a post-colonial miracle of a peaceful political transition, racial integration, one of the world's most liberal constitution and the home of Nelson Mandela and Desmond Tutu.
But these have become cosmetic changes plastered over a country that is struggling to turn its values into reality. A female president may just be yet another cosmetic twist in a tale that no longer rings true for the people.