It was a long night in The Gambia, as the midnight, Jan. 19 deadline for defeated president Yahya Jammeh to step down came and went.
Gambians and the world waited to see if Jammeh would leave office on what should have been the last day of his term, and whether neighboring countries would intervene to end his 22-year rule that began with a coup in 1994. West African troops were expected to cross the border and take action if a diplomatic solution wasn't reached by midnight. Senegal, which all but surrounds Gambia, is leading the effort to unseat Jammeh. Troops from Togo, Mali, Senegal, Nigeria and Ghana are waiting at the border.
The small West African nation has entered a troubling phase of uncertainty after Jammeh, who had initially conceded on television after losing the Dec. 2016 polls, began calling for fresh elections and refused to step down. This week, as senior officials quit in protest, Jammeh declared a state of emergency across the country.
Today, an unverified Twitter handle managed by the staff of Adama Barrow, said that the inauguration, slated for today, will take place at the Gambian embassy in the Senegalese capital, Dakar. Media sources on the ground couldn't independently verify whether any actual preparations were taking place.
For now, it's unclear who exactly is president. The African Union has said that it would stop recognizing Jammeh as the president of the Gambia as of today. Yet yesterday, Gambia's parliament approved a measure to extend Jammeh's term by another three months.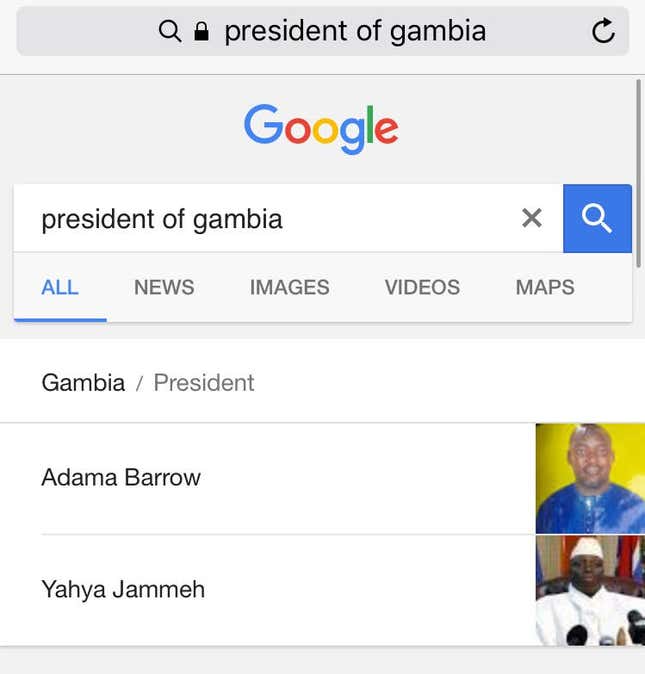 The streets of the capital were deserted as restaurants, shops, and other businesses have been shut. Many have left the city, leaving only police and military on the streets. At least 26,000 Gambians have fled the country to Senegal, according to the United Nations. The majority of those are women and children. British holiday makers have also left the country in droves. Tour operator Thomas Cook says it expect to take home 3,500 passengers by the end of the week. Gambia's economy, which heavily relies on tourism, is expected to suffer.
"Banjul is a ghost town," Lamin Ceesay, a former police officer in Banjul who has now left for a neighboring city, told Quartz. "I am uncertain what will happen, but one thing I know is that the outgoing president is unpredictable and unreliable." Still, he said, "Gambians are ready to face their fate and regain their country."
Gambia's army chief said yesterday that he won't involve the military "in a stupid fight" if the ECOWAS troops entered the country, according to AFP. "This is a political dispute," Ousman Badjie, the chief of defense staff, said. "I am not going to involve my soldiers in a stupid fight. I love my men." The statement was a reversal from his position earlier in the month when Badjie pledged "unflinching loyalty and support" to president Jammeh.
Mauritania's president Mohamed Ould Abdel Aziz also flew into Gambia on Wednesday in hopes of resolving the crisis. Aziz reportedly left Gambia before midnight and flew to Senegal to meet with president Macky Sall. Senegal has also presented a draft resolution to the United Nations Security Council, seeking support to pressure Jammeh to step down. The resolution's text didn't explicitly seek the Council to authorize the deployment of troops into Gambia.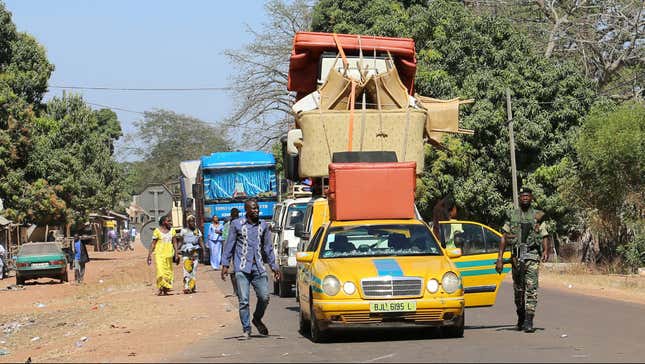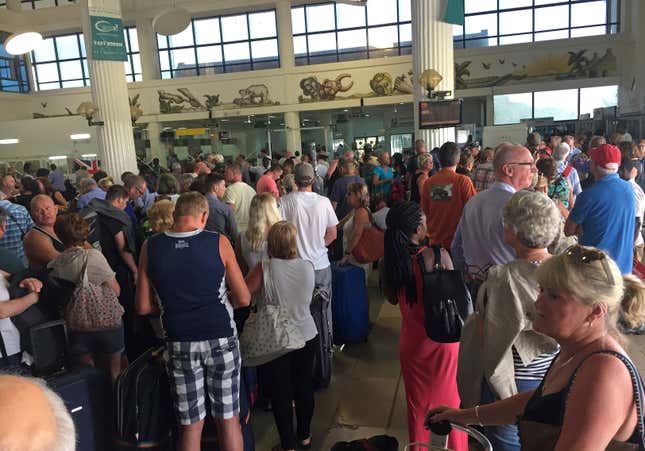 Gambia has been trending on social media for the past few days. The website of Gambia's state house has been hacked to show a photo of Barrow alongside the date of inauguration.