Gambian citizens did not get to witness first-hand one of the most important democratic transitions in their country. Adama Barrow, who defeated the country's longtime leader Yahya Jammeh at the polls in December, was sworn in as president of the Gambia in a makeshift inauguration ceremony today at the Gambian embassy in Dakar, Senegal.
Dressed in all white, Barrow took his oath of office in a short ceremony in front of a small group of dignitaries and his family. "There are no losers in this election," he said, speaking afterwards. "This is a victory for the Gambian nation. Power belongs to the people in the Gambia."
Jammeh remained in the statehouse in Banjul, Gambia's capital, where he has refused to cede power, leaving the small West African nation in a state of uncertainty that observers fear could descend into violence. Barrow has remained in Senegal for most of the last week out of concerns for his safety.
In some parts of the country, Gambians took to the streets after the ceremony, honking car horns and chanting "New Gambia." "People are pouring into the streets. They are happy and so joyous right now," Lamin Ceesay, a former police officer in Banjul who left the capital for the nearby town of Latrikunda, told Quartz.
Neighboring countries as well as Gambian citizens have prepared for the worst. Senegalese troops mobilized by the Economic Community of West African Countries (ECOWAS) that have been waiting at the Gambian border have now entered the country, after the United Nations Security Council voted to back ECOWAS' efforts to remove Jammeh if he does not step down.
Thousands of tourists have evacuated the country. Senegal, which all but surrounds Gambia, expects 100,000 refugees, according to the United Nations High Commissioner for Refugees. More than 20,000 Gambians have already fled the country. Those left in the country have been tensely awaiting Barrow's swearing in, in hopes that as president and commander in chief of the military he can force an end to the political crisis.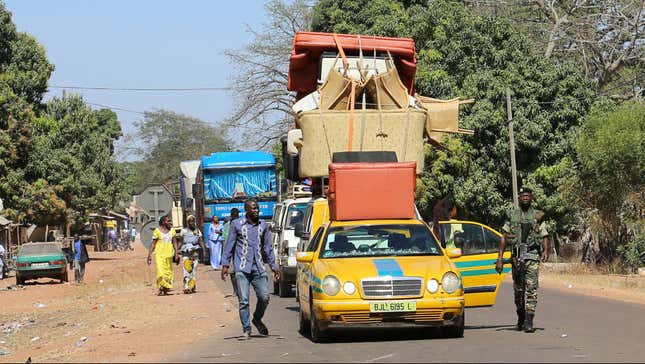 According to Amnesty International, security forces loyal to Jammeh have been arresting officers suspected of supporting the opposition, youths selling T-shirts with the phrase "Gambia has decided," in reference to the December election, and other opposition supporters.
"I am uncertain what will happen, but one thing I know is that the outgoing president is unpredictable and unreliable," Ceesay said. He added,"Gambians are ready to face their fate and regain their country."
The fate of Gambia has hung in the balance over the last few months as Jammeh, who had initially conceded the presidential election to Barrow on live television, has called for new elections. The eccentric leader, who once claimed to have cured AIDS with herbs and promised to quit the International Criminal Court, has refused to step down after 22 years in office, despite defections of eight of his own senior officials, including his vice president, and condemnation from the international community and other African leaders.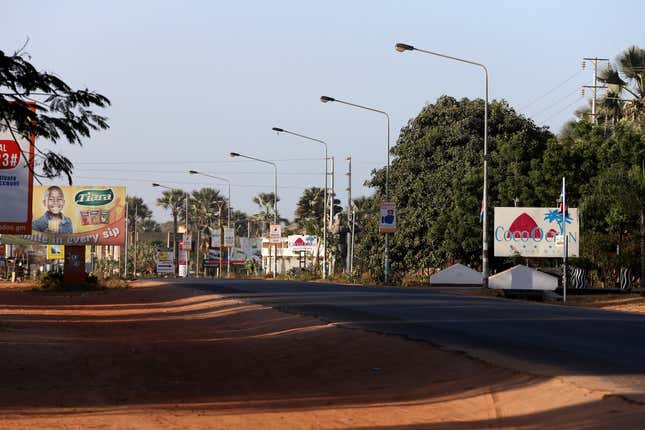 Instead, Jammeh has declared a state of emergency across the country, which human rights observers fear is an excuse to detain more potential opponents. He also won parliament's approval to extend his term by 90 days.
Still, the international community is applying pressure. The African Union has said that it would stop recognizing Jammeh as the president of the Gambia as of today. Botswana has announced that it no longer recognizes Jammeh as Gambia's president. China, which recently reestablished ties with the country, called for "cool headedness" and for all parties to "attach importance to the interests of the people and country."
Instability could still be avoided. Gambia's army chief said yesterday that he won't involve the country's military in a fight with ECOWAS troops, according to AFP. "This is a political dispute," Ousman Badjie, the chief of defense staff, said. "I am not going to involve my soldiers in a stupid fight. I love my men."
Mauritania's president Mohamed Ould Abdel Aziz met with Jammeh in Gambia yesterday, reporting afterwards that he is "less pessimistic" that Jammeh will work on a peaceful solution. Jammeh may be negotiating an amnesty agreement with Aziz, according to Bloomberg.
The president of the UN Security Council, Olof Skoog, said in a briefing last night that members had expressed "serious concern" about the extension of Jammeh's term as well as worries that the time for diplomacy and mediation is running out.
"I think there's the sense that the whole situation rests within the hands of one person, and it's up to that person, the outgoing president of Gambia, to draw the right conclusions and to avoid any further escalation of the situation," he said.