After 22 years as one of Africa's most volatile autocrats, Gambian president Yahyah Jammeh managed to hang on to power for an extra 42 hours after the end of his term. But around 6pm local time today (Jan.20), the defeated president finally agreed to step down. It followed days of negotiations, defections from his own cabinet, and the presence of Senegalese troops in the country.
According to incoming president Adama Barrow, who defeated Jammeh at the polls in December, Jammeh has agreed to cede power and go into exile. Barrow, who was inaugurated at the Gambian embassy in Senegal yesterday, will now be able to enter the country and take up the presidency.
The peaceful end of the political crisis in the small West African country marks a win against the more common sight of stubborn African leaders refusing to cede power.
Jammeh, 51, who had initially conceded the presidential election to Barrow on live television, began calling for new elections last month after the incoming government threatened to prosecute him for crimes against the country. The eccentric leader, who once claimed to have cured AIDS with herbs and promised to quit the International Criminal Court, was known for imprisoning and torturing his opponents or engineering their disappearances.
In the month and a half that followed, regional leaders scrambled to find a political solution to the impasse, flying to Banjul to negotiate with Jammeh, and raising the possibility of asylum outside of the country. On the last day of Jammeh's term, Jan 18, the Economic Community of West African Countries (ECOWAS) gave the president until midnight to leave. ECOWAS troops massed on the Gambian border. The African Union said that they would stop recognizing him as the president as of the next day.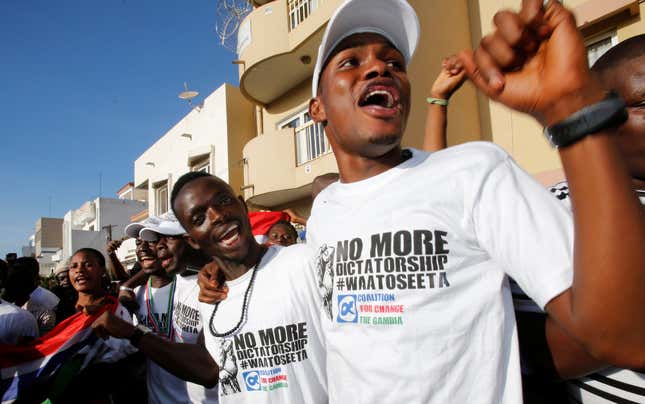 Still, Jammeh resisted, prompting an estimated 45,000 Gambians to flee the country to Senegal out of fear of violence. Thousands of tourists also left. After Barrow's inauguration, Gambians took to the streets, cheering and chanting, "New Gambia." Senegalese troops entered the country in preparation for removing Jammeh, who dug his heels in further, dissolving his cabinet and pledging to manage the government himself.
Today, after missing another deadline at noon Jammeh, asked for more time. Final talks with Jammeh were led by Alpha Conde and Mohamed Ould Abdel Aziz, presidents of Guinea and Mauritania. Further tipping the balance against him, the chief of defense forces, Ousman Badjie declared allegiance for Barrow. After preparations were made the Banjul airport, possibly for the departure of Conde and Aziz, Barrow announced on social media that Jammeh had agreed to step down. A senior advisor to Jammeh confirmed the statement, according to Reuters.
Gambians who had heard the news were hesitant to celebrate, given Jammeh's history of erratic behavior. Lamin Ceesay, a former police officer in Banjul and radio host who has been following the crisis closely told Quartz, "I am not sure that he will leave, until he is gone, because he is unpredictable."