Last month, James Ibori, a former governor of oil-rich Delta state in the south of Nigeria was released, after four years in a UK prison. He had been convicted by a British court for embezzling state funds during his eight years in charge. Ibori was released and deported after he had returned up to $110 million of "proceeds of crime".
Ibori's journey to spend time at her majesty's prisons started after 2009, when a Nigerian court threw out a 170-count corruption charge against him, citing a lack of merit in the case. But the determination of the government at the day and the cooperation of Interpol ensured he was arrested a year after he fled to the United Arab Emirates to avoid extradition to the United Kingdom for retrial.
On release in December, Ibori was ushered into the waiting arms of some of his fiercest supporters including Peter Nwaoboshi, a serving Nigerian senator from his state. Back home, the Delta state government reaffirmed its joy and loyalty while in Oghara his hometown, the celebrations at the news of his release got so out of hand a motorcycle rider got killed in a hit-and-run accident while performing celebratory stunts.
Puzzling resurgence
To Nigerians outside the Niger Delta region, it's puzzling that Ibori, who has a long history of allegations of theft and fraud going back to the nineties, would be welcomed so openly. What may even be more surprising is the strong possibility that his political career rather than fizzling out, could be on the verge of a resurgence.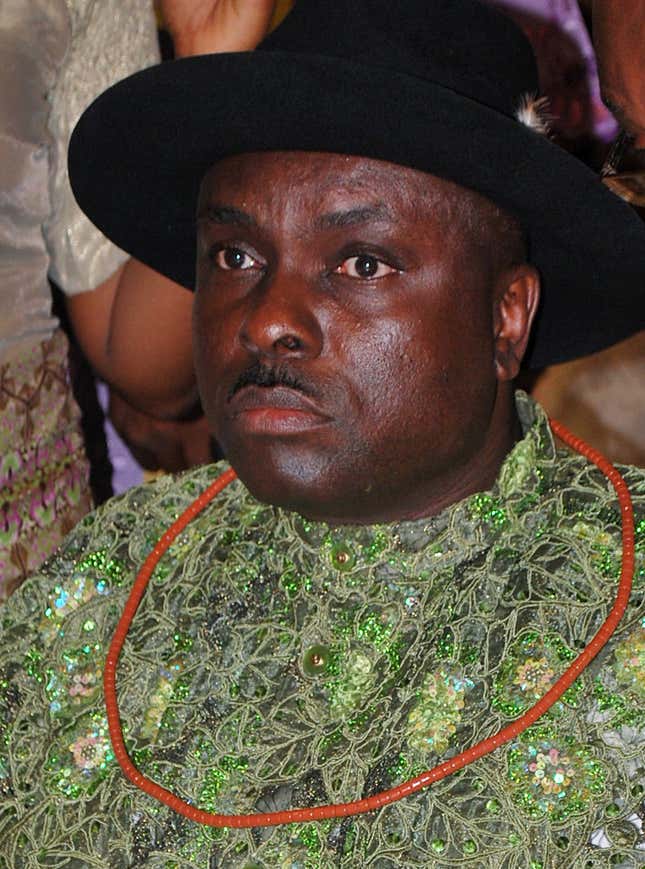 A lot of people owe their political rise to Ibori explains Cheta Nwanze, head of research at SBM Intelligence. "He empowered many politicians around him and built infrastructure in many parts of Delta State," says Nwanze.
"There is also a narrative within the Niger Delta that in other regions, thieves get away with their loot. However, their own heroes and liberators like Ibori and [former Bayelsa governor, Diepreye]Alamieseyeigha who also steal are persecuted. Hence the way people have reacted to his release."
Samuel Oniovosa, a resident of Ughelli town in Delta and a government worker during Ibori's first tenure agrees. "Ibori was one of those who grabbed money but was also a benefactor to a lot of politicians and put a lot of infrastructure in the state so a lot of people see him as a godsend. Even in prison, people would go ask his opinion on a lot of stuff."
Hugely influential in his two four-year terms as governor, Ibori installed Emmanuel Uduaghan, his protégé and cousin as successor in a clime where godfatherism helps to oil the wheels of political machineries across the country. While in prison, evidence of his tenterhooks came to the fore as a faction of his party—the People's Democratic Party (PDP)—loyal to him sidestepped the incumbent's choice and anointed Ifeanyi Okowa, a former member of Ibori's cabinet as governor.
With the Nigerian economy currently in recession and the general sentiment being that the Muhammadu Buhari presidency has underperformed, political permutations and alignments are already underway ahead of the 2019 general elections. And Ibori's name has come up as one of those who could be a key ally for some of the principal actors. "I believe the government at the center will try to court him because of his influence in Delta but no one knows if he will get into the thick of things immediately or rest indefinitely", adds Nwanze.
In the murky waters of Nigerian politics, questionable characters and people with criminal pasts have emerged as pillars in the political firmament so there is little to suggest that Ibori's case will be any different. For example, Buruji Kashamu, a serving opposition party senator, is still wanted in the US for drug crimes which are often linked to inspiration behind the writer of the Netflix show Orange is the New Black.
On the other side of the party divide, Bola Tinubu, the APC national leader forfeited almost half a million dollars after being fingered as being part of a drug racketeering ring also in the state of Illinois. But Tinubu, a former Lagos state governor and one of Nigeria's most powerful politicians, was crucial to the defeat of former president Goodluck Jonathan in the 2015 polls.
Beating corruption
President Muhammadu Buhari unseated Jonathan largely because of a campaign that promised to prioritize tackling terrorism and the endemic corruption in Nigeria. But it has been business as usual in a country ranked 136 of 175 nations in the 2015 Corruption Perception Index by Transparency International. Despite an avowed commitment to fighting corruption by the Buhari presidency, no single conviction has been secured and influential members of the cabinet have question marks hanging over their integrity.
Ibori is believed to have funded a presidential campaign in the past and still has strong connections within Nigeria's north. With the ruling All Progressives' Congress (APC) and the northern-dominated hierarchy at the presidency looking to ensure electoral victory in 2019, it could reach out to Ibori to woo an already suspicious southern Nigeria including the kingpin Tompolo who was declared wanted in February 2016. The militants' attack on oil installations across the region have severely dented revenues in a country in the middle of a recession and whose primary export is crude oil.
"He's expected to be more influential now as he is now an unlikely hero that has survived the 'worst trial and persecution,'"says Adewunmi Emoruwa of political think thank LEPAN Nigeria. He will be a major bridge builder especially from behind the scenes for northern presidential candidates seeking to woo the Niger Delta in 2019."
Back at home in the Delta, it is also widely believed that Ibori, who was implicated in the #PanamaPapers imbroglio, still has plenty of funds stashed away to operate behind the scenes as a kingmaker in Niger Delta politics. Before his imprisonment, he was seen as instrumental in building bridges and agitating for resource control in the Niger Delta region.
Some think Ibori could become larger than life in Niger Delta politics again by either of the two major parties. His ruthlessness—shown in the way he is believed to have engineered the replacement of Nuhu Ribadu, then the well-respected chair of Nigeria's anti-corruption agency, could come in handy for the former ruling party, PDP which has been in limbo since Jonathan's loss.
While his involvement in the 2015 polls remains unknown, Ayiri Emami an APC chieftain and Ibori loyalist who regularly visited him in prison, declared in an interview last March that Ibori predicted the defeat of Jonathan, his kinsman from the Niger Delta who refused to shield him from international prosecution.
"He is coming back to change the game," stresses Oniovisa. "We just don't know how."