The euphoria over Yahya Jammeh's departure was short-lived after his successors discovered that he looted state coffers before the Gambia.
After losing a Dec. 1 election to president Adama Barrow, Jammeh held on to power for weeks in a bid to extend his 22-year rule. Facing domestic and international pressure, he finally left the Gambia on Jan. 21, but not before lining his pockets.
"The coffers are largely empty," Mai Fatty, one of Barrow's advisors said on Sunday, a day after Jammeh left.
"Over two weeks, over 500m dalasi (over $11 million) were withdrawn," Fatty told journalists. "As we take over, the government of the Gambia is in financial distress."
The money was taken within the last two weeks, according to technicians at the Central Bank of Gambia. Further investigations could show that Jammeh stole even more.
Gambians were already furious that a cargo plane carrying luxury goods and cars also followed Jammeh's plane as he flew out of Banjul International Airport. Jammeh went into exile in Equatorial Guinea after a delegation of West African leaders convinced him to step down. The deployment of thousands of regional troops to the country also added pressure.
"For many Jammeh is the winner and we let him get away with everything after taking the country hostage and driving us to the wire," Fatty said in a Jan. 22 statement, adding that he and Barrow's advisors were shocked to learn about the cargo plan on Facebook.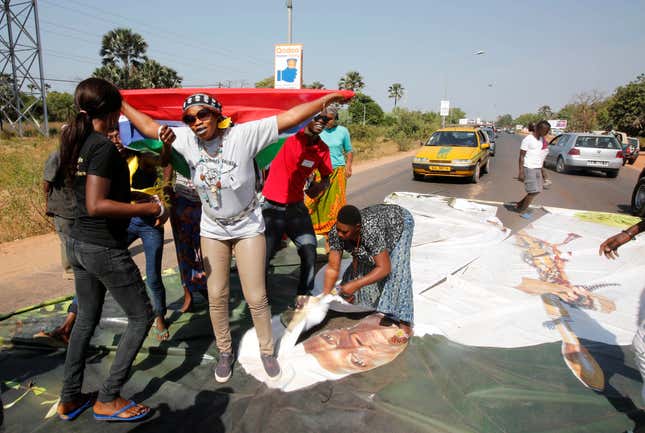 Apart from the die-hard Jammeh supporters who wept as he waved goodbye, Gambians are optimistic for a new era in the country. The many who fled during the political impasse are already returning (video), as well as those who have been in exile for years.
"We are free," 35-year-old food vendor Isatou Toure told Reuters. "Everyone is so happy that man is gone. We are happy to see [the soldiers]. They protected us from Jammeh."
Africa's smallest mainland country has a population of less than 2 million people and should be a trade and tourist hub on Africa's west coast. Almost half the population, however, lives below the poverty line. Thousands of young Gambians have risked their lives trying to get to Europe via "the Back Way."
Barrow has already promised to set up a Truth and Reconciliation Commission to deal with Jammeh's wrongdoing. He also wants to create a "democratic environment" through a more representative cabinet.
For now Barrow remains in Senegal—where he was forced to take his oath of office— and will return to Gambia as soon as he is certain it is safe. In the meantime, troops are sweeping the presidential house for explosives, combing Jammeh's hometown for bunkers of weapons and trying to identify possible mercenaries loyal to Jammeh.