For more than two weeks now, Cameroon's northwest and southwest regions have had no internet—affecting businesses like internet cafes, microfinance institutions, and money transfer agencies.
The internet shutdown has also had an adverse effect on the budding tech industry in the country. Known as the Silicon Mountain, a play on Silicon Valley and Mount Cameroon, most of these start-ups are located in Buea, a small town that has been described as the country's home of innovation and Africa's next tech hub.
The internet outage has disrupted operations in these tech centers, forcing many developers to leave for big cities like Douala and Yaoundé. Entrepreneurs and founders who spoke with Quartz Africa described leaving back empty offices; losing clients, working hours and thousands of dollars in revenue; and struggling to pay salaries to already dispirited staff members.
"Silicon Mountain is now in a coma," says Otto Akama, the community manager of ActivSpaces, the country's first tech hub. As a co-working space and incubator, Akama said that eight start-ups who were part of their community partnership have been affected. And even though they paid rent for office space, and made a one-year payment for internet connection to the government-owned CAMTEL—which also controls and cut the internet— Akama was less hopeful that they would get a refund.
ActivSpaces has invited tech founders leaving Buea to work out of its office space in Douala, the country's largest city, and its commercial capital. But because of the costs involved in traveling, the over 70-kilometer distance between Douala and Buea, and the challenge in finding affordable accommodation, not all start-ups are able to move with their entire teams, Akama said. And since all employees are not working at full capacity, many have missed deadlines to submit clients' work on time.
"It's all very costly," Akama said.
Expensive shutdown:
The access to international bandwidth was cut off on Jan. 17 following months of protests and strike against the imposition of the French language in educational and judicial institutions. Cameroon has 10 regions, and except for the two Anglophone regions that currently have no internet, French is spoken in the other eight. And given much of the leadership of the technology world mostly runs in English, the two English-speaking regions have over the years experienced great leaps in digital technology.
But uncertainty has currently enveloped the industry, as recent figures show significant consequences that might have an impact on the national economy. According to estimates calculated by advocacy groups Internet Sans Frontières and Access Now, the first 15 days of the shutdown cost Cameroon $723,000. The ban and its outcome are contradictory to the government's policy towards young people, whom president Paul Biya described last year as being "dynamic and ambitious, conquering and creative."
"To us, it is a sign that the government has no regards for our business, which directly contradicts its policies on youth development and professionalism," says Kenneth Ngah, who established LCM Tours, a web platform that connects tourists to travel agencies and tour guides in Cameroon. "No right government does such thing in the 21st century."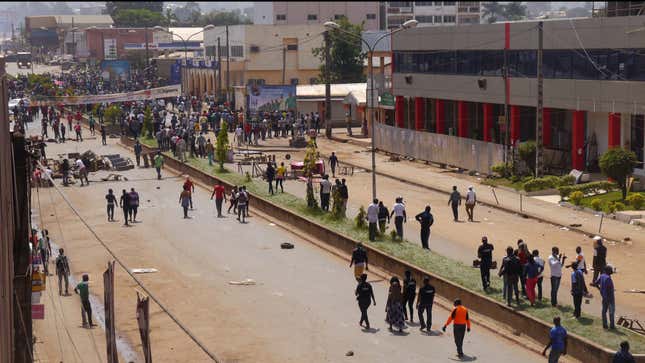 Akama says that his company Makonjo Media, which does web design, online marketing, and advertising, lost 2 million CFA francs ($3275) in January. Mohamed Felata is the founder of VIVA, a pioneer company that provides entertainment services inside Cameroon's bus and train networks. Users can access VIVA content through smartphones, tablets or through the screens equipped inside the buses.
But with no internet now in Buea, Felata says they have had to move around physically between Douala and Buea to deliver content. "Every other day, somebody has to go back [to Buea] and meet the rest of the team." This, he said, has made them incur transportation costs of more than $1,000. Felata says that if the shutdown keeps on going, they might have to move towards a less optimal business model or even "let go of the team in Buea."
Other affected start-ups include Skademy, which provides tech skills online; Agro-hub, which helps farmers access markets; Skylabase, which develops affordable computer software for businesses; and Njorku, which is one of Africa's biggest job search engines.
The internet shutdown has drawn condemnation all over the world, with many using the Twitter hashtag #BringBackOurInternet. The blackout has also reportedly affected civil servants, with the government instructing banks to pay them manually now that ATMs services were suspended. Entrepreneurs say they can't predict or see an end to the ban, given that the government is yet to even publicly acknowledge the internet.
The looming February 11 date, celebrated as both the national youth day and as the plebiscite day when the two Francophone and Anglophone regions united, might also aggravate the current problem.
"We've taken the time to build this vibrant community," Akama said. "But the government taking away the internet for two weeks is devastating."