Uganda is one of Africa's major coffee exporting capitals, shipping millions more beans abroad probably than any other country on the continent alongside coffee powerhouse Ethiopia. Uganda exported roughly 3.6 million 60 kg bags of arabica and robusta in 2015, generating around $450 million in revenue. This year, Uganda's exports are headed towards an all-time high, according to a government regulator.
But Uganda is also overwhelmingly a tea-drinking country. Last year, Uganda consumed just 3% of the coffee it produced. Ethiopia, meanwhile, regularly produces much more coffee than Uganda. But as one of the original homes of coffee in the world Ethiopians manage to drink half of all the coffee they produce.
As a result, analysts claim Uganda is missing out on hundreds of millions of dollars that it ships overseas. By drinking just 10% more of the coffee it produces, Inspire Africa, a development agency that, among other things, promotes local coffee consumption, says Uganda could add 7.7 trillion shillings ($2.3 billion) per year to the national economy.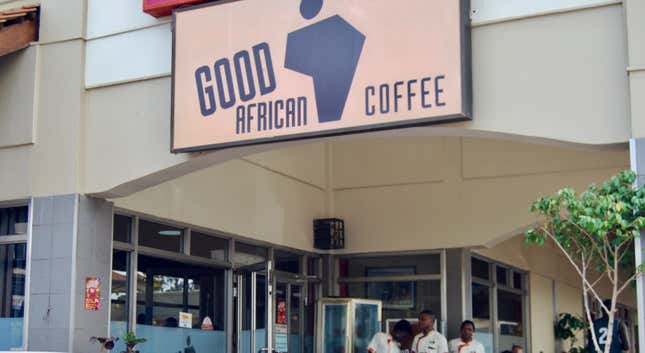 While it's not certain that drinking homegrown coffee would add quite that much to the economy, the  government in Kampala seems willing to support domestic consumption. The Uganda Coffee Development Authority (UCDA), an agency overseeing and promoting the coffee sector, has made a priority of giving the tea-loving former British colony a taste for coffee. It's part of a larger effort to quadruple the country's total coffee production by 2020, with a goal of lifting the economy as a whole.
"We want to make sure that everybody appreciates the value of coffee," said the agency's managing director, Emmanuel Iyamulemye Niyibigira, in January. "When you appreciate the value of coffee, as a farmer, as a consumer, you are likely to invest in coffee production."
Many Ugandans view coffee warily, as a product for export instead of a pick-me-up to start the day. So the Ugandan government has produced posters with facts and bullet points trying to dispel coffee's negative image. Coffee, claimed one government poster, can help cut the chances of heart disease, cancer, liver cirrhosis and Alzheimer's disease.
The UCDA also trains baristas to make lattes and cappuccinos, giving many Ugandans their first experience behind an espresso machine.
Uganda's Starbucks
Good African Coffee, which runs several cafes and also sells packs of ground and whole bean coffee in stores, requires all of its baristas to take both an introductory and three-week advanced course through the government office. "All of them are UCDA-trained," said Grace Moreno, the cafe general manager. "So they [UCDA] play a big role in pushing coffee."
The government has helped Good African Coffee in other ways, too, since its operations began in 2004.
"The government saw the potential for coffee in Uganda and they supported [founder Andrew] Rugasira's advocacy," she said. "They helped us buy the roaster that we have at the moment. They helped us fund a lot of things"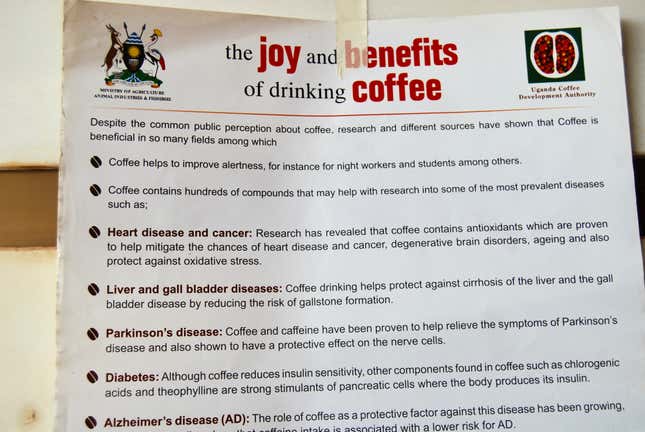 Still, Uganda has a ways to go to build a strong coffee culture. The higher price is prohibitive to many Ugandans, and old tea-drinking traditions die hard. Government meetings frequently halt for tea breaks during the day, but a jar of Nescafe is as gourmet as coffee-drinkers can expect. Farmers whose livelihood depends on coffee beans rarely ever drink their product. Even Niyibigira, the head of Uganda's coffee agency, said he used to prefer tea before he took his current job.
Still, there is reason to be hopeful.
In the last decade, the number of coffee shops in the country went from just a handful of mostly expatriate-serving cafes to more than 100. "In the beginning, many people thought we were crazy to start a coffee shop in Uganda," said Cody Lorance, an executive at Endiro Coffee, which opened in 2011. Now Endiro has five locations across Uganda and will soon be opening an outlet in the U.S., outside of Chicago.
"Locals came because they enjoyed our food, but many remained loyal because of our coffee," he said via email. "We anticipate continued growth in coffee sales as Ugandans develop their collective palates for specialty coffee."