Nairobi
"I will never run for office." In 2012, on his way to questioning at the central police station in Nairobi, Boniface Mwangi, the Kenyan photojournalist turned activist told me he won't ever run for public office. He was comfortable, he said, being a political agitator, holding elected officials and the government's feet to fire, and asking Kenyans to join him in that battle.
Fast forward to 2017, and Mwangi—a 2015 Quartz Africa Innovator—is now gunning for a seat in Kenya's upcoming twelfth parliament. As the country gears up for elections in early August, he hopes to unseat Maina Kamanda, a political veteran and the member of parliament representing Starehe Constituency in the capital Nairobi.
The electoral area includes the city's commercial district, and houses private establishments, government offices, besides large numbers of informal, small and medium-sized enterprises.
Kenya, in the words of one columnist, is "an angry nation." Last year, David Ndii, a well-known economist also wrote a well-received piece in which he said that Kenya was "for the most part an abusive relationship. It is about time we start talking about ending it." Six months before a decisive election, the simmering disappointment among Kenyans with the current regime is showing through street protests, social media outlets and in day-to-day conversations across the country.
In a country with a dynamic private sector and a growing economy, frustration is largely emanating from endemic corruption and the failure of public and social services. A teacher's strike crippled learning in schools last year. For almost three months now, doctors have been striking, paralyzing health services, and leading a judge to jail the union's leaders before being released days later.
Last year, the former anti-graft commissioner said that Kenya was losing a third of its state budget—about $6 billion—to corruption. About $55 million of that money was stolen from the ministry of health, and another $7.6 million from the national youth service.
In an election year, all this is giving Kenyans a chance to rebuke and poke fun at president Uhuru Kenyatta's administration. It is also pushing some activists, analysts, editors and reporters to change professions and enter the fray of politics. Mohammed Ali, a journalist who has faced threats because of his hard-hitting, investigative show, is reportedly running as MP. David Ohito, a digital editor with the Standard Media Group, is running in Ugenya constituency in southwest Kenya. And Steve Biko Wafula, a market researcher and lawyer who calls himself a "reluctant politician" is running in Bungoma County in western Kenya.
The rise of these candidates—some of them independent—points to the need to move beyond the ethnic divisions that shape Kenyan elections, and towards a more unified, issue-based future. In a country where almost 60% of the population is under the age of 25, candidates like Boniface and Ali hope to connect with these youth and show them the empty promises of successive governments. And while their idealism is to be admired, it will take a lot to change the country's deeply embedded political cronyism.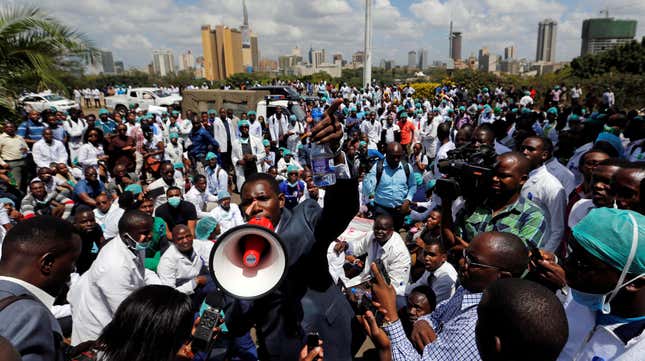 On a recent afternoon, 33-year-old Mwangi was campaigning along the bustling Ronald Ngala Street. The area was teeming with people coming and going, shopping and selling, with the honking of matatu buses and vehicles almost deafening. Mwangi was using the voter registration exercise that was ongoing across the country to build his brand and introduce himself to voters.
"We are in a very dangerous place as a country," he said, in between shaking hands, hugging and taking selfies with bus drivers, cobblers, tech shop owners, vegetable sellers, and hawkers. Mwangi said that there was "a lot of apathy" among citizens when it comes to political engagement and that the country's young population needs to stand up to deal with the increasing levels of corruption, impunity, and poor governance. Mwangi is running as a candidate of the Ukweli Party, a political outfit he recently co-founded, which aims to improve the economy, social services, security, and encourage active citizenship.
He continued: "The fear is that if we don't reclaim our country, it will be controlled by thugs and corrupt people; people who only care about self-protection."
Aspirants like Mwangi say they know something about the reality that many poor people find themselves in. In just over a decade, he himself has transformed from a poor boy selling books in the streets of Nairobi to an award-winning photographer drawing the attention of the likes of Hillary Clinton and Barack Obama. Over the last few years, he has documented some of the biggest stories in Kenya: the brutal police crackdown on the Mungiki sect; the terrible conditions in Kenyan prisons; the thousands of people making a living out of Dandora, the capital's biggest dumpsite; and most of all, the violent aftermath of the 2007 general elections. His gory photos of chopped hands with watches still ticking, of charred bodies dead inside the church they sought refuge in, collectively shocked Kenyans and the world.
In Dec. 2008, 10 months after the violence ended, Mwangi quit his job in journalism and got into organizing. "Kenyans hid behind silence," Mwangi wrote in his newly-released photo book "Unbounded." "We did not confront the reasons why we had taken up arms against each other."
Through Pawa 254, the creative hub he established, he organized for graffiti murals to be drawn across the city, depicting legislators as vultures. When lawmakers wanted to increase their bonuses (they are among the highest paid in the world), he organized the burning of coffins once and unleashed bloodied piglets in front of the parliament.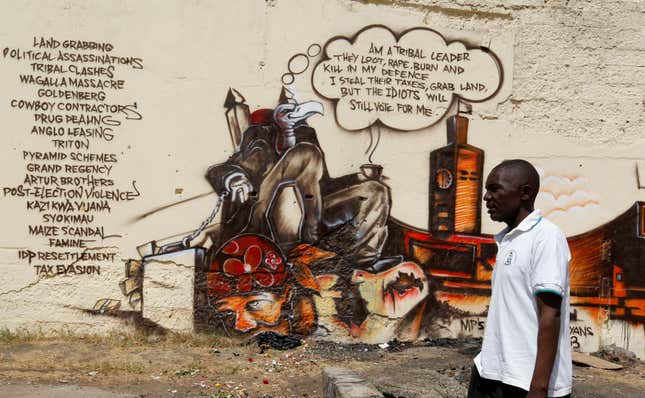 Talking to potential voters, Mwangi was now hoping that his background as a commoner and his social activism would give him a ticket to the chambers. "Give me a chance," he kept repeating. "I will work for you. I am the son of a hawker." His mother, Wakiuru, who died in 2000 of liver cancer, traded on the streets of Nairobi.
Voters, like Rogers Anuro, were, however, averse to the idea of him running. Anuro said Mwangi should remain an activist and not join the "gang" or the "club"—his description of parliamentarians. "You can't break them," he added.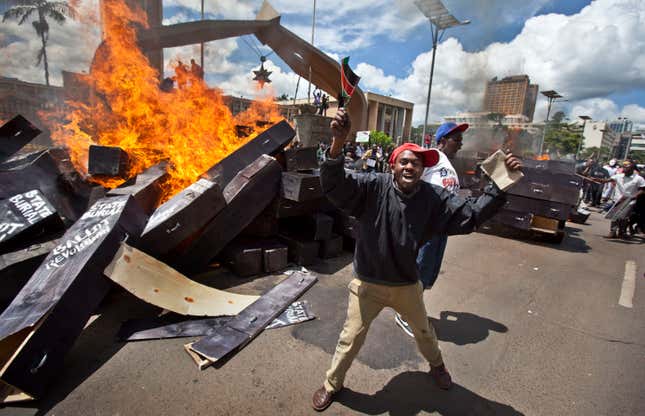 "Give us something small":
In truth, trying to break the grip of the moneyed political class will be a Sisyphean task. The price tag for running elections in Kenya can be quite hefty, and vote buying and bribing has risen as an issue in the past.
Mwangi said the biggest challenge that faced him so far in the streets were "people asking for money." Several times, while walking in the muddy backstreets of Grogan, an area popular with car mechanics and spare parts, Mwangi was asked: "Give us something small."
Mwangi, a critic of president Uhuru Kenyatta's government, and who has been accused of receiving donor funds to topple the Kenyan government, always replied in the negative. "I don't have money, but I will work for you." (Mwangi has in the past claimed that people in government intended to harm him and his family.)
But to get to work in the corridors of power, Mwangi—and others like him—will have to beat their opponents come election day. If he does, he says, he will resign if his constituents do not see an immediate change in his first year in office. And what if he loses?
"I will go back to school and study law," he said.