Once again, there are signs of growing xenophobia in South Africa. Despite the lives lost in previous waves of violence, the country has still not learned this painful lesson.
It's a familiar escalating narrative: vigilante groups accuses foreign migrants of local crime and go on attack, the government blames "criminal elements," the public marches against xenophobia, and little more is done to prevent future violence. In frustration, Nigeria has gone straight to the African Union to urge the continental body to step in before previous years' killings are repeated, according to a media report on Feb. 21.
Earlier this month, South Africans accusing foreigners of bringing drugs and prostitution to their neighborhood torched the homes of African migrants. Johannesburg's mayor accompanied police on a subsequent raid of the area, apparently making good on an election promise to rid the city of crime and people who are here "illegally."
That sentiment spread to Pretoria, where foreign-owned shops were looted overnight on Feb. 20. Now, a group of "concerned" South African citizens are reportedly planning a march on Feb. 24 with xenophobic undertones that have alarmed the African Diaspora Forum.
"We write to you so that when South Africa experiences a repeat of the 2008 xenophobic violence which left at least 62 people dead, you will not be surprised," the forum said in a letter, urging South Africa's president to act.
The 2008 wave of attacks left thousands displaced, 342 immigrant-owned shops looted and 213 burned down. The violence and hate was captured with the image of a Mozambican man burned alive.
The shame was quickly forgotten and again in 2015, Zulu King Goodwill Zwelithini's comments that foreigners should "pack their bags" and leave, sparked violence that ended once South Africa deployed the army. At least five people were killed and nearly 2,000 migrants forced into refugee camps, again.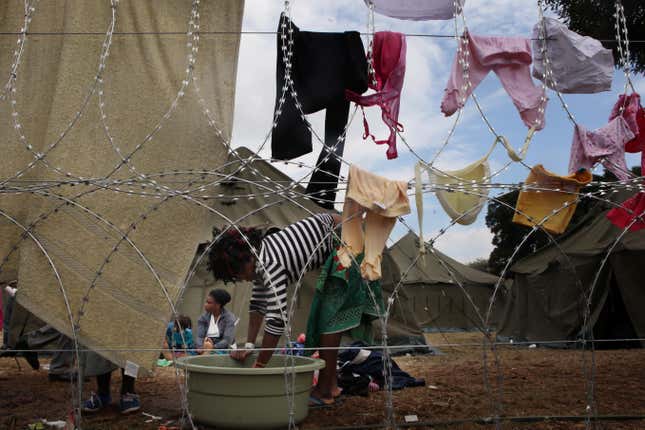 The death toll from these waves of anti-migrant violence is a very conservative number according to the African Centre for Migration and Society in Johannesburg. The center's XenoWatch data tracker estimates that there have been almost 360 xenophobic murders since 2008, particularly of Zimbabwean, Mozambicans and Somalis.
There is a history of attacks on foreigners dating back to 1994, when apartheid ended and South Africa billed itself as a "Rainbow Nation" that embraced diversity. African migrants are the most vulnerable, competing for limited resources in the same impoverished areas as most of South Africa's black majority.
Many have come from volatile countries like Burundi or Somalia, seeking business opportunities from states like Nigeria or Ethiopia, or from nearby neighbors like Mozambique and Zimbabwe.
The violence has been so acute against fellow Africans that the government labeled it Afrophobia. They implored citizens to remember how African nations led the international struggle against apartheid, but often falls on deaf ears of South Africa.
Some Pakistani, Bangladeshi and Chinese migrants, who run businesses in black neighborhoods, have also been targets. These anti-foreigner beliefs are not held by the majority, but the few who do hold these views have succeeded in making the country feel like an "open prison."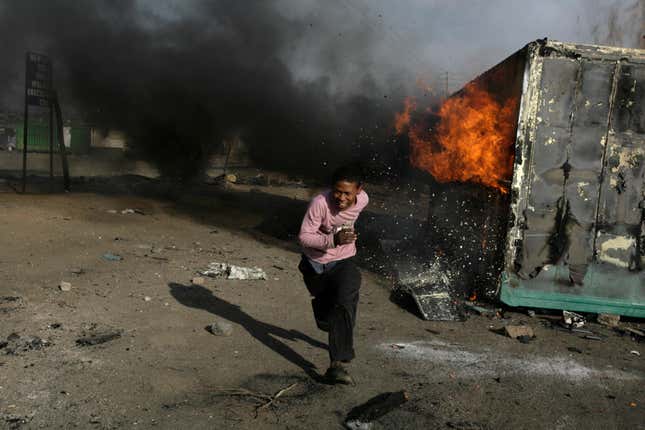 "Different groups experience different types of xenophobia for reasons, depending on their socio-economic activity," said Jean-Pierre Misago, a researcher with the center. "But the main motivation is always to drive all foreign national from that community."
The lack of prosecution or any punitive action means this violence will continue to reoccur, he said. In 2008 and again in 2015, the South African government promised to set up special courts, but nothing ever came of it.
Migrants in South Africa are left politically powerless, beholden to willing police commanders, local councilors or non-governmental organizations who will take their case. Politicians at all levels of government will rarely risk being seen to side with foreigners over their own constituents, even when those constituents are part of a mob.