The proposed merger of the African chains Shoprite and Steinhoff was billed as a deal that would bring a retail giant to the continent, but shareholders were not impressed.
Shoprite, Africa's largest grocery retailer, and Steinhoff, the furniture retailer with plans to take on Ikea, announced their intention to merge last year. But negotiations were "terminated" this week, the two said in a joint statement. Both companies' share prices jumped at the news: Shoprite closed 8.64% higher and Steinhoff at 4.96% on Feb. 20.
But one person who is likely to be disappointed is Christo Wiese. The merger is believed to the brainchild of South Africa's wealthiest citizen. Through holdings company Titan Premier Investments, Wiese owns 23% of Steinhoff and 16% of Shoprite. His plan was to create Retail Africa, "a retail champion of Africa."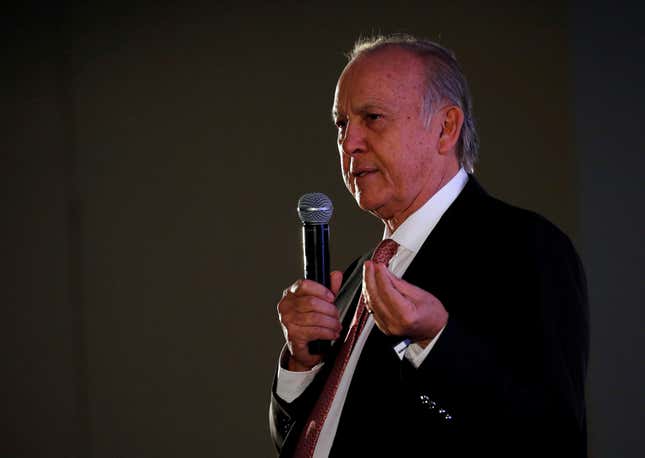 Shareholders apparently did not share Wiese's enthusiasm. Shoprite shareholders reportedly felt that they would not be getting value out of the merger. Wiese lost the support of the second largest shareholder, the Public Investment Corporation. The PIC, an investment firm owned by the South African government, owns 11% of Shoprite and 8.5% of Steinhoff. It was apparently spooked by the share price drop after the December announcement.
"The PIC may have decided against the deal because it wasn't going to get an acceptable price for its Shoprite shares," retail analyst Syd Vianello told the Business Day newspaper. That view was likely shared by other minority shareholders, he added.
The deal would have seen Steinhoff sell its Africa-based assets to Shoprite, in exchange for a controlling stake. The PIC and Titan would swap their Shoprite shares for Steinhoff shares at an agreed ratio. The negotiations were terminated when the corporation, Titan, and Steinhoff could not reach an agreement on what that ratio should have been, according to the announcement.
The time lapse between the note announcing the merger talks and the eventual termination of talks—and the silence in between, except for a renewal notice—should have provided a clue about the uncertainty of the deal, said another analyst Jean Pierre Verster.
If Wiese had been allowed to push forward with the merger, it would have created a retail giant worth nearly $14 billion. Late last year there was much speculation that Wiese's determination to consolidate his assets was one of the reasons longtime Shoprite CEO Whitey Basson stepped down after nearly four decades at the helm.
This isn't the first time Wiese has tried to reshape Shoprite: In 2007 shareholders prevented him from delisting the grocery chain in a private equity deal that would have allowed Wiese's other investment company, Brait SE, acquire Shoprite.
Once again, Wiese has been sent back to the drawing board.