Cape Town
Yinka Ilori recreated his parents' living room parties on stage at the Design Indaba conference in Cape Town.
Kenyan musician Bill "Blinky Bill" Sellanga was on the decks as fellow conference speakers Kate Moross and Ekene Ijeoma played party guests and soon enough the audience in the packed auditorium got involved. This was how artist, furniture designer and storyteller introduced the audience to the inspiration that drives his unique work.
"I wanted the furniture to tell a story about my culture and my identity and my upbringing because I've always been a bit jealous of my parents," Ilori told Quartz. "They had such a rich heritage and culture."
Ilori was raised in London, where his parents immigrated from Nigeria in search of a better life for themselves and their children. Throughout his talk at the conference and in his work, Ilori is particularly aware of the sacrifices his parents made. It is why he didn't want to create work without meaning.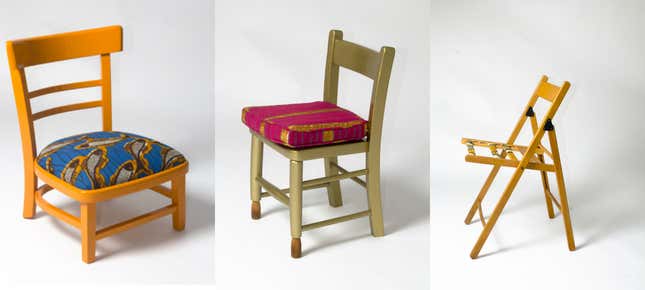 "It's a thing my dad always used to say to me, vanity among vanity is vanity," says Ilori.
"My parents' background has a narrative, Nigeria has a narrative, everything in my house has a narrative," he said, also explaining the story of his own name Olayinka, meaning surrounded by wealth and happiness. It's also why he has named all of his pieces.
The 29-year-old London-based designer was especially influenced by the music his parents brought from home: Fela Kuti, King Sunny Ade and Ebenezer Obey — "all these iconic and prolific musicians who sing using parables…wisdom is in their lyrics," he explains.
And so, he created his own parables through chairs, inspired by the people who would sit in them rather than the form of the seat itself. Too long, too short, without a back, dipped in gold, or a chair within a chair, the Parable Chair Collection, part of the If Chairs Could Talk installation is inspired by the creative resilience of immigrants and the dreams and frustrations of the residents of London's housing estates.
Ilori subverts the vanity of design by upscaling antique furniture and repurposing with color, prints and a new story that combines Western and African objects, in much the same way his mother and her friends may have combined their Yoruba dress with Swiss jewelry.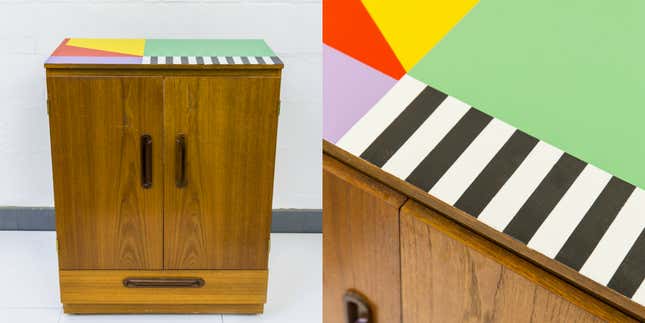 He's gone beyond chairs, taking common objects and giving them a new narrative. His Sideboard Collection takes a piece of furniture often ignored and reintroduces it with graphics or color. In the 2015 Home Affairs Collection he uses palm oil containers as the base for a seat. Throughout his collections, his work also tells the intimate living room stories of class, identity and sexuality.
These are not comfortable chairs, they're not supposed to be. Instead they are meant to challenge users narratives about immigration, Africa, the West, identity and our relationship with the objects that fill our lives.