Kampala
Paul Wasswa has been sat at the counter for seven hours, his eyes darting between a virtual roulette screen above and betting slips in front.  The university student hopes his Saturday spent in one of Kampala's many betting outlets brings big rewards. 
"This is my work. I wake up early and I just come to betting, it is enjoyable," the 25-year-old says. "The betting helps me pay my tuition fees and next month I will go back to school." 
Wasswa is among millions of Ugandans gripped by gambling. But it wasn't always so.
While betting on people playing pool and games of Ludo, for example, have long been popular activities in almost every Ugandan town it was the emergence of casino operators and creation of a national lottery in 2004 which saw betting's appeal rocket, according to locals.
Back in 2007, Sports Betting Africa opened the first licensed sports betting outlet in the country, capitalizing on the rising popularity of the top soccer markets such as the English Premier League. There are now more than 200 such betting shops, with a recent report estimating 150 billion Ugandan shillings ($42 million) is now spent on gambling annually.
Yet a rise in illegal operators and growing community unrest coupled with the ever rising number of unemployed youth, is forcing the government to act with a series of new regulation and a first-ever responsible gambling campaign set to be introduced. 
Young & unemployed 
Similar to many African countries, Uganda's population is young—of its 37.6 million citizens, 78% are below the age of 30. This demographic imbalance has left many youth jobless with more than 22% aged 15-24 unemployed, and an increasing number turning to gambling. 
"I've almost spent two years betting," Wasswa, who spends around 10,000 Ugandan shillings a day gambling, says. "The youth have turned betting to their business and I live with my aunt so I find some little money here to help me."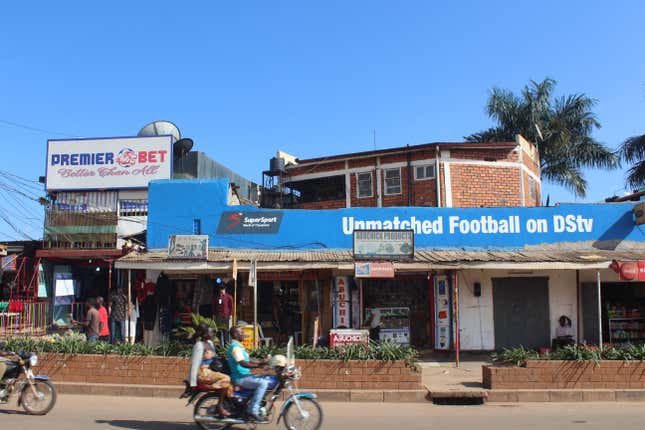 Kabalagala Road is the gambling epicenter in Uganda's capital, home to an array of betting shops, with virtual games and slot machines supplementing wildly popular sports betting.   
 Peter Arach, manager at Paragon Bet on Kabalagala Road, one of Uganda's 40 mainly foreign-owned firms, says it is easy to see why gambling is taking ahold. "Look here, the street is full of betting companies," Arach says. "There is nowhere you can hang out without gambling." 
Arach says the biggest win he has seen is a 6,000 Ugandan shillings bet which delivered 70 million Ugandan shillings. "Here in Uganda, it is more an individual fight—you have to try your luck," he says. "There is no money, so people resort to gambling."   
Soccer appeal
Inside Paragon Bet, there is standing space only. Rows of plastic chairs are full with more than 70 people, some holding betting slips, others just eager to watch live, as soccer teams Arsenal and Hull City go head-to-head 6,000 miles away in London.
"On a good day with sports betting we can make 10 million Ugandan shillings," Arach adds. "Everyone here is born knowing football."
Perched on a stool outside rival operator Top Bet, Isaiah Mugisha fingers through a booklet of latest odds. Today he is placing bets on soccer matches from England, Belgium, Brazil and Argentina. "Mostly, I bet on weekends," he says. "People like football and it is because of the English Premier League. It is all about the hope… if you come here with just 1,000 Ugandan shillings you have a chance to win."
The rise of the English Premier League and the growth of Pay TV, subscriptions are expected to spike 88% from 2015 to 30 million by 2021, has created a betting boom across Africa. The emergence of international online firms such as Betway is also driving interest.
In South Africa, sports betting gross turnover is expected to top 5 billion rand ($380 million) in 2018 (pdf), in Kenya the figure is predicted to be 5.1 billion Kenyan shillings ($50 million)—a 142% rise from 2014. One of Kenya's local sports betting firms, SportPesa, has been so successful it has been able to afford to be a shirt sponsor Hull City. Meanwhile in Africa's largest country, a reported 60 million Nigerians regularly bet on sports.
Community unrest 
But  in Uganda such rapid growth in gambling's popularity is creating tensions and the need for greater regulation. 
Kampala schools have reported an increase in dropouts with gambling students unable to pay fees, while several communities, including Uganda's second largest city Gulu in November, have sought to ban betting amid claims of mounting crime and underage involvement. 
Alongside Gulu, the town of Mpigi, a largely agricultural area 25 miles outside the capital, is also looking at prohibition. 
Last June, a 16-year-old boy in the district was killed over a 500 shilling ($0.15) bet and the town council now wants to ban the activity, dominated by slot machines, from its streets.  "In order to encourage our young generation to be active and productive, gambling has to be done away with," Mpigi Town Clerk Mathias Bwawika says.
"Those engaged in it do not have sustainable income, they engage in illegal activities and it is an area of security threat for the community. The activities are not progressive to our people."  
The Ugandan government, which earns around $5 million in taxes a year from gambling, is making efforts to regulate the sector. Its Lotteries and Gaming Regulatory Board has increased operations and in Nov. 2015 passed new legislation but it will be this year when many regulations take effect. 
A nationwide sensitization initiative to educate local leaders and communities will start imminently—and prevent district banning orders—while a task-force has been expanded to crackdown on illegal operators and underage gamblers. 
And ultimately the national law controls the sector and issues the licenses.
The board's corporate and public affairs manager says there are plans to launch a responsible gambling program and counseling services from this summer.
"We realize we have so many people who are being affected by gambling and they get addicted," Jonathan Kyeyune says. "If you ban an activity it will go underground to the black market. When that happens such individuals are hard to identify and so it is better to have this in place and be able to help those individuals who are having problems."
Leaving the early evening crowds on Kabalagala Road and Paul Wasswa remains hunched over the counter, hoping the next spin will help him get ahead. 
"If I get a job after my studies I won't come back," he says. "I would rather have a job but since I don't, I find myself here."