It's been 70 days now since Cameroon's two Anglophone regions have had any access to the internet. The shutdown in the Northwest and Southwest regions was instituted in January following protests against political, linguistic and economic marginalization from the French-dominated government. The blackout is currently stoking regional fear and unrest, crippling a vibrant and growing digital sector, and in effect, creating 'internet refugees.'
But the starts-ups have shown the creativity and determination which made them enterpreneurs in the first place. After weeks of shuttling back and forth to the commercial capital of Douala to access the internet, tech developers have come together to create what they call an "internet refugee camp."
The space is located in Bonako, a village near the toll gate separating the Southwest from the Francophone region of Littoral. The space was sponsored by ActivSpaces, Cameroon's first tech hub and incubator, and Njorku, a job listing startup voted as one of Fast Company's 2017 most innovative African companies.
The startups rented the one room in the village, brought chairs and tables, and connected electricity through a generator. A dozen members from the six startups currently operating there each brought their own modem portable internet for use. The co-working space has thrown a lifeline to these techies, shortening the distance of their daily, over 70-kilometer commute from Buea to Douala by an hour.
"It was tedious. The commute was not easy," says Otto Akama, the community manager of ActivSpaces, about the daily trip to Douala. "The real benefit [of coming to Bonako] is that there's no traffic."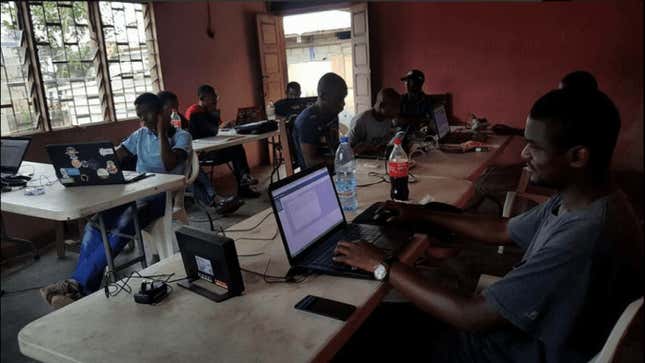 The internet shutdown has cost the Cameroonian economy over a million dollars, not to mention the long-term effects on supply chains and the budding Silicon Mountain industry. This is not a desirable outcome for the central African nation at a time when commodity prices are low, and the country hopes to sign a two-year aid deal with the International Monetary Fund to deliver sustained growth.
The government is yet to publicly announce why it shut the internet, and operators, worried that their licenses would be withdrawn, reportedly complied with government orders. The blackout has drawn sharp criticisms from the United Nations, the American Congress, whistleblower Edward Snowden, and members of the Cameroonian diaspora in the US and France. Even in the euphoria that followed Cameroon's win of the Africa Cup of Nations in February, the country's goalkeeper Fabrice Ondoa used the occasion to stand in solidarity with those in the English-speaking regions.
Ayuk Etta is the CEO of Skylabase, a startup that develops computer software and which is currently using the Bonako space. This week, he is going on a trip to The Gambia and then Rwanda to see if he can permanently relocate. "This is too much," he said.
But despite the shutdown, a faint glimmer of hope keeps surfacing from the tech industry. Lum-Neh Angela, whose app Opportunity Space connects Cameroonians to scholarship openings, and whose launch was affected by the shutdown, was recently selected for The Tony Elumelu Entrepreneurship program. In January, Nji Collins Gbah from the Northwest region became the first African to win a spot in the Google Code-in competition.