South African president Jacob Zuma has finally fired the much respected finance minister and shuffled 20 ministers and deputy ministers into new roles.
In a statement around midnight local time on Mar. 31, Zuma said his decision was guided by a desire to increase the number of women and young people in his cabinet.
Zuma also shuffled ministers in the transport, energy, police, sports, public works and tourism portfolios. South Africa's currency the rand plunged against the dollar at the news of another finance ministry shuffle.
Pravin Gordhan was replaced with Home Affairs minister and popular young politician Malusi Gigaba, while Jonas was replaced Sifiso Buthelezi, a businessman who was appointed to parliament just a year ago. The last time Zuma reshuffled finance minsters, his decision to appoint an unknown parliamentarian to the job was heavily criticized, and he was forced to re-hire Gordhan.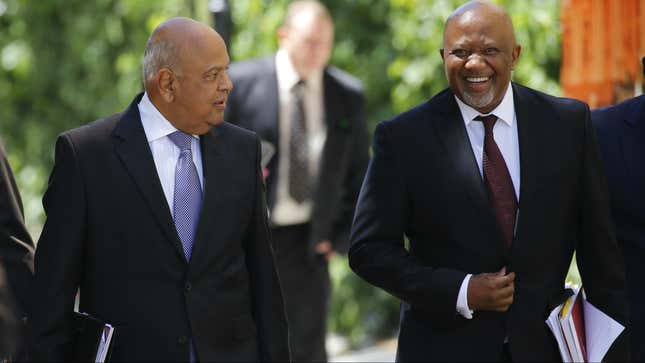 Rumors of a reshuffle began to swirl when Zuma summoned Gordhan and Jonas back from an international investor roadshow on Mar. 27. The animosity between Zuma and Gordhan has simmered for over a year, with immediate consequences for the currency and the country.
The firings will unsettle both local and international investors who have looked to Gordhan for steady stewardship of the economy around the murky waters of corruption claims and general mismanagement associated with Zuma's beleaguered leadership.
Hours before the reshuffle, the South African Communist Party confirmed that it was indeed Zuma's intention to axe Gordhan and Jonas. Gordhan and the other axed ministers are senior members of the South African Communist party, until now a close ally of the African National Congress.
The death of an iconic anti-apartheid activist revealed that some within the ANC also do not support Zuma's decisions. At the family's request, Zuma did not attend Ahmed Kathrada's funeral on Mar. 30.
Kathrada, who was imprisoned alongside Nelson Mandela for nearly three decades on Robben Island, penned an open letter to Zuma in April last year, asking him to resign after a string of corruption scandals and mounting allegations of cronyism.
At Kathrada's graveside, South Africa's former president Kgalema Motlanthe read the letter again, to a standing ovation from other veteran members of the African National Congress. Gordhan was singled out at the funeral for representing Kathrada's ideals and integrity.
The prudent Gordhan is regarded as an obstacle to Zuma's plans for the national treasury and the ambitions of the president's friends, the Gupta family. Jonas came into the spotlight when he revealed that he rejected a $44 million bribe from the Gupta family who allegedly wanted him to do their bidding in the treasury.
Unlike during his previous shuffle of finance ministers, Zuma may have had a good political reason to let go of Gordhan, the relationship between the two becoming untenable following months of political infighting.