For many Nigerians, living in Lagos, the commercial capital that's home to 21 million people, is part of the Nigerian dream. For the people of Otodo Gbame, it is anything but. And they found that out, again, this past Sunday (Apr.9).
In the past six months, on three different occasions, residents of the waterfront slum on the Lagos lagoon have woken up to state task force crews forcibly evicting thousands of them from their homes and then watching as those homes are demolished.
The first evictions, back in November, saw 30,000 residents kicked out of their homes in a process which left 15 people dead. But following an order on Jan. 26 by a Lagos State High Court to stop the demolitions and start a mediation process between the state government and the community instead, residents in Otodo Gbame thought the worst was over.
Three weeks ago they found out they were wrong as the demolitions continued. At the time, Celestine Ahisu, an Otodo Gbame resident, told Quartz the task force "promised to return" to finalize the demolition. On Sunday (Apr. 9), they did.
Starting at 5:30 am, the demolition work continued till later in the day, leaving residents stranded on the lagoon in boats with their meager belongings. One person was killed in the process, according to Justice and Empowerment Initiatives (JEI), a legal campaign group that works with Otodo Gbame residents. Andrew Maki, co-director of JEI, says there was reported sporadic shooting by the task force officers.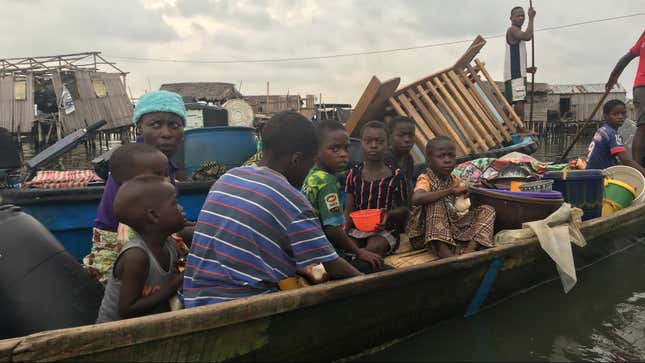 For its part, the Lagos state government has changed tack. While it has denied involvement in the demolitions in the past, attributing it to a fire instead, this time, the state governor's monitoring team has defended the evictions in a series of tweets describing the Otodo Gbame slum as illegal.
While the state maintains that clearing waterfront slums are in public interest citing security threats, there is a bigger picture to consider. With 21 million people living  in just over 3,000 square kilometers, land, of which there is so little, is valuable in Lagos. Slums like Otodo Gbame, have popped up with residents typically unable to avoid high rent costs in main parts of the city. But while they have lived unperturbed for years, previously undesirable waterfront slums are now seen as lucrative real estate opportunities.
Following the latest evictions, which like previous ones happened with prior notice to residents, a peaceful resolution appears unlikely. Those odds are worsened by Lagos' recent withdrawal from the court-ordered mediation process. JEI says it will continue to seek redress in court on behalf of the community, but, in the meantime, residents face an uncertain future. "They don't have anywhere to go," says Maki.