Kampala
#PairOfButtocks is trending on Ugandan Twitter, but don't be too quick to join in. The Ugandan academic who inspired the hashtag, will be spending 14 days in a maximum security prison in Kampala. On Monday a Ugandan court remanded Stella Nyanzi, an LGBTQ theorist and research fellow at Makerere University on charges that she called president Yoweri Museveni as "a pair of buttocks" in a Facebook post from January.
Over the past two months, Nyanzi has, in several colorfully worded Facebook posts slammed both president Museveni and his wife Janet, who doubles as Uganda's minister of education. In particular, she's been critical of a decision to rescind a 2015 campaign promise to provide sanitary pads to school girls. She launched a crowdfunding campaign to provide the pads herself.
Now, the state, using a Ugandan law called the Computer Misuse Act has brought a case of cyber harassment and offensive communication against her. A court document states that Nyanzi, "willfully and repeatedly used electronic communication to post messages offensive in nature via Facebook." It elaborates that said messages were transmitted over the internet to disturb "the peace, quiet or right of privacy of his excellence, the president of Uganda."
Prior to the court case, Nyanzi was also barred from leaving the country and suspended from her job at Makerere University but she remained unrelenting in her criticism of the regime. In a rare media interview, Mrs Museveni said that while she didn't understand the source of Nyanzi's anger towards her, she had forgiven her. Nyanzi followed that interview with a graphically worded Facebook post in which she rejected the first lady's forgiveness. Uganda's police nonetheless arrested her on Friday (Apr.9).
At the Monday court hearing, her defense team, was unable to apply for bail. Instead, government lawyers applied to have Nyanzi undergo a court-ordered mental evaluation before she could even take pleas. Her lawyers saw the move as an underhanded attempt to stall the standard court process that would have included a same-day bail application. Arguments over the mental application, which the government premised on a 1938 colonial era law, took all afternoon. When charges were eventually read to her, Nyanzi departed from the tradition of merely pleading guilty or not guilty.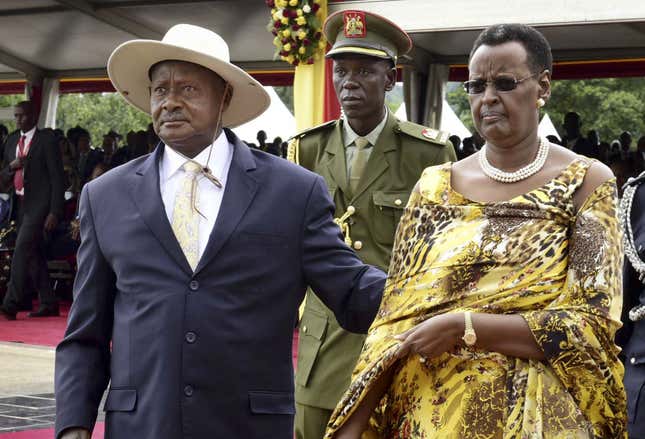 To each charge, she responded with a short animated speech before taking plea. "I am happy to take on the mantle of insanity, the mantle of truth-teller, if this is going to be the only time this regime is told of its offenses against Ugandans," she said. "Yes, I have called Museveni a rapist of our constitution," she told the magistrate at another point. She pled "not guilty" to both counts. Outside courtroom, Nicholas Opiyo, one of her lawyers added, "the act of the state resorting to a 1938 law is an act of desperation. They are clutching at any straw to suppress free expression."
Over the years, the Ugandan public has received Nyanzi's LGBTQ activism, done through both her Facebook page and scholarly research, with negativity. Last year, she was involved in a very public employment dispute with her boss professor Mahmood Mamdani, a luminary African scholar. It culminated in Nyanzi staging a naked protest outside Mamdani's office at Makerere.
Public sentiment towards her was sharply divided. However, with her "pads for girls" campaign and unrelenting criticism of president and Mrs Museveni, Nyanzi appears to have struck a chord with Ugandans. Some Ugandan has called her approach "radical rudeness." #FreeStellaNyanzi has been trending on Ugandan Twitter since her arrest, only overtaken on Monday with the related #PairOfButtocks.
Amnesty International has condemned the Nyanzi's prosecution as one that "serves no legitimate purpose." When she next appear in court on Apr.25, Nyanzi's lawyers will formally respond to the state's application that she undergoes psychiatric evaluation.