Kaptagat, Kenya
"I'm not a scientist. Talk to the scientists in Portland. Nike has a big science division," top marathoner Eliud Kipchoge laughs as he clarifies his job title after a 9-mile morning speed workout.
Kipchoge, who took gold at the Rio marathon, is the most likely contender in Nike's latest push to make running history. In December, the sportswear giant launched an effort long deemed impossible by the athletics world: it said one of its three top marathoners would run a marathon in under two hours.
Along with Lelisa Desisa of Ethiopia and Zersenay Tadese of Eritrea, Kipchoge has been quietly training for months to shave 185 seconds off his London marathon time of 2:03:05, the third fastest race of all time.  Every few weeks, Nike announces a new element in the quest to reverse-engineer the perfect race: nutrition and hydration products, revolutionary footwear, new kit, the perfect course location and ideal weather conditions.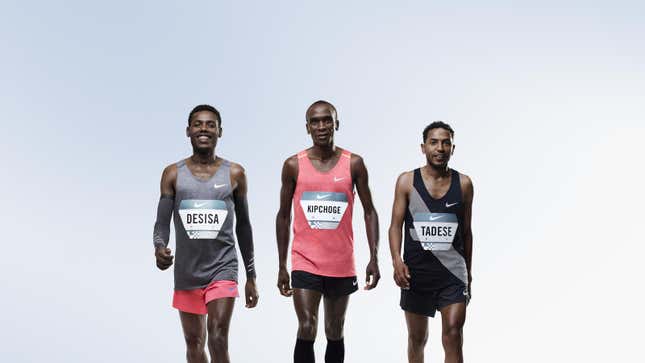 The marketing around the "Breaking 2" effort conjours images of Nike scientists—including a former NASA spacesuit engineer—toiling in the lab in Portland, Oregon with the athletes as their lab rats. But in a small town in western Kenya, the man most likely to crack the sub-2 marathon sits around with his teammates between his two daily practices, checking his phone, laughing, and drinking milky tea. Nearby, his sweaty "Breaking 2" kit is laid out to dry on the grass, next to the chunky, foam-heavy shoes he will wear on race day.
The shoe—the Zoom VaporFly Elite—was built specifically for each athlete tackling the sub-two hour attempt. It has a lightweight, carbon-fiber plate designed to propel the runner and a pointed heel to reduce drag. Independent biomechanics experts agree with Nike's claim that the clunky-looking, foam-heavy shoe can reduce the amount of energy it takes to run at a given pace by 4%.
World's fastest marathon times
(source: Runners World)
But as for switching up his training plan, eating habits, or upgrading his training facilities? "I don't need fancy stuff," he says. "What I'm getting is enough for me to run under two hours.
What he's getting is a single bed in an 8-foot-wide room he shares with another athlete. He has earned millions from prize money by winning major events including the London, Berlin and Chicago marathons as well as his Nike sponsorship. Kipchoge lives in a training camp with around 25 other athletes. At 32, he has trained here for 13 years with coaches Patrick Sang and Richard Meto. His family stays in a house in Eldoret and he visits on his rest day, Sundays.
He sticks to his "normal, Kenyan food," including bread, occasional meat, and the staple corn-based "ugali." And of course copious amounts of milky, sweet Kenyan tea. Six days a week, he practices twice daily. He rests one day a week. On Tuesdays, he does a speed workout and maybe another later in the week. One or two long runs are always in the mix. This week, he'll run 25 miles on Thursday.
When pressed he says he is focusing "a little more" on speed and endurance but says mostly, it is a mental shift. "I've not changed anything. Only the thinking….I've tried to change my thinking that I'm going for this now…I'm going to run under two hours.. I want to show people they can go beyond their limits."
Nike have picked a Formula One track in Monza, Italy for the race. They claim a "6-year historical weather analysis" indicates Monza—600 feet above sea level—is ideal. Monza boasts 53.6 Fahrenheit degree conditions, overcast skies, and a vapor pressure under 12mmHg.
On race day, the athletes will run this 1.5m loop about 17.5 times. Kipchoge and his coach say the race will take place "in the next few months" and he refuses to consider training for another attempt.
"It will happen in summer so I don't want to talk about trying again. I'm going for it," he says.
The winner will be ineligible for the world record because the race is not an official IAAF-sanctioned marathon.
But for Kipchoge, that's beside the point. "Personally I have in my heart and in my mind, to actually show the world that a human being can stretch and go beyond the limits. That's why I'm in this project. And to show those—at no costs, a human being has a limit."