In January, Ethiopia became the latest African nation to look skyward and declare its ambitions in space.
The country's ministry of science and technology announced that it will launch a satellite into orbit in three to five years to better develop its weather-monitoring capabilities. This follows the 2015 launch of a privately-funded, multi-million dollar astronomical observatory in the Entoto hills overlooking Addis Ababa—the only one of its kind in the region.
News of the satellite and the observatory drew criticism in a nation that is still developing and currently struggling with a drought. But that's unlikely to curb the country's space ambitions. "They call us crazy because they think we're [only] exploring outer space and gazing at the stars," Abinet Ezra of the Ethiopian Space Science Society told the Guardian. "But they can't see the bigger picture."
That bigger picture is a realization among African countries of the value space technology holds for economic development, job creation—and military aspirations. Many African nations lack the human expertise or capital to fund these projects. But for those that do, information gleaned from satellites has the potential to improve agriculture, guard tropical forests from deforestation, forestall climate change, improve disaster planning, and provide internet to rural communities. These investments can also offset the long-term costs of purchasing and maintaining satellites from foreign governments.
This race to space also has potential for increased military might, especially in countries that want to deploy these advanced tools for security and intelligence gathering (Ethiopia didn't specify whether its satellite would also be used for military or surveillance purposes.)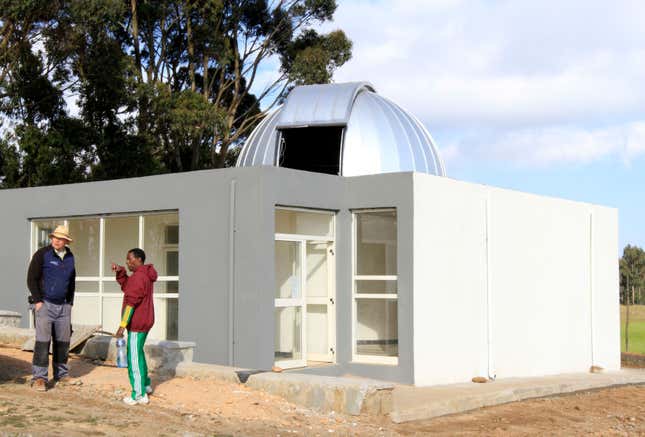 African nations have tried to reach for the skies one way or another for decades. In 1964, a Zambian school teacher named Edward Mukuka Nkoloso launched the continent's first space program. Nkoloso's failed effort included placing his cadets in steel oil drums and rolling them down a hill to simulate the weightless conditions of the moon.
A number of countries on the continent have manufactured, launched, and operated satellites since.
South Africa launched its first satellite in 1999 and established the South African National Space Agency in 2010. Entrepreneur Mark Shuttleworth became the first African to visit space when he paid to participate in a Russian spaceflight to the International Space Station in 2002. The country is also home to an arm of the International Astronomical Union, which uses astronomy as a tool for education and development, as well as a project to develop the world's largest radio telescope together with Australia and eight other African countries. Most recently, a joint satellite surveillance program between the country and Russia, intended to help South Africa's military gather all-weather, day-and-night radar imagery, attracted controversy.
Egypt has also invested in a military satellite with the aid of Russia. The country's national authority for space hopes to use space technology to drive innovation and discover resources. Other north African countries like Algeria and Morocco have also launched satellites in recent years mainly to monitor disasters, improve urban planning, and promote remote surveillance applications.
Nigeria's space agency has used satellites to assist security agencies in locating Boko Haram insurgents and monitoring the volatile Niger Delta region, and aims to put an astronaut in space by 2030. Kenya, which launched its first satellite in 1970, announced plans in 2015 to launch a space center with the stated aim of boosting its development goals. In 2013 the country discovered two aquifers via satellite that could be a reliable supply of water for 70 years.
These advanced space technologies could be hugely helpful in providing African scientists with data to solve everyday problems. But the unfavorable consequences include the ability for governments to gather intelligence from citizens, or even shut down internet and telephone communications. Satellites could also aggravate geopolitical disputes—as seen with Egypt's monitoring of the construction of an Ethiopian hydroelectric dam that could diminish the Nile's water supply.
The African Space Policy and Strategy, adopted by the African Union in January last year, calls for the development of a legal framework to manage a continental outer-space program, and to raise awareness on the role of space science and technology in improving lives and creating wealth. African nations will have to decide whether they are going to use these technologies to empower their citizens and economies—or control them.