One of the most unique features of a new South African biopic about an anti-apartheid hero earning accolades worldwide is the nationality of the people behind and in front of the camera: for a change, they're South African.
Kalushi portrays the true story of Solomon Mahlangu, a 19-year-old hawker from Mamelodi, a large township just outside of Pretoria, who joined the South African liberation movement after being brutally beaten by apartheid police in 1976. The film tracks Mahlangu's return to Johannesburg after training as a freedom fighter in Angola and his subsequent trial for a murder he did not commit. He was executed by hanging for the murder in 1979.
The film stars an entirely South African cast. That distinguishes it from a slate of international biopics in which national heroes were portrayed by foreigners like Morgan Freeman, Idris Elba, and Denzel Washington (the efforts of foreign actors to master South African accents is a source of ongoing entertainment in the country). The dialogue in Kalushi jumps between English, Zulu, Xhosa, Afrikaans and other dialects heard throughout South Africa, which has 11 official languages and where many locals converse in two or three.
In the film, "South Africans have been given an opportunity to play themselves and to honor their heroes on the big screen and to do it in their own languages—these are subtleties you never get from a Hollywood actor," says Mandla Dube, the film's producer, director, and co-author of its screenplay. "We have to trust our own process of storytelling without being apologetic about it."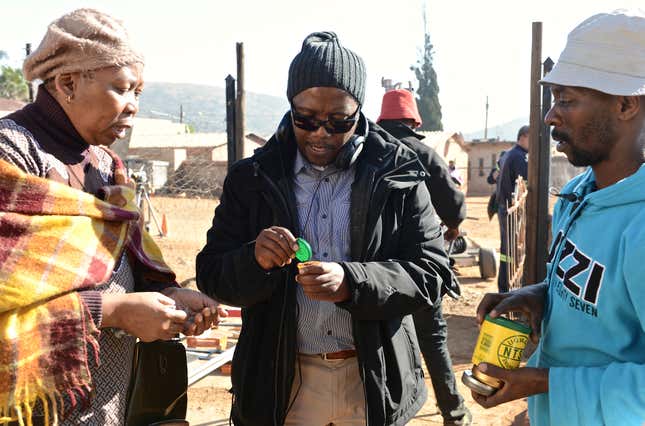 At its core, Kalushi is a story about love, says Dube, who notes that Mahlangu "loved his people, his peers, and his nation." The film culminates in a monologue that Mahlangu delivers in court after being sentenced to death. "No punishment that you can lay out in this court… will kill the will of the people," he declares, "because we will fight, we will continue to fight, until all our people are free."
Dube decided to tell Mahlangu's story after meeting the icon's family in 2008. A cinematography teacher at the University of Witwatersrand in Johannesburg at the time, Dube had become disheartened by a lack of engagement he felt his students had with their heritage. He enlisted their help in poring through newspapers and national archives, as well as in interviewing Mahlangu's family, friends and fellow freedom fighters. He has conceived Kalushi as a part of a trilogy, with chapters on the Rivonia Trial, and the Silverton Siege, both dramatic, pivotal moments in the fight against apartheid.
Kalushi opened at theaters across South Africa in March after debuting at the Rapid Lion Film Festival in Johannesburg last year. The movie premieres in New York at the New York African Film Festival on May 6 and recently won best feature film at The Luxor African Film Festival.
The cast rehearsed together for two months before filming, which Dube says created an intimacy that can be difficult to achieve when actors review their lines for two or three days, as he says tends to happen when overseas companies cast locals.
"A lot of the audience can relate with so much they hear themselves," says Thabo Rametsi, whose portrayal of Mahlangu earned him a best actor award at the BRICS Film Festival. "We performed as family. We presented the story as South Africans would present it."
Still, bringing Kalushi to black South Africans, the story's target audience and 80% of the country's population, has been challenging. The film, which cost $2.1 million to make and opened on 32 screens nationwide, has grossed only about $212,000 in its six weeks in theaters, and is now only showing on ten screens countrywide (a drop the theater chain says is common).
Dube doesn't fault the distributors. He notes that South Africa's movie theaters tend to be in the suburbs, where ticket prices of 130 rand ($9.50) and the vagaries of transportation put the movie beyond reach of many people who must travel there from the townships. "At the outset, you're on a back foot," he says.
The filmmakers are now planning to take Kalushi out of the malls and into the townships and rural areas, where it can be seen by more people in the black community. The roadshow follows in the footsteps of both Ethiopian filmmaker Haile Gerima, a mentor to Dube who pioneered going city to city to reach audiences with his films about human rights and people of color, and South African actor Thapelo Mokoena, who helped found an initiative that uses mobile theaters to bring films to people.
The Department of Education in KwaZulu-Natal province also recently announced plans to show Kalushi in schools. Rametsi, who is starting a company that will focus on distribution, says the filmmakers are working to persuade other provinces to follow suit. "I can make 60,000 great films," about South Africa and its heroes, he says. "But we have to bring them to the townships."