Nigeria's government has long talked about diversifying its oil-dependent economy but it's actions have not always matched the bluster.
Over the past few years, the automobile manufacturing industry has seemed like a plausible alternative. The hope is that it will help create thousands of jobs and draw large-scale investment from global car-makers, Nigeria's government has been keen to tap into that potential.
To this end, the National Automotive Design and Development Council (NADDC) was set up in May 2014 after a merger of previous agencies. Much of NADDC's work has been guided by an automotive policy approved in 2013. The policy mainly aims to boost local car production and reduce vehicle imports.
To implement that policy over the coming years, Nigeria has turned to Jelani Aliyu, a Detroit-based car design veteran from General Motors who's best known as the designer of its Chevy Volt. He's been  appointed as the new director general of NADDC.
There's a little irony in Nigeria appointing Aliyu, whose best known creation is an award-winning electric car. Nigeria is very dependent on oil exports for revenue and also has a severe shortage in electricity production despite being Africa's largest economy. However, Aliyu's focus as NADDC boss will probably not be on car design or electric cars. Instead, Aliyu will prioritize the establishment and growth of an automobile assembly industry that is at a crossroads.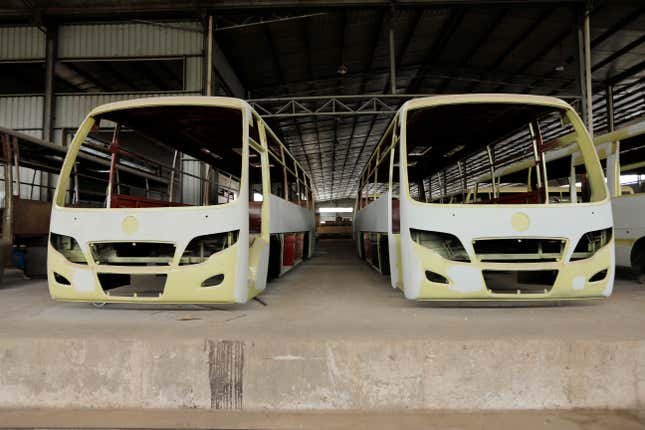 Nigeria's automobile industry hasn't always been import-dependent. Between the 1960s and 1980s, several car assembly plants, some owned by the government through agreements with foreign manufacturers were operational in Nigeria. But a decline through the 1990s and the turn of the new millennium has resulted in the need to revive the industry.
Before the automotive policy was approved in 2013, there were only three operational assembly plants in Nigeria. Since approving the policy, 30 global car-makers, including Toyota and Honda, have obtained licenses to begin car assembly in Nigeria.  But there's still work to be done. Nigeria's car sales market is typically dominated by imported used vehicles.
The country's porous borders have helped the lucrative car smuggling business thrive leaving local production vulnerable. Also, with more than half of Nigerians unable to purchase cars without credit financing (pdf pg. 10), patronage of new locally assembled cars has been slow. Aliyu's job, among others, will likely involve fixing these twin issues. Plugging smuggle-prone border gaps to boost local assembly plants and working with banks to scale up financial support for vehicle purchase can be crucial for Nigeria's economy at this time. Increased patronage of new locally assembled cars will cut down the country's car imports, valued at $3.4 billion in 2014, amid a persistent dollar crunch.
Aliyu's appointment is timely as projections by a 2015 PricewaterhouseCoopers (PwC) report show that while locally assembled cars only accounted for 15% of car sales in 2014, that figure could rise to 70% by 2050 depending on economic growth.  Even then, used cars will remain a prominent feature of Nigeria's automobile market, the difference though is that the demand will be "generated internally rather than by foreign imports," PwC says.