For the past few years, the biggest question over Yaba, the old Lagos neighborhood that has grown to become Nigeria's ground-zero for startups and techies, has been what to call it. Some settled on "YabaCon Valley", but in truth, Yaba faces a much bigger question about its validity as a tech cluster for startups.
The debate follows the exit of two of Nigeria's most successful startups from Yaba over the last 18 months. In January, Andela, a startup that trains and deploys developers, moved out of Yaba to new swanky five-floor office across town soon after a receiving a $24 million backing by the Chan Zuckerberg Initiative. Leading online retail giant Konga moved out to Ikeja, one of Lagos' major business districts in October 2015  The exit of both companies, from what is believed to be the epicenter for startups in Lagos, has put a dent in Yaba's standing as a leading African tech cluster.
But Bosun Tijani, CEO and co-founder of Co-Creation Hub (CcHUB), Nigeria's best known startup incubator, says while the exits of Konga and Andela are noteworthy, it does not serve as a death knell to Yaba. Tijani argues their moves signal the next problem Yaba faces in its life-cycle as a tech cluster: an infrastructure deficit.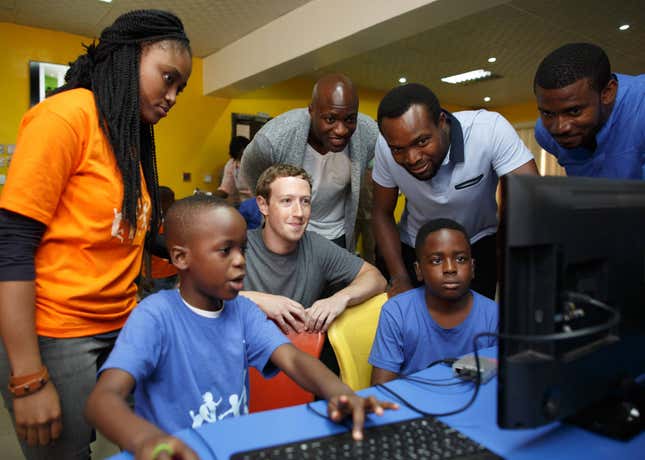 Yaba is one of Lagos' oldest neighborhoods and is  known for its late colonial-era architecture made up mostly of small, one-story buildings and narrow roads with barely enough room for the heaving traffic of the fast-growing city. Part of the appeal of Yaba's narrative is that it has never been the most obvious location for 21st century Nigerian businesses with an eye on the future. Typically, most modern commercial real estate development in Lagos happens on the upmarket island neighborhoods of Ikoyi and Victoria Island, but those locations are often too expensive for startups.
"Both companies left because they needed bigger spaces," Tijani tells Quartz. "Like any cluster, you need infrastructure and Yaba needs investment in big enough, befitting structures." For smaller startups, Tijani says the real estate infrastructure problem isn't one to worry about yet and argues that Yaba remains the "best cluster for tech companies" because of factors such as its location in central Lagos and its proximity to talent hubs like Yaba College of Technology and University of Lagos. As such, he considers talk of Yaba's demise premature. "Yaba will be a lost opportunity if we use our own narrative to kill it," Tijani says.
Thinking long-term
To solve the infrastructure problem, CcHUB is planning a $8 million innovation center in Yaba which Tijani says will be operational by 2020. The 10-story building will serve as CcHUB's new location while also providing other startups in the cluster with office space for lease. Additionally, Tijani hopes the innovation center will provide enough space to host large tech events and conferences—another pressing need.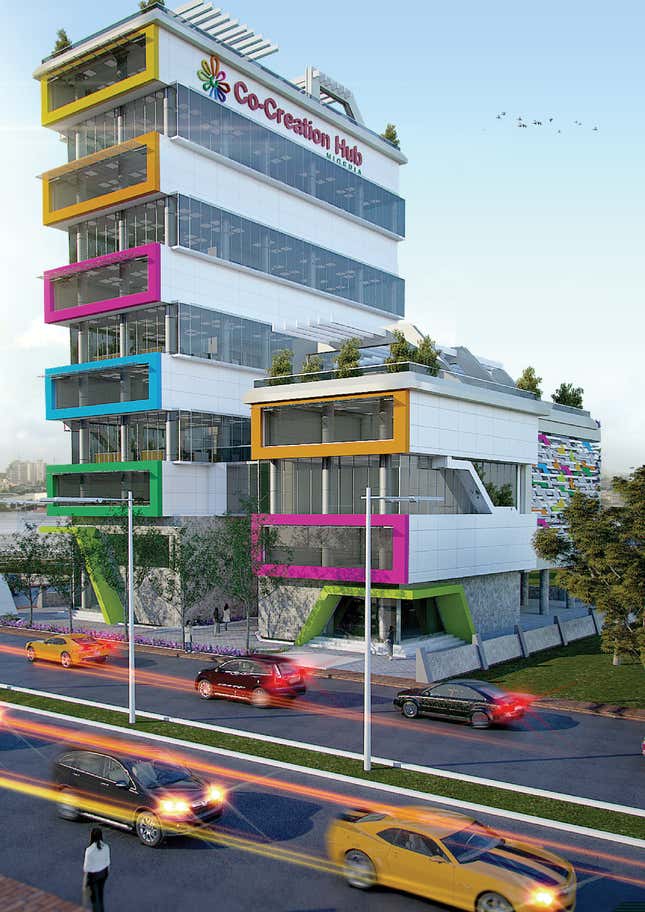 The planned innovation center is the latest bold step CcHUB has taken in growing the Yaba ecosystem. Since it was founded in 2011, the hub has proven crucial to the growth of several successful startups including BudgIT, a civic enterprise focused on government accountability, WeCyclers, a waste recycling start-up and LifeBank, a health start-up focused on improving access to and transportation of blood. Over time, CcHUB has gradually evolved into an accelerator funding startups in exchange for equity.
In December 2015, to mark its fifth anniversary, it announced a $5 million social innovation fund focused on social tech ventures hacking local solutions to pressing problems. But while it is bound to impact startups directly, the hope, Tijani tells Quartz, is that CcHUB's Innovation Center will inspire more expensive real-estate bets in Yaba and help other investors realise "there's an opportunity" in Yaba.
The soul of Yaba
Now home to over 50 startups and many more techies hoping to create the next global unicorn, Yaba's demography has slowly evolved. As such, the neighborhood has undergone a gentrification of sorts with savvy businesses—a coffee shop chain, serviced homes and restaurants—opening up shop looking to service Yaba's new residents.
While Tijani is working on the big-ticket project, other Yaba insiders are looking to fix another problem: the lack of a sense of community in the cluster.  Mark Essien, founder of Hotels.ng, an online hotel booking platform, and Tomi Davies, a serial startup investor, have teamed up to create Yaba4Tech (Y4T), a monthly meeting of startup founders, developers and entrepreneurs based in Yaba. The objective, Davies has said, is for techies to meet each other, engage and discuss common issues.
If sustained, there's a chance these meetings can help foster a deeper connection between founders and startups as parts of a larger collective. That sense of connection is currently sorely lacking, Akinola Falomo, co-founder of Devcenter, a marketplace startup for African developers based outside Yaba, says. "I get the idea of a tech cluster but to some extent it's a big balloon," Falomo tells Quartz. "I go around Yaba and it feels like more hype than reality compared to Silicon Valley where it doesn't just mean a place but there's a connection between businesses and founders."
As the hype around Yaba has grown, it has attracted interest, including a well-covered visit by Mark Zuckerberg last August. Having gained momentum over the past few years, Tijani says it's important now to keep the cluster together as that's critical to developing it. "When you cluster, capital projects that will be typically difficult can be carried out." Tijani cites the deployment of high speed internet fiber cables in Yaba as an example. Delivered in partnership with MainOne Cable and the Lagos state government, the project, led by CcHUB, now provides startups in the area with faster internet speeds, compared with other Lagos neighborhoods.
The next target, Tijani says, is partnering with Lagos state again to improve power supply in Yaba, possibly helping startups save millions in operational costs of running private generators. If startups were sparsely distributed across Lagos, he says, these projects will be ultimately less beneficial to the ecosystem in general. "Together, it's easier and cheaper to solve problems," Tijani tells Quartz. "Silicon Valley was not built in a day and that's what Yaba can be but it'll take years and we need to stop thinking short-term."