The country roads outside Goma are thick with rainforest and rebels.
At 23 and fresh out of college, I moved to the Democratic Republic of Congo, where I was dropped in the middle of one of the world's longest-running conflicts and employed as a humanitarian aid worker. I had no training, and no safety measures beyond a curfew and a handheld radio that did not work.
My days were spent distributing food in camps for displaced people and helping former child soldiers readjust to civilian life. All the while I found myself vulnerable to attacks during riots for food and having to interact with rebels and war criminals. But I had little to no idea how to protect myself from an attack, and no coping strategies to handle the aftermath. This situation was common in the fields of humanitarian aid and human rights defense back then, in 2007.
But as shown by the killing in Congo of two UN experts and their interpreter earlier this year, it remains a serious problem a decade later.
Zaida Catalàn and Michael Sharp, and their interpreter Congolese Betu Tshintela, received limited training before deploying to Congo's Kasai region. They were investigating human rights abuses, including by a former government minister Catalàn was due to meet shortly before going missing. The experts and their interpreter were not given safety equipment, such as location trackers, or even health insurance. In mid-May, almost two months after the three workers went missing in March, did the UN Security Council announce it would meet to discuss the case.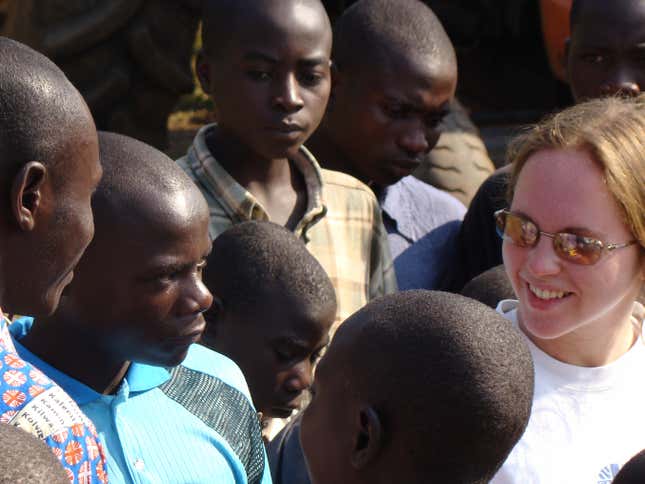 Attacks against humanitarians are increasing, with 148 attacks in 2015 compared to 74 in 2005, according to the Aid Worker Security Database, which records major incidents of violence against aid workers. Of those attacks, 109 were killings recorded in 2015, but only 53 in 2005. Of the 287 total victims recorded in 2015, 259 of them were local staff.
These figures stem in part from the fact that the number of international aid workers has tripled since 2000. But I wondered how security training and operational support had improved alongside this increase. As part of my training for Congo back in 2007, my employer had made me sleep directly on bed springs during a retreat and shut off my water supply for a few hours in the morning. It considered these appropriate tests of my fortitude for living in a war zone, but I felt that other, perhaps larger, organizations would help their workers be more prepared.
I interviewed other international aid workers and mental health professionals who specialize in supporting humanitarians. I found that the prevailing view in the field is that neutrality toward the warring parties remains one of the foremost forms of protection—we are to simply hope that we will not be attacked because of the work we do. If an attack does occur, any trauma on our end is seen as negligible if not hyper-inflated since the people we are helping have it so much worse. The attitude is compounded by a cowboy mentality, where aid workers expect each other to overcome enormous traumas as if nothing had happened. And that if they can't, it must mean they are not fit for the job.
After Steve Dennis, a Canadian aid worker, was shot and kidnapped by militants in northern Kenya in 2012, he was diagnosed with PTSD. He told me that his boss advised him to simply "get back on the horse." His organization, the Norwegian Refugee Council (NRC), refused to pay his medical bills until he took them to court, where they were found grossly negligent at providing proper security.
"I'd say it was equally bad or worse than the actual incident," said Dennis of dealing with his employer after his kidnapping. "The people who took us were not fat, overpaid people with Rolexes. They were having a hard life. I can kind of understand why they did that to us. But NRC … I don't understand it."
After Shannon Mouillesseaux, an American aid worker, was sexually assaulted in Sri Lanka while investigating human rights abuses perpetrated by the government in 2009, her agency sent her to a counselor. She described entering the counselor's office in the capital Colombo, where she removed her cardigan because it was hot. "I didn't think anything of it, and in Colombo you see Sri Lankan women wearing tank tops all the time," said Mouillesseaux. "So I was wearing a tank top in [the counselor's] office, and she told me that hopefully in the future I would know not to dress like that." She later went on to help start Global Aid Worker to support aid workers.
This failure to protect and support aid workers has only recently begun to be addressed. Organizations are taking steps to improve training and security provisions by increasingly providing hostile environment training, which can include simulated kidnappings in order to teach coping mechanisms in high-stress situations. Many aid groups have also hired outside consultants, such as The Headington Institute, which helps agencies integrate psychosocial care into their support programs.
Yet progress has been slow. When I worked in humanitarian aid in 2007, my organization had no training policy in place. When Mouillesseaux experienced her assault in 2009, her agency did nothing until the next morning. When Dennis was kidnapped in 2012, no security manager had been on duty, which went counter to NRC's own security policy. When Catalàn and Sharp were killed this year, they'd been traveling without escorts in a no-go area for other UN employees. It was reported  that the UN passed a resolution in May last year demanding protection for health workers in conflict zones, and that the resolution made absolutely no difference.
Meanwhile, national staff in countries at war are confronted daily with even greater dangers than expatriate staff. In places like Somalia, where the kidnapping risk is high, foreign aid workers—who are often white westerners—can present a more attractive target for kidnappers. Aid agencies get around this by relying more heavily on national staff, but as shown in a 2014 report by InterAction, an alliance of U.S.-based aid agencies, national staff are given fewer opportunities for receiving proper security training.
Awareness of specific gender issues also remains limited. My training, however inadequate, had been exactly the same as that of my male colleague, despite the fact that we would be working in an area where rape was widely used as a weapon of war.
The problem seems to be that security training for aid workers is often developed by a predominantly male perspective. Hostile environment training for example, is often run by ex-military officers. It is not surprising, then, that when set against kidnap-for-ransom and murder, some men in the industry don't see sexual assault as being so critical.
Before going to Congo, I knew that I wasn't always going to be safe there. That was part of the contract. But there are steps workers and their agencies can take to mitigate dangers. Better training, support mechanisms, and security measures are necessary. More targeted training for specific issues, such as sexual assault and greater training opportunities for local staff would also go a long way.
Above all, aid workers need to know that they will not be shamed, or thought of as incompetent if they seek help or redress. And employers must understand that taking better care of their workers means taking better care of the vulnerable people they're bound to serve.
As Steve Dennis considered suing his employer for negligence, he realized that what happened to him was happening to others. "They were giving the same explanation, that nothing can be done, that when you're an aid worker you're going to get shot, you're going to get kidnapped, it's just the world we're in," he said. "And I thought, 'wait a minute, what is a reasonable level of care?' That's a great question, and it was never really answered."