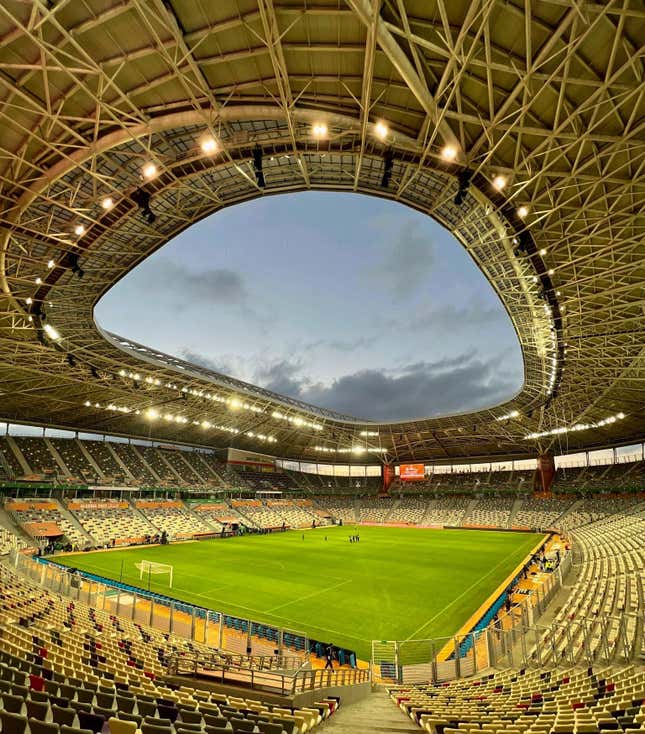 From grassroots football development to cutting-edge sports technology, African entrepreneurs are spearheading initiatives that promise more financial value and structure for African sports talent.

Shola Akinlade, the co-founder of Paystack, a popular payments platform in Africa, recently made headlines after he acquired a majority stake in Danish football club Aarhus Fremad Fodbold.
Akinlade also owns Sporting Lagos FC, a professional football club in Lagos that plays in the Nigeria National League's 2nd Division.
Business Day, a Nigerian news platform, reported in March that the 38-year-old would facilitate players from Sporting Lagos to transit to Aarhus—and the European football market.
This trend of integrating business models into sports development creates a structured and financially lucrative value chain for African talent, according to business insiders.
Ndeye Diarra, chief orchestra officer at Silverbacks Holdings, believes that implementing successful business models in sports is the key to unlocking Africa's potential for a high return on investment.
"Sports franchise's valuations are skyrocketing while the ratios of players of African descent are high," she said.
Africa is looking beyond football
Football has been the main focus of sports business development in Africa, not only because of the sport's huge popularity on the continent but also due to the oversized impact the continent plays in supplying globally-recognized talent.
KPMG's 2022 Football Benchmark report showed more than 500 professional African players in European football clubs.
This number keeps growing, with the latest FIFA transfer report showing that 759 professional players transferred into clubs playing in the UEFA league competition alone.
It's not only football; international sports markets for other sports, such as basketball and American football, show significant growth potential.
NBA and NFL have been seeking fresh African talent to add to existing African players in their various leagues.
Entrepreneurs want to monetize Africa's sports industry
The increased appetite for African talent is motivating African sports entrepreneurs to create systems and spearhead initiatives that monetise the sports industry.
Diarra highlights that adopting business models in sports can attract international brands to invest in African sports talent. However, alternative strategies can ensure that African athletes receive the highest possible benefits from their talent.
"One way is identifying raw talent at the grassroots, incubating and nurturing it before availing it to the international sports market…this will give them a competitive advantage," she highlights.
Rainbow Sports is a sports development company that has implemented this business model in the African football value chain in the continent and beyond.
Rainbow Sports Group CEO Kingsley Pungong explains that the company increases football opportunities for African athletes.
"We intend to go into other sports including martial arts, boxing, basketball and more so as to become a credible platform to train and expose world class athletes," he explained.
Most recently, Rainbow facilitated player transfers from the continent into joining more competitive leagues.
Ugandan football stars Aziz Kayondo and Allan Enyou found spots in Spain in CD Leganes B team, with more players under Rainbow's programs being signed to other clubs like MFK Vyskov in the Czech Republic. This is in addition to the numerous grassroots-level programs and initiatives that the company runs.
Startups are leveraging technology to advance sports
Besides, startups are leveraging technology to address traditional barriers that hinder the transition of African sports talent into the international market. Gabriel Ajala of Africa Sports Unified highlights how technology has opened up opportunities for entrepreneurship in player data and analytics.
"Data, analytics and insights will create a clear pathway…a more synergized regulatory player-agent system to protect player value," he explained.
Highly creative sports tech startups have already shown ambition and commitment to leverage technology to advance the sporting ecosystem. Uburu Africa connects African players to European colleges using cloud-based technology that populates player data, including video footage, statistics and insights.
Besides, there is a global charge through FIFA and CAF to advance digital opportunities in sports. For instance, FIFA's new digital skills platform was launched in January 2023 and aims to support the uptake of digital skills among member associations.
According to Kenny Jean-Marie, Fifa's chief member associations officer, using the platform "will facilitate a more systematic transfer of best practices from experts and organisations." This momentum could be fuelled further by a growing investor appeal in sports technology in Africa.
As of April 2022, sports tech funding in Africa had tripled from November 2020 values, according to estimates from Startup. Africa.
These recent advancements put African sports tech companies in a favourable position to capitalise on the rapidly expanding global sports tech market, projected to reach over $40 billion by 2026, up from $12 billion in 2022.
This report was first published by Bird Story Agency.