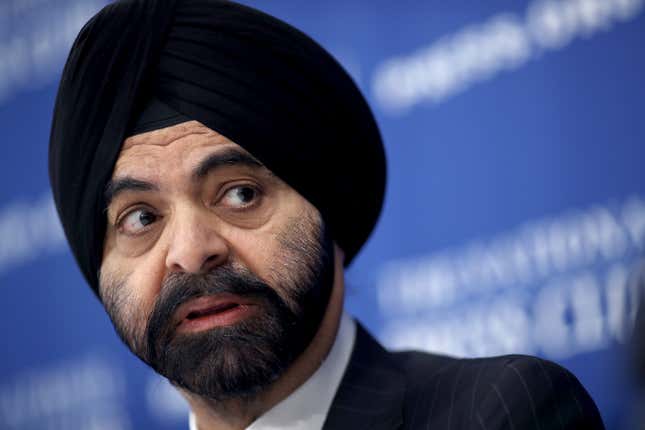 The White House yesterday (Feb. 23) announced that the US is nominating Ajay Banga to succeed David Malpass as World Bank president.

Currently the vice chairman at New York-headquartered General Atlantic and former president and CEO of Mastercard, Banga is being touted as a "global leader in technology, data, financial services and innovating for inclusion" by the US government.
Banga was born in Pune, in the western Indian state of Maharashtra, on Nov. 10, 1959 and has a bachelor's degree in Economics from Stephen's college in New Delhi and an MBA from Indian Institute of Management-Ahmedabad (IIM-A), one of the top business schools in the country.
Typically, the US picks the World Bank's leader by virtue of being the largest stakeholder in the international financial institution. In its 77-year history, the US has always chosen the leader, though the bank's board still needs to officially appoint Banga.
The bank's board said on Wednesday (Feb. 22) that it would begin accepting nominees, with the aim of selecting a new leader by early May. No other contenders seem to be in the race yet. The current leader, former president Donald Trump's pick Malpass, said he'd be stepping down on June 30 earlier this month.

A timeline of Ajay Banga's life and career
1981: Banga starts his career as a management trainee with Nestlé. He goes on to spend 13 years at the food and beverage company.
1994: A brief two-year stint at PepsiCo begins for Banga.
1996: Banga joins Citi Group, where he also spends 13 years.
2000: He moves to the US with Citi.
2007: Banga becomes a US citizen
2009: MasterCard hires Banga as president and chief operating officer. Less than a year on, he'll be named president and CEO.
2012: Banga begins heading the US-India Business Council.
2015: US president Barack Obama appoints Banga as a member of the Advisory Committee for Trade Policy and Negotiations.
2016: Banga receives the Padma Shri, India's fourth-highest civilian honor.
2021: Banga joins General Atlantic as vice chairman.
Quotable: Biden believes Ajay Banga can tackle climate change and poverty as World Bank president
"Ajay is uniquely equipped to lead the World Bank at this critical moment in history. He has spent more than three decades building and managing successful, global companies that create jobs and bring investment to developing economies, and guiding organizations through periods of fundamental change. He has a proven track record managing people and systems, and partnering with global leaders around the world to deliver results. He also has critical experience mobilizing public-private resources to tackle the most urgent challenges of our time, including climate change. Raised in India, Ajay has a unique perspective on the opportunities and challenges facing developing countries and how the World Bank can deliver on its ambitious agenda to reduce poverty and expand prosperity." —US president Joe Biden
Person of interest: David Malpass
The outgoing president of the World Bank is stepping down "to pursue new challenges" nearly a year before his five-year term ends. Climate advocates had been calling for Malpass's resignation since September last year, after he refrained from publicly acknowledging that burning fossil fuels is warming the planet. Former US vice president Al Gore, who labeled Malpass a "climate denier," tweeted that he is "extremely optimistic that he [Banga] will bring renewed leadership on the climate crisis to the World Bank."
Related stories
🏫 MasterCard CEO Ajay Banga's six lessons on leadership—as told to the IIM-A class of 2015
🌍 The US should appoint a non-American to head the World Bank
💼 The president of the World Bank used "one of the best ploys to get a job" Obama had ever seen