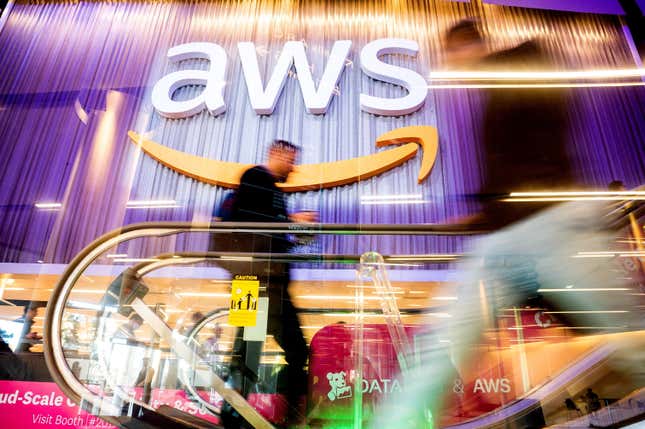 Amazon is planning to invest nearly $13 billion in India by 2030, it announced today (May 18), focusing on cloud infrastructure. This is the largest-ever investment the Seattle-based company announced in the decade since it began operations in the South Asian market in 2013.

Don't expect the Fed to help your investment in Amazon
Currently, Amazon Web Services (AWS) runs two data center regions in India, in Mumbai and Hyderabad. The company said its latest investment will create 131,700 full-time jobs across roles such as engineering, telecommunications, and construction, and claimed it would add $23.3 billion to India's GDP by the end of this decade.

As AWB committed to source 100% of its energy from renewable sources by 2025, the investment in notoriously energy-intensive cloud infrastructure also requires the construction of renewable energy projects. Puneet Chandok, president of commercial business at AWS India and South Asia, noted as much in the company's statement. "We have trained more than four million people in India with cloud skills since 2017, and invested in six utility-scale renewable energy projects to meet our global 100% renewable energy goal by 2025."
Amazon's growing interest in India
India is a key market for Amazon, where it has already made a bet of over $6.5 billion in the country's e-commerce in the the last decade. The latest investment comes on top of $3.7 billion AWS committed to the country between 2016 and 2022.
In terms of client base, Amazon provides its services to thousands of customers in India, including government entities such as the Ministry of Electronics and Information Technology, Axis Bank and HDFC Life, and others public and private organizations across the sectors.
Amazon, however, isn't the only one looking for lucrative opportunities in the world's second-largest internet market.
Google and Microsoft too are expanding their cloud footprints in India. While the search giant has two cloud regions in India, Microsoft currently maintains three centres. Considering how efficiently cloud adoption has been in India across various industries, the sector is expected to grow at a robust pace.
The overall India public cloud services market is expected to reach $13 billion by 2026, according to research firm IDC.