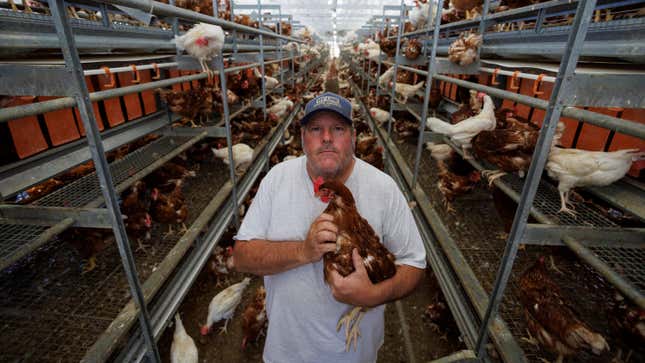 The cost of a dozen eggs is plummeting in the US, and the national average price of $2.66 is now 7% below the same figure in May 2022.

Holly Newman Kroft: Quartz Smart Investing Part 2
Eggs are still about twice as expensive as their average cost in the seven years before the 2020 pandemic recession, $1.80. But market analysts expect the price of eggs to continue falling, thanks to a rebound in the hen-laying population, which was devastated by an outbreak of avian flu last year.
Now, supermarket executives are looking for prices to keep dropping, although they are tracking the potential for another battle with the disease.

This data comes in the June 13 report on US consumer prices, which showed the lowest level of inflation since March 2021. While core inflation remains high enough to keep the Federal Reserve wary, economists are hopeful that the cost of housing, falling in many private measures, will soon be reflected in the government's Consumer Price Index (CPI).
The rise in egg prices played a major role in the inflation debate; like gasoline, they are a consumer staple that most Americans are familiar with. Eggs became a touchstone of the "greedflation" argument that rising prices were driven by corporations expanding their profit margins.
Which came first, the chickens or the eggflation?
Now, prices appear to be falling in response to a growing supply of eggs. I don't have good data on fluctuations in corporate avarice, but one recent analysis by researchers at the Kansas City Fed suggests that price hikes did contribute to inflation in 2021—but likely reflect concerns about rising future costs, particularly as mark-ups have fallen since.
This episode of post-pandemic elevated inflation has delivered a number of economic surprises, most notably the fact that inflation has been slowing without significant increases in unemployment—just don't say the T-word. But a key takeaway has been the importance of supply-side factors after many economic analysts spent the 2010s fretting about a lack of demand.
The story of this breakfast staple's volatile price—driven by a (non-human) pandemic; turned into a symbol for mismanagement, greed, and inequality; and resolved by simply increasing supply of the product—is the US inflation experience in, well, an eggshell.