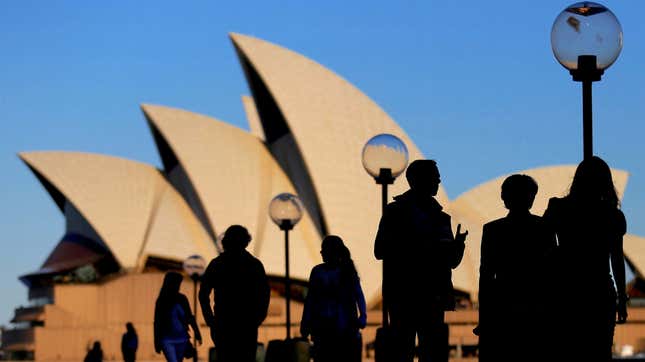 For the first time in 10 months, Australia's central bank chose to not raise interest rates on April 4, leaving its benchmark interest rate at 3.6%.

Quartz Smart Investing with Meera Pandit, Part 1
In a statement, Philip Lowe, governor of the Reserve Bank of Australia, said its board is pausing to assess the impact of hikes. Bank failures in both the US and Switzerland are adding to the tightening of financial conditions, Lowe noted. Although rent and utilities inflation is rising in Australia, most economists think that overall inflation peaked in the country last December.
"Growth in the Australian economy has slowed, with growth over the next couple of years expected to be below trend," Lowe said. "There is further evidence that the combination of higher interest rates, cost-of-living pressures and a decline in housing prices is leading to a substantial slowing in household spending. While some households have substantial savings buffers, others are experiencing a painful squeeze on their finances."
Will other central banks pause rate hikes?
The majority of central banks are still hiking interest rates.
In March, the US Federal Reserve raised interest rates by just 25 basis points instead of the 50 that the central bank had been planning before the failure of Silicon Valley Bank and Signature Bank.
In a speech that month, Fed chair Jerome Powell noted that "ongoing increases" would no longer be necessary, signaling that the bank plans to pause soon even as officials penciled one more rate hike into their forecasts.
The European Central Bank (ECB), which raised rates by 50 basis points in March, must weigh the collapse of Credit Suisse against a surprise cut in oil supply from OPEC+ when looking at future rate decisions. Consumer inflation expectations fell for the second month in the eurozone in February, but rising energy prices could reverse this trend.
Economists expect other countries like New Zealand to begin slowing like the US did, decreasing rate hikes from 50 to 25 basis points rather than stopping them. Despite Credit Suisse's failure, the Swiss National Bank expects to keep raising rates.