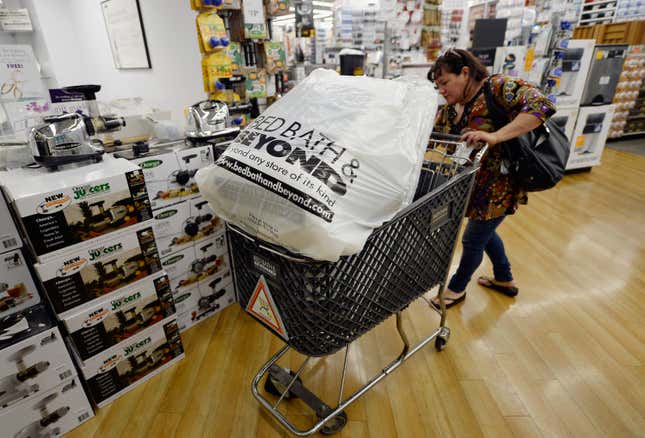 Bed Bath & Beyond stock price rallied on Tuesday (Jan. 10) despite the company's earnings results showing wider-than-expected losses, further raising the possibility of the struggling retail giant filing for bankruptcy in the coming months. The company reported a net loss of $393 million, after projecting just $386 million last week.

Eric Beiley Part II: Where rates are heading
CEO Sue Gove said the company was considering all options to get earnings back on track, including a pivot away from Bed Bath & Beyond branded merchandise, focusing instead on selling home goods manufactured by better-known national brands. Gove also announced the company plans to close 150 of its lower-performing stores in order to cut operating costs.

Gove hinted at further investments in online retail, highlighting the company's attempt to offer same-day shipping and contactless pickup services on their website. In-store sales declined by 32% in the third quarter, a trend that began during the pandemic. The company also reported a $1.3 billion decline in net sales in the third quarter, roughly 33% down from the previous quarter.

The Bed Bath & Beyond (BBBY) stock went up 21% after the earnings report was released on Tuesday morning as investors speculated the company might be a target for acquisition. Last week, initial reports that the company was exploring bankruptcy caused the stock to decline by 30%. The company's shares have been on a wild ride since becoming a target of social media-coordinated retail investors as part of the so-called meme stock phenomenon. The stock earned record gains in the past two years before plunging 80% at the end of 2022.

Charted: BBBY's wild year on the stock market
A timeline of Bed Bath & Beyond's downfall

October 2019: Bed Bath & Beyond taps Mark Tritton, Target's former chief of merchandising, as CEO. BBBY price soars 21% on the news, reaching over $50 per share.

April 2020: BBBY stock falls below $4 per share as the covid-19 pandemic causes a moratorium on in-store shopping.

June 2021: BBBY stock jumps as much as 30% part of the 'meme stock' phenomenon after most covid-19 restrictions are lifted.

March 2022: Chewy billionaire Ryan Cohen (who became GameStop chairperson after getting behind the meme stock rally) buys a 9.8% stake in Bed Bath and Beyond, outlining a roadmap to restore the brand's credibility.

June 2022: Tritton is fired as CEO after sales plunge by 25% in the first quarter of 2022. Current CEO Sue Gove takes over.

August 2022: BBBY stock jumps over 70% in a single day, even as sales and profits continue to slide. Later in the month, a shareholder sues the company, accusing its CFO Gustavo Arnal of conspiring with Cohen in a pump-and-dump scheme. Arnal dies by suicide a few weeks later.

January 2023: Bed Bath & Beyond ends 2022 with over $1 billion in debt and floats the possibility of declaring bankruptcy in the coming months.
Related stories:
🛏️ Bed Bath and Beyond tried decluttering and shoppers rebelled
🏦 Everything you need to know about bankruptcy
🛀 Bed Bath & Beyond is ready to use its meme stock status to fundraise