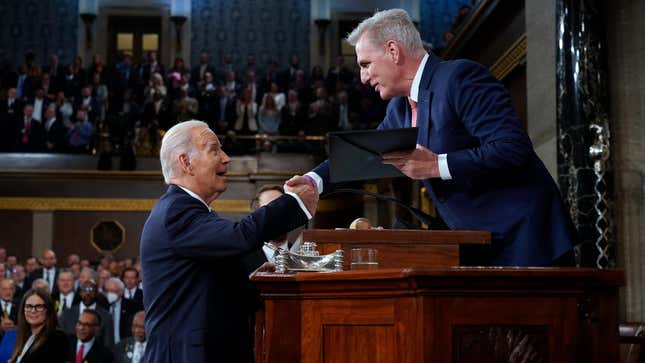 US debt ceiling talks appear to have overcome an impasse and are now close to finding a resolution. President Joe Biden and Republican House speaker Kevin McCarthy were hammering out details around curbing spending and raising the debt ceiling, as US Treasury secretary Janet Yellen, who previously warned the US could run out of cash as early as June 1, changed that guidance to June 5, buying several more days for the country to avoid defaulting on its debt.
In a White House press briefing on May 25, Biden said he had "several productive conversations" with McCarthy, adding that the talks pertain to "outlines of what the budget will look like, not about default."

Biden's proposal included more than $1 trillion of spending cuts, freezing spending for the next two years. The two parties are just $70 billion apart on discretionary spending plans, according to a Reuters report citing a person familiar with the talks—a relatively minor gap.
Quotable: Biden says defaulting on national debt "is not an option"
"The American people deserve to know that their Social Security payments will be there, that veterans' hospitals remain open, and that economic progress will be made and we're going to continue to make it. Default puts all that at risk. Congressional leaders understand that, and they've all agreed: There will be no default." —US president Joe Biden in May 25 remarks
Key dates for US debt default warnings
January 19: The Treasury Department (Treasury) ran up against its $31.4 trillion debt limit and deployed emergency borrowing authority—"extraordinary measures"—to continue fully financing government operations.
May 22: Treasury secretary Janet Yellen notifies Congress that Treasury may fail to meet all the government's obligations as early as June 1, 2023.
May 26 afternoon: US Representative Kevin Hern, who leads the largest Republican caucus, believes a deal to raise debt-ceiling deal is likely to be reached by then.
June 1: "X-date" when US can no longer pay its bills and risks default, according to Treasury secretary Janet Yellen on May 22.
June 5: The new "X-date" provided by Yellen on May 26.
June 8 or 9: The real "X-date" could be a week later, according to Alec Phillips, Goldman Sachs' chief political economist. The forecasts could vary because of the difference between taxes and other revenue the government collects versus how much it spends.
Between early June and early August: The Bipartisan Policy Center estimates a wider gap for when the X-date could occur.
A brief summary of why the White House and Republicans have been in a deadlock on the debt ceiling
Created in 1917, the debt ceiling is a spending limit set by Congress which determines how much money the government can borrow. Raising or suspending the debt ceiling becomes necessary when the government needs to borrow money to pay its debts.
According to Biden, the White House is trying to reduce the burden on middle-class and working-class Americans while Republicans are pushing for steep cuts that would increase wait times for Social Security claims and slash the number of teachers, police officers, and Border Patrol agents.

Biden believes the solution is "spending cuts on programs that help Big Oil and Big Pharma by closing tax loopholes and making the wealthy pay their fair share."
The initial agreement is likely to lock in details around military spending—the biggest chunk of discretionary spending—and decisions about other categories like housing and education will be etched out over the coming months.

Fitch warns the US could lose its AAA rating
One of the three major ratings agencies, Fitch, warned on May 24 that "increased political partisanship that is hindering reaching a resolution to raise or suspend the debt limit despite the fast-approaching x date" could cost America its AAA grade.
The highest score in the top assessment of a nation's creditworthiness means there is low risk in buying bonds issued by that nation. A lower score increases risk and interest rates, and therefore a nation's cost of issuing debt, making it less attractive to investors.
"So many assets are priced in direct relation to US Treasuries that the turbulence from a more pronounced downgrade would be felt in markets worldwide," said Nikolaj Schmidt, chief global economist at T. Rowe Price.
Back in 2011, the US lost its AAA grade at S&P Global Ratings during a similar partisan standoff on the debt ceiling. Back then, Fitch had put America's credit on a "negative'' watch like now, and it did so again in 2013, but it never dropped the top credit rating.
US debt ceiling default dangers, by the digits
25%: Odds that the US will hit the so-called "X-date" and default, as of May 24
24/7: How long the two sides, who already negotiated past midnight on Wednesday (May 24), are willing to work together to arrive at a solution, according to McCarthy
7 million: People who'd be out of work in case of a prolonged default, as per Moody's estimates. It would also push the US into recession
One-tenth: How much of US economic activity a breach of the debt ceiling would immediately halt, according to Goldman Sachs' estimates
78: How many times Congress has acted to "permanently raise, temporarily extend, or revise the definition of the debt limit," most recently in 2021. Of these, 49 were implemented under Republican presidents, and 29 were under Democratic presidents.
Editor's note: This story was updated at 4:54 pm on May 26 with US Treasury secretary Janet Yellen's estimate that the US would run out of cash on June 5 unless the debt ceiling is raised.
Related stories
🌍 Please, DC, don't hurt the global economy
🤑 The unnecessary debt ceiling showdown is already costing US taxpayers money
📜 How Joe Biden could end the debt crisis with the 14th Amendment