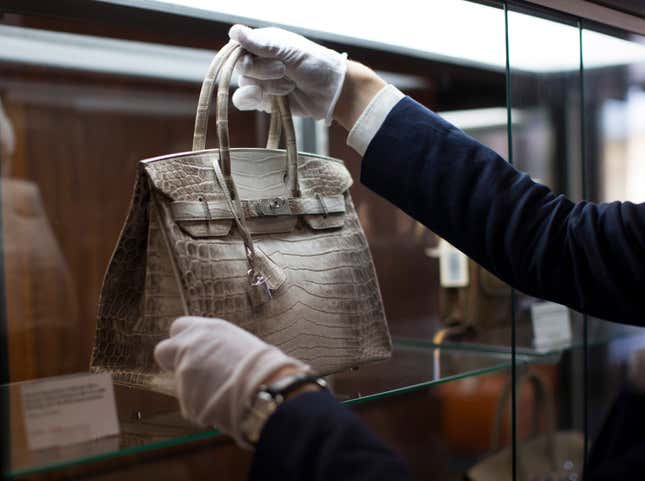 A New York court has banned a California digital creator from making non-fungible tokens (NFTs) based on luxury handbags made by French fashion house Hermès International.
Should you keep investing in Big Tech?
Mason Rothschild (real name Sonny Estival) was found to have lied to consumers about his MetaBirkins NFT collection's connection to Hermès' bags. In January 2022, Hermès filed a case with the Southern District Court of New York, complaining that Rothschild was infringing on its intellectual property rights because his digital creations, which he began auctioning online in December 2021, resembled its iconic Birkin bags. The NFTs generated $1.1 million in sales.
Presiding over the case, judge Jed Rakoff said that a jury had established that Rothschild was "simply a swindler" who sought to confuse consumers into thinking that his NFTs were affiliated with Hermès' Birkin trademarks. Rakoff added: "Nothing in the First Amendment insulates him from liability for such a scheme."
Rothschild denied any wrongdoing, telling the court that Hermès's request went "far beyond what is appropriate in a case, like this one, that involves artistic expression." While Rakoff largely granted the luxury goods maker's request, he chose not to order Rothschild to transfer the tokens to Hermès out of an "abundance of caution" for First Amendment concerns.
In February, the jury awarded $133,000 in damages to Hermès after it determined that Rothschild profited off the brand's goodwill. But what angered Hermès, according to a court filing in March, is that Rothschild continued to market his NFTs after the jury's verdict, which led to the company filing another lawsuit. Rothschild can still appeal the court's decision.
It has been a bumpy ride for NFTs
The court judgment sets a major precedent for intellectual property (IP) law in relation to NFT. It's another blow to an industry that has been struggling in recent months.  
NFTs were largely seen as the key driver of the metaverse—until the companies that backed the concept largely stopped believing in it. Now, the mostly unregulated NFT space continues to contract, as forgery, theft, market saturation, and lack of clear use cases for NFTs are causing investors to lose confidence in a field that was marketed as a game changer for art—and one that could stamp out counterfeiting.
A report published by blockchain analyst Elliptic last August showed that over $100 million worth of NFTs had been stolen since July 2021, as NFT scammers kept paying to advertise sites with phishing links on search engines. Yet that was just a fraction of the largest single theft of $500 million from NFT-based video game Axie Infinity in March 2022, which the report failed to capture.
Amid a long crypto winter and a bear market, October 2022 data from crypto sites The Block and CryptoSlam showed that NFTs trading volumes had plunged about 90% in the previous 12 months.
A May 2023 report by global digital assets management platform Galaxy indicated that daily NFT trading volumes had declined in the previous three months, from $70 million in March, to $35 million in April, to $30 million in May.