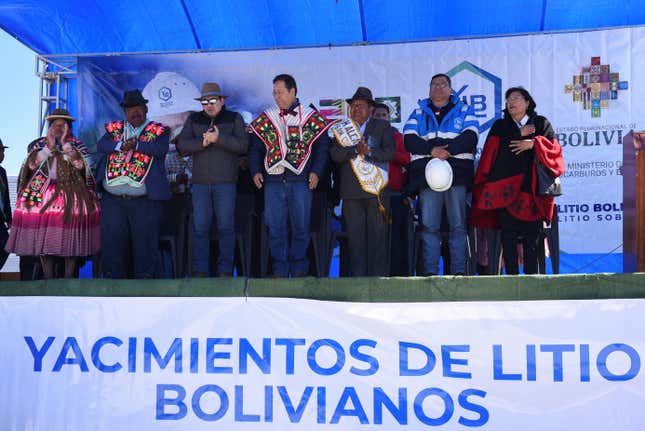 Bolivia officially has the largest lithium reserves in the world, according to the country's president Luis Arce. Arce confirmed yesterday (July 20) that Bolivia's reserves of the valuable metal increased from 2 million tons to 23 million tons after extensive geological studies of the Coipassa and Pasto Grandes salt flats.

Should you buy McDonald's and Caterpillar stock right now?
The discovery is a turning point for the economy of the landlocked South American country. Discussing the updated data in an interview with Bolivia TV (link in Spanish), the country's deputy minister of alternative energy Álvaro Arnés made it clear that Bolivia intended to make the best of it and aimed to become a major player in the global lithium market.
Demand for the metal has exploded in recent years, with lithium being an essential component in manufacturing renewable batteries for electric vehicles. "The international community should know that lithium and sodium, which are the future of batteries, are in the salt flats," Arnés said.

Quotable: Bolivia looks to become a lithium powerhouse
"We are the largest lithium reserve in the world, and we have to know how to manage it intelligently to exploit and transform this resource" —Bolivian president Luis Arce, at a press conference at the Salar de Coipasa salt flat in Oruro, announcing the official data.
Where are the world's largest lithium reserves?

Bolivia's lithium boom challenges
Despite its vast reserves, Bolivia has been slow to adapt to the booming market, producing only 543 tons of lithium in 2021. For context, more than 600,000 tons of lithium are produced globally each year, with the vast majority coming from salt flats in neighboring Chile and rock mines in Australia.
Ramping up production has long been a priority for Acre, but he doesn't want to stop there. Last February, Acre announced a billion-dollar investment by Contemporary Amperex Technology—a Chinese battery company—to begin developing a domestic battery manufacturing sector.
This would bring the lithium manufacturing industry—in addition to simple extraction—to Bolivia, giving the poorest country in South America the ability to cash in even more on the lithium boom. Last month, Arce announced two similar lithium deals, worth $1.4 billion in total, with Russia's Rosatom and China's Citic Guoan.
Related stories:
⛏️ The world needs lithium more than ever, and Latin America knows it
🇵🇪 Peru's political crisis cuts off access to 2% of the world's much-needed copper supply
🌳 Latin America's pink tide is preparing for the green revolution