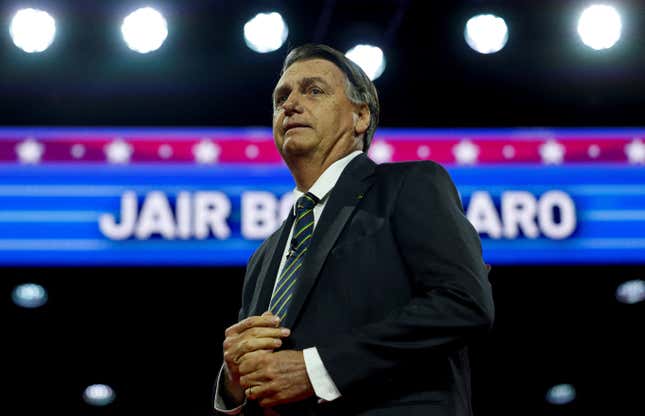 After living in Florida for three months, former Brazilian president Jair Bolsonaro is expected to return to Brazil on Thursday (March 30) with plans to politically challenge current president Luiz Inacio Lula de Silva as leader of the country's right-wing coalition.
Eric Beiley Part II: Where rates are heading
Bolsonaro narrowly lost reelection last fall, receiving more than 58 million votes, and is still incredibly popular among conservative voters in Brazil.
The move is risky for Bolsonaro, who faces a number of lawsuits and corruption investigations, including a potential criminal probe into his involvement in the January 8 riots in the nation's capital of Brasilia, where right-wing protestors attacked federal buildings seeking to disrupt the democratic transfer of power.
Bolsonaro is expected to return on a commercial flight leaving from Orlando. According to a Bloomberg News report, local government officials have requested additional government support at the airport to assist with his arrival.
Bolsonaro's political future in Brazil
Bolsonaro does not plan to fade into obscurity upon his return to Brazil. He told Brazilian media this week that he will be, once again, heavily involved in Brazilian politics.
"We're returning to normalcy," he said. "I'm going to meet with the party, which has approximately 20% of the lower house and senate seats, and we're going to discuss what our strategy is."
It is unclear whether Bolsonaro plans to run for president again, something that might not be possible if he is convicted of a crime.
Lula has explicitly accused Bolsonaro of planning the January insurrection, saying that while he is not looking for political revenge against his former opponent, his government "will guarantee the rule of law."
What has Bolsonaro been doing in Florida?
The former president of Latin America's largest economy has been laying relatively low in Orlando, just outside of Disney World, on vacation after several years of contentious rule.
During his trip, in between trips to Magic Kingdom and attending grand openings of hamburger restaurants, Bolsonaro has also appeared at a number of events supporting former president Donald Trump and other conservative politicians.
Most notably, Bolsonaro appeared at the annual Conservative Political Action Conference (CPAC) earlier this month, alongside Trump and a number of other far-right figures. There, he gave a speech repeating anti-vaccine talking points, accusing Lula of committing voter fraud, and foreshadowing his eventual return to Brazil.
"I thank God for the mission of being president of Brazil for one term. But I feel deep inside that this mission is still not over," Bolsonaro said, receiving standing ovations during the speech.
Related stories
🇧🇷 Bolsonaro's rioting supporters appropriated Brazil's yellow-and-green jersey as their uniform
⛏️ The world needs lithium more than ever, and Latin America knows it
🌳 Latin America's pink tide is preparing for the green revolution