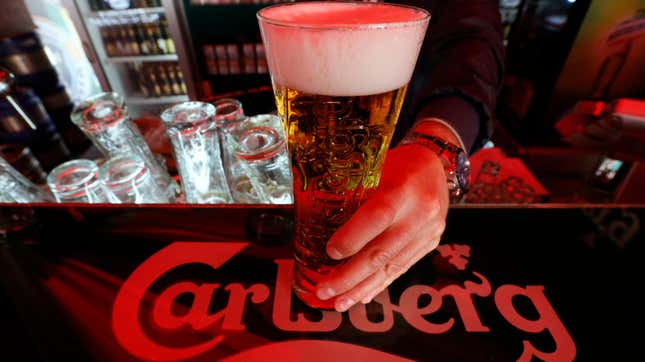 The Kremlin meant business when it threatened to seize the Russian operations of foreign companies in retaliation for sanctions linked to its war in Ukraine. Danish beer company Carlsberg and French food and drinks giant Danone saw Russia assuming "temporary management" of their stakes in local operations, according to a decree signed by president Vladimir Putin yesterday (July 16)

Should you keep investing in Big Tech?
The presidential order (link in Russian) transferred the management of Baltika Breweries—a local brewer in which Carlsberg holds a nearly 99% stake—and Danone's Russian subsidiary to the Rosimushchestvo, the Russian Federal Agency for State Property Management. The Carlsberg Group said it "has not received any official information from the Russian Authorities regarding the presidential decree or the consequences for Baltika Breweries." For its part, Danone's statement said it has "taken note" of the decree and "is currently investigating the situation."
The move comes almost three months after Putin signed a decree that lets the Kremlin introduce "temporary" state control over the assets of companies or individuals from "unfriendly" states like the US and its allies.
Both Carlsberg and Danone were looking to leave the country, joining the exodus of European and American companies sparked by Russia's February 2022 invasion of Ukraine. But now that those assets lie in the government's hands, and any deals have been plunged into uncertainty.
Status checks: Carlsberg and Danone's Russia exits
The Carlsberg Group had already announced its decision to seek a full disposal of its business in Russia in March 2022. Last month, it finally signed an agreement to sell the Russian business, subject to regulatory approvals and fulfillment of certain conditions in a number of jurisdictions. "Following the presidential decree, the prospects for this sales process are now highly uncertain," Carlsberg said.
Danone kicked off the process to transfer the control of its Essential Dairy and Plant-based (EDP) Russian business in October 2022, and it was "progressing according to the expected schedule." But now it could well be delayed.
While Danone said the decision has no impact on Danone's financial guidance for 2023, Carlsberg is still "obtaining more detailed information and will publish any relevant and verified information, including potential financial implications, as soon as possible."
Companies of interest: Uniper and Fortum
Before Danone and Carlsberg, at least two companies had already fallen prey to the Kremlin's whims. When Putin signed the decree in late April, Russia seized the assets of two energy companies, Germany's Uniper and Finland's Fortum.
The two companies were unable to sell their Russia businesses because of a decree that prohibits Western investors from selling their stakes in Russian businesses that involve the production and supply of heat and electricity without special presidential permission.
Carlsberg and Danone in Russia, by the digits

8,000: Number of people employed by Danone Russia, the largest dairy company in the country
5%: Share of net sales the EDP Russia business represented for Danone in the first nine months of 2022
€1 billion ($1.1 billion): The hit Danone was taking from the sale of the EDP business
8,400: Headcount across Carlsberg subsidiary Baltika's factories, according to Carlsberg's website
8: Plants Baltika has across Russia
Related stories
🇷🇺 Russia's seizure of two foreign firms' assets is a warning shot to the West
🧊 The G-7 has frozen all of Russia's reserve assets in their countries
🏦 The US is joining the UK in freezing out big Russian banks