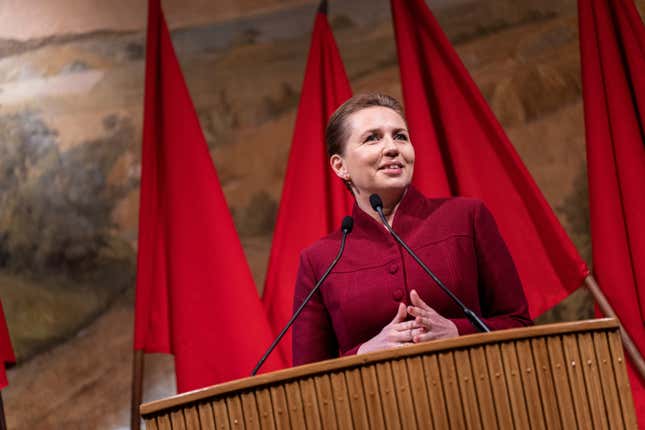 Denmark's prime minister Mette Frederiksen wrote a part of her speech using OpenAI's chatbot ChatGPT to highlight the risks of artificial intelligence.

Should you keep investing in Big Tech?
After delivering the introduction part of her speech at Danish parliament today (May 31), Frederiksen suddenly said, "What I have just read here is not from me. Or any other human for that matter," according to Danish broadcaster DR (link in Danish). She then revealed that part of the speech was actually written by ChatGPT.
Frederiksen trialed the chatbot to understand its full power. "Even if it didn't always hit the nail on the head, both in terms of the details of the government's work programme and punctuation... it is both fascinating and terrifying what it is capable of," she was quoted as saying.

Which parts of Frederiksen's speech were written by ChatGPT?
The prime minister's speech drafted by ChatGPT wrote the following sentences, according to an Agence France-Press report.
😌 "It has been an honour and a challenge to lead a broad government in the last parliamentary year."
🫱‍🫲 "We have worked hard to co-operate across parties and ensure a strong and sustainable future for Denmark."
🪜 "We have taken steps to combat climate change and ensure a fairer and more inclusive society where all citizens have equal opportunities."
💪 "Although we have faced challenges and resistance along the way, I am proud of what we have achieved together in the last parliamentary year."
Frederiksen voiced concerns about children using AI
Frederiksen expressed concerns about ChatGPT's ability to write essays, poems, and entire conversations through prompts as she believes this could hamper young people's social skills.
While the Danish leader focused on the impact of the technology on children, European authorities are worried about ChatGPT and other generative AI tools' potential to spread disinformation, racist narratives, or deceptive advertising. BEUC, Europe's umbrella consumer organization of 46 such entities from 32 countries—including Denmark—said last month that content produced by the chatbots appears true and reliable, but is often factually incorrect.
Data privacy concerns have also come to the fore, prompting Italy to ban ChatGPT in March. The EU is now focusing on regulating generative AI technology. European Commission vice-president Margrethe Vestager, who was meeting US officials in Sweden today (May 31) to discuss the technology, said that a draft for an AI code of conduct would be released in the next couple of weeks.