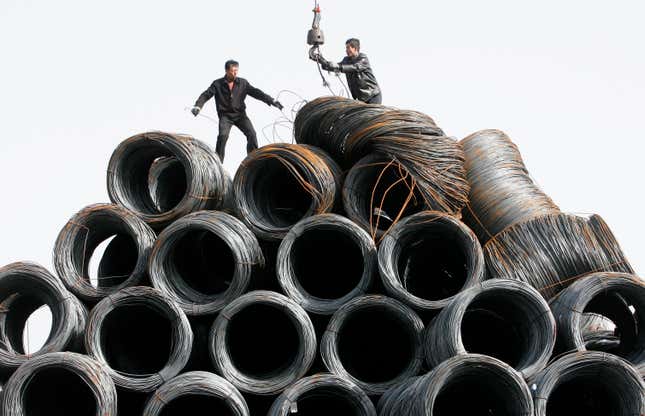 China and Saudi Arabia have in recent months signed multibillion-dollar energy deals. The kingdom has pledged to support China's energy security, and Beijing has welcomed Riyadh into the Shanghai Cooperation Organization, the political and security bloc led by China and Russia.
Eric Beiley Part II: Where rates are heading
And now, the burgeoning Sino-Saudi relationship is expanding to encompass another major undertaking: decarbonizing steel production.
Last week, China's Baosteel—the world's largest steelmaker—signed a deal with state-owned oil giant Saudi Aramco and Riyadh's sovereign wealth fund to jointly set up a steelmaking manufacturing base in Saudi Arabia.
The joint venture will be 50% owned by Baosteel, while the two Saudi partners will take 25% each. The plant is expected to produce 1.5 million tons of steel plate per year, according to the companies.
Saudi Arabia wants to cut its steel import reliance
The facility will be equipped with a steelmaking technology called direct reduced iron-electric arc furnace (DRI-EAF), which is typically natural-gas based and is significantly less carbon intensive than traditional coal-fueled blast furnaces. The DRI-EAF setup also can be adapted for hydrogen, the companies said, which would further reduce carbon emissions.
The deal ticks off key strategic objectives for both countries, said Mihir Vora, a principal analyst for steel and raw material markets at the energy consultancy Wood Mackenzie.
"The JV will support Saudi Arabia's bid to boost sustainable steel manufacturing, create jobs, and focus on supply security by reducing reliance on finished steel imports," he said. It will also "drive international revenues for Baosteel" at a time when Chinese domestic steel demand is declining, and also support the steel giant's decarbonization goals.
China's Baosteel wants to grow its global presence
Baosteel has been clear that expanding its global footprint is key to the company's continued growth—and survival.
"Without internationalization, we will not be competitive in the future, and just like a frog in warm water, we will eventually be eliminated," Baosteel's chairman said at an industry conference last year, according to Chinese media (link in Chinese).
Bringing together a Chinese steel juggernaut and Saudi Arabia's energy prowess could make for a formidable partnership as the global steel industry works toward making carbon-neutral "green" steel. A report last year by the US-based Institute for Energy Economics and Financial Analysis found that the Middle East and North Africa region is particularly well placed to lead global steel decarbonization.
"The strategic benefits from Chinese steel manufacturing capability and Saudi Arabia's access to energy resources can act an influencer in deepening China-Saudi Arabia relationship in the energy and manufacturing space," said Wood Mackenzie's Vora.