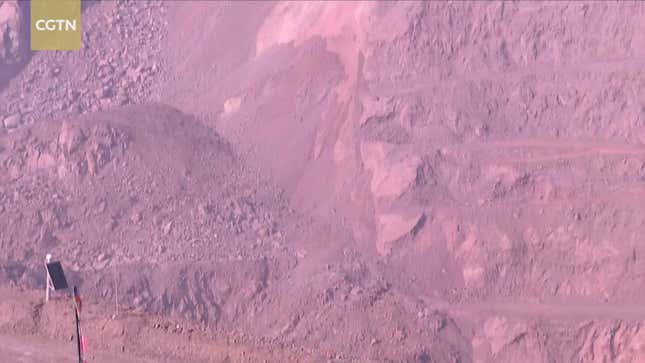 At least five workers are dead in northern China after a sprawling coal mine collapsed under a landslide on Thursday (Feb. 23). The accident happened in the Inner Mongolia province, the country's top coal-producing region. Reports from Chinese state media indicate more than 40 workers remain missing.

Should you keep investing in Big Tech?
Hundreds of rescue workers, along with trained dogs, battled near-freezing conditions as they attempted to excavate the open-pit mine last night, but the operation had to be suspended after a second landslide occurred near the site. The mine, just outside the town of Alxa League, remains covered by a pile of debris more than a quarter of a mile wide and 250 feet high.

"I had just started work at 1:15 in the afternoon when I realized that rocks were falling from the mountain," a hospitalized worker told Chinese state media, as quoted by Reuters. "I saw that the situation was getting more and more serious, and an evacuation was organized, but it was too late, the mountain just collapsed."

The mine is operated by the Inner Mongolia Xinjing Coal Industry Company, which has been fined for numerous safety violations in the last year. The company has not yet released a statement about the accident.
The Chinese government has made increased coal production a priority in recent years, relying on coal for 60% of its energy consumption. Last year, China produced roughly 5 billion tons of coal, setting a record for annual output.
Chinese leader Xi Jinping commented on the accident, vowing to make every possible effort to rescue the missing persons and treat the injured. Li Kequiang, the Chinese premier, called for a prompt investigation into the cause of the accident.

Where did the China coal mine accident happen?

A ban on small-output coal mines in China
Last year, the Chinese government banned companies from building new mines that produce less than 1.2 million tons of coal a year in Shanxi, Inner Mongolia, and Shaanxi, the three largest coal-producing regions, in a step they hope will curb pollution and reduce mining accidents. Regulators also promised to cut fatalities in the mining sector by 10% before 2025.
In line with this policy, the government has shut down more than 5,000 small output mines since 2016, favoring investment in large, high-tech operations that can be closely monitored by regulators. The mine at the center of the accident this week in Inner Mongolia produces approximately 900,000 tons annually, meaning that a mine of its size would not be able to be built today.

Related stories:
🇨🇳 China sanctions US military companies supplying arms to Taiwan
🍎 Apple wants to move its manufacturing out of China
⛏️ India has found a major deposit of lithium, suddenly making it a major player in batteries and EVs